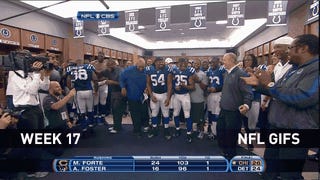 We'll be putting all our GIFs for the day here, from every last person in the league—coaches, players, mascots—breaking out that one dance move they've been saving up all year, to a referee in New Orleans thinking he could pick his nose because no one was watching. We'll update the post as the later games conclude, so stay tuned.
New York Giants 42, Philadelphia 7: An excellent game from the Giants, and exactly the type of effort they've been searching for over the past four weeks. The superior performance from their stars—Eli Manning threw three touchdowns before the end of the first quarter—and from their defense as a whole negated what little firepower the Eagles had, inspired the fans at the Meadowlands, and put them in a perfect position to be mathematically eliminated from the playoffs immediately, because the Bears won. So...yeah. We wave the Giants goodbye with some of the cool (and sort of idiotic) things they did today. First, the cool: Ahmad Bradshaw, spinning away from an Eagle as so many rushers did this year.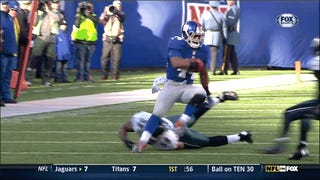 And the sort of idotic: Henry Hynoski, doing this, after scoring the touchdown that made it 42-7.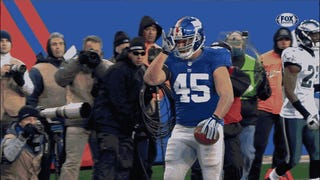 We'll say goodbye to the Eagles, naturally, by showing them fucking up tremendously. This kick was not tipped: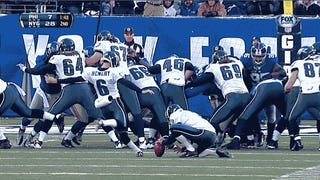 Carolina 44, New Orleans 38: This game may well have been entertaining—close! high scoring! good quarterbacks!—but it was between two teams finishing the season 7-9, both eliminated from the playoffs at the start of the day, so who knows. The Saints managed to secure the record for most yards ever given up in a season and a ref picked his nose: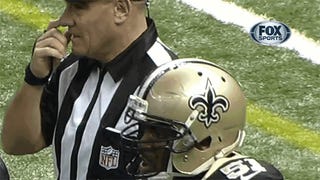 Indianapolis 28, Houston 16: The Colts won in Chuck Pagano's return (ChuckStrong), opening the door, conceivably, for the Texans to lose their #1 seed and home-field advantage throughout the playoffs if the Broncos beat the Chiefs this afternoon. Matt Schaub threw two interceptions to Vontae Davis and this kick return by Deji Karim was, as they say, a momentum-changer. Andrew Luck went on to throw a long touchdown to T.Y. Hilton on third and 23, and that wrapped it up. Now: A week of stories about the inspirational Colts being a legit playoff threat.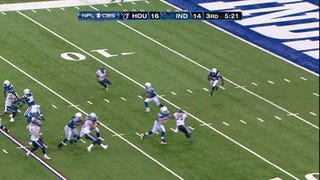 Tennessee 38, Jacksonville 20: This game would have escaped all notability were it not for two things: First, the Titans scored 28 consecutive points—starting in the first quarter—without running an offensive play. Pick-six, punt return touchdown, punt return touchdown, pick six. By the end of it, the Titans were up 35-14, and that was essentially all she wrote, though really "she" stopped writing weeks ago. The other notable thing is the way the bad teams reliably provide viewers with such pinpoint explanations of why they're bad. Look at the Titans' tackling technique: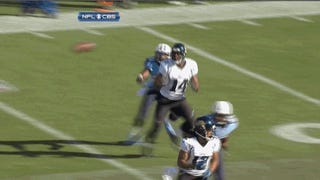 That's not going to bring anybody down! And special teams coverage like this, well, it'll get you 28 straight points scored without the other team running an offensive play: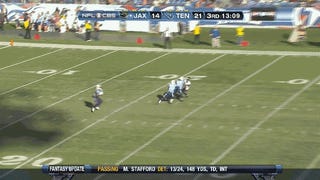 Ultimately, the day offered enough reminders about why the Jaguars and Titans are a combined 8-24 that even being theatrically ashamed of them got to be too much. Maybe next year, one of these sorry franchises will make wearing a bag on your head worth it.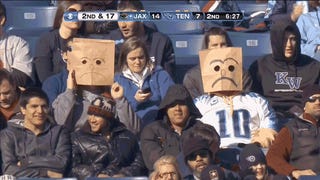 Cincinnati 23, Baltimore 17: A game that didn't matter for much of anything and mattered even less because of its result: had the Ravens won (and the Patriots lost), the two teams could have faced off in the first round of the playoffs, and sports pundits could have cautioned us during the intervening week not to take too much from a week 17 matchup between teams that weren't playing for much of anything. Instead it's Ravens-Colts, with the Bengals still locked into the sixth seed. Oh well. Here's the Bengals' mascot dancing: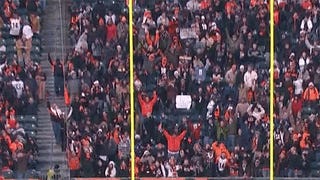 Buffalo 28, New York Jets 9: Is it possible for a game to have negative playoff implications? Can participating in a game at the end of one season count against your record for next year? Ah, it doesn't matter—they'll be starting far enough behind anyway. In his first game back in the starter's role after that Monday Night Football game in Tennessee that cemented his already rock-solid reputation as an objectively bad player, Mark Sanchez posted a 55.1 quarterback rating with no touchdowns and an interception. The interception looked like this. Note Bryan Scott, not being tackled before reaching the end zone: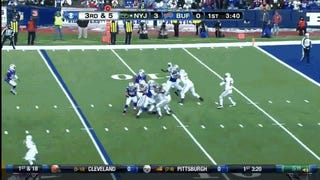 And finally, because it just wouldn't be the 2012 Jets if Tim Tebow wasn't doing something awkward or being transparently bored on the sidelines, here he is yawning. Don't worry Tim, it's warmer in Jacksonville.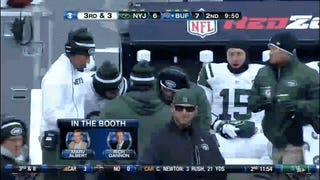 Tampa Bay 22, Atlanta 17: The most useless game of the day—Tampa Bay is eliminated, Atlanta has the NFC's #1 seed locked up—and Matt Ryan still threw the ball 44 times. We have but one GIF, and it is Falcons punter Matt Bosher doinking a ball off his own teammate. It ended up at the Atlanta 26 and the Bucs only got a field goal out of it, which is the type of thing that makes you 7-9.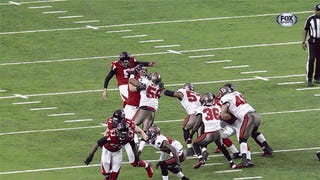 Pittsburgh 24, Cleveland 10: Disappointing seasons wrap up in Pittsburgh and Cleveland, as the Steelers compile the most mediocre possible record, 8-8, and the Browns end up with what's known as "a Cleveland 8-8"—5-11. The sun sets on the Pat Shurmur era in Cleveland, but a new franchise savior arrived today to take the reins: Thad Lewis, who wasn't, like, terrible, for a Duke graduate named "Thad." Fittingly, this game provided but one highlight, and it was a failure highlight: Phil Dawson, missing his first field goal after an entire season of dead-on accuracy.