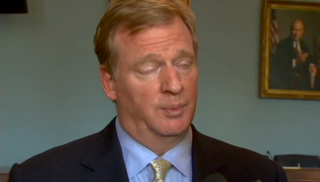 Cowboys-Redskins was the biggest matchup of the year, a win-or-go-home game for two division rivals. It turned out to be the most-watched regular-season sporting event in 15 years. But one familiar face was missing from the FedEx Field suites: commissioner Roger Goodell, who found something else to do Sunday night. Maybe he was busy. Or maybe he knew he wasn't exactly welcome at a game featuring two of the teams he penalized—to the tune of tens of millions of dollars—for the crime of not colluding to hold down player salaries.
A brief recap, which is easy to do because none of these facts are in dispute. 2010 was the last year of the old CBA, and as such there was no salary cap in place. But the owners got together and agreed that no one would spend more than $123 million—in other words, that they would keep payrolls down with a gentlemen's agreement. This was outright collusion, and Giants owner John Mara said it "came up several times in our meetings."
Dan Snyder and Jerry Jones didn't listen, choosing to ignore the rule that didn't exist. They did what any team facing an uncapped year ought to do—they staggered their contracts and signing bonuses to pile up in 2010, to save themselves cap space in future seasons. Every team did this, and four exceeded the secret $123 million cap. But the Redskins and Cowboys did it so egregiously, the other owners decided to come down hard on them for not honoring the conspiracy. Washington was docked $36 million and Dallas $10 million in future cap space, to be forfeited in 2012 and 2013.
For the second year in a row, Slate and Deadspin are teaming up for a season-long NFL roundtable. Check back here each week as a rotating cast of football watchers discusses the weekend's key plays, coaching decisions, and traumatic brain injuries. And click here to play the latest episode of Slate's sports podcast Hang Up and Listen.
To make this palatable to the players, who after all were the victims of a backroom deal to deny them fair market value, the NFL agreed to distribute the cap space to the other teams. The NFLPA agreed, as part of signing the new collective bargaining agreement last year, to forego litigation on the matter. NFL owners voted unanimously to levy penalties against two of their highest-spending colleagues. Snyder's and Jones's appeal was thrown out by the NFL's rubber-stamp arbitrator. A last-second, hail-mary NFLPA lawsuit followed.