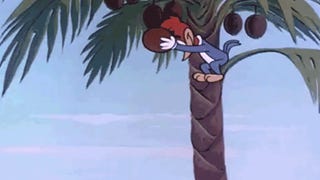 Time for your weekly edition of the Deadspin Funbag. Got something on your mind? Email the Funbag. Today, we're covering sex tapes, traffic lights, bats and more.
Happy New Year, everyone. The Funbag is a little bit short today on account of the holiday. But fear not, I'm sure the ... (runs to check TV listings) ... Outback Bowl will keep you occupied. Your letters:
Travis:
Say you had to kill someone using a fruit. What fruit would it be, and what method would you use? I was thinking a pineapple bashing would be good, or strangling someone with a banana. What do you think?
Well of course, I must first remind you that you should never attempt to kill someone with fresh fruit, lest they have basic training:
"When you're walking home at night and some homicidal maniac comes after you with a bunch of loganberries, don't come crying to me!"
Anyway, there are any number of poisonous fruits out there, if you're looking to kill someone in the most passive-aggressive manner possible: nightshade, jimsonweed ("horrific symptoms, including dilated pupils, racing heartbeat, hallucination, delirium, aggressive behavior and possibly coma or seizures"), and more. But that's not the kind of fruit-related murder we're talking about. You're looking for a more aggressive kill, a face-to-face, "I am now ending your life" kind of weapon. You're looking for...THE DURIAN FRUIT.
The hard spiky shell allows for expert bludgeoning, and should the fruit crack open, the rotting stench inside will stun your opponent and allow you extra time to pulverize his face. I would also recommend coconuts. Very hard, much more so than a pineapple, which could split open upon impact. Raspberries would be a last resort.
By the way, ever prick your finger on a pineapple or an artichoke? It really hurts. I don't like any fruit or vegetable that's so hostile to your fingertips. It's just an artichoke. It doesn't even taste good. Artichokes are bullshit.
Bandit:
Would you sit in your car for two weeks straight if it meant you'd never have to wait at a traffic light again?

Ground rules:

1) We're only eliminating the waits at traffic signals. All other forms of traffic backups are still in play (wrecks, presidential motorcades, Tracy Morgan running down the street naked, etc.).

2) You are not allowed to leave the driver's seat of your car for any reason whatsoever. You will have medical staff monitoring your health during the process and making sure you keep the blood flowing (don't want any Deep Vein Thromboses). You will be given a temporary catheter and a temporary colostomy bag for your evacuation needs. Barring any serious health issues during the two-week span, you do not leave the car.

3) Your car will be parked and stationary for the entire two weeks, so you can spend the time however you choose. Read books, listen to music, learn a new language. Whatever. The world is your oyster.

Do you do it?
It's not worth it to me if the two weeks don't also eliminate traffic from my life forever. The average stoplight wait is under a minute. That's not terrible, plus it gives me a second to yell at my children or check Twitter alerts for my name because I'm a disgusting person. Now, I say that knowing that some rogue traffic lights will keep you waiting for hours on end. There's an intersection in my vicinity that's so busy, you have to wait for the three opposing points of traffic to get their own light before you finally have your turn. It's the worst.
Drew Magary writes for Deadspin and Gawker. He's also a correspondent for GQ. Follow him on Twitter @drewmagary and email him at drew@deadspin.com.
But it's still not as bad as traffic. You underestimate just how much worse traffic is than any other road obstruction. I go into any road trip FEARING it. That's how awful traffic is. It has a grip on your psyche, the way death and sexual rejection do. I can hear my life being wasted when I sit in traffic. I can picture everyone else at my end destination already there, happy and free from their vehicles. I want to burst out of my skin and become a rampaging monster when traffic happens. I'd happily stay in a car for two weeks to banish it from my life forever. But just stoplights? Not worth it. Although it would be fun to live in your car for two weeks and see if you could do it. Friends could bring you pizza and weed. You could listen to the radio all day. By the second week, you'd smell like a hobo. Oh, how I've dreamed of being a homeless person living in a car—to hit rock bottom and wind up squatting in the back of an old van ... so romantic. It would be a real experience.
Jimmy:
Full disclosure, I'm a Texans fan and work in Radiation Oncology. Is it just me or is the ChuckStrong shit out of control? I mean, the team had like two months together before he was diagnosed. How strong could the connection have been? Also, it's the most curable form of cancer.

I know I'm an ass going to hell but come on already. Also, fuck Jim Irsay that guy sucks.
You better watch your back, Texans fan. The people at BIG WRISTBAND do not take kindly to such cynicism. Anyway, I know Chuck Pagano wasn't the Colts head coach for very long before he received his diagnosis. I'm sure there were players on the roster who barely knew him. But you're discounting the affection that Pagano engendered AFTER his illness, and the graceful way that both he and Bruce Arians handled the situation. Remember: Coaches are fucking weirdoes. If it had been Bill Belichick getting a leukemia diagnosis, he would have issued a gag order to his oncologist, wiretapped Josh McDaniels's phone to make sure he wasn't getting TOO comfortable in his interim position, and he would have kept on banging your aunt.
Greg:
Say Calvin Johnson pulls a 10-inch crank out as part of a TD celebration. What are the ensuing penalties and suspension?
He gets 15 yards and the gate for unsportsmanlike conduct. Then I think he gets a two-game suspension for the dong exposure, plus any ensuing legal penalties, including possible legal action from the networks, hoping to cover their asses so that the FCC doesn't fine them. And then you'd have a cottage media industry spring up around Megatron's penis. Colin Cowherd would demand to know who the penis's daddy was. Gregg Easterbrook would remark that a tight end would never do such a thing. And First Take would continue doing all the things First Take does. And then Whitlock would write an entire column about how white people are afraid of black penises. "You know we're packing. Serena Williams ain't settling for no lollipop stick." It would be horrible. So let's all rest easy that Detroit is out of the playoffs and Megatron can't flash anyone. THAT WOULD BE A DISGUSTING ACT.
Rocket Man:
My five year old caught me eating the strawberry jam chunk off the sandwich I was making her. She was quite upset. The proportional response is to hide the strawberry and feed her only orange marmalade for the rest of her life, right?
Damn right. You paid for that jam. Daddy gets the big strawberry hunk. Your daughter doesn't even understand that you were doing her a favor. The strawberry chuck is impossible to spread. Best to eat it and leave the rest for an even application.
When I was in college, they had a PB&J bar, and the tubs of jam and peanut butter had these big spreader knives that you could use to put 50 pounds of each ingredient onto the bread. I miss those spreaders. They were like forklifts for chunky-style.
Lawrence:
If you could have an NFL team made only from clones of one player, who would that player be?
My first thought was someone like RG3, but that won't work because it would have be a player who is large enough to adequately handle line play but swift enough to play skill positions and cover receivers. And they have to occasionally throw the ball and kick. That means you're gonna have to choose a tweener kind of player, like a tight end (a whole team of tight ends? THE FOOTBALL GODS ARE SMILING ON THESE CLONES) or a linebacker, like Patrick Willis or Von Miller. Either way, that team will lose every game by 75 points, even if you chose to clone someone as brilliant as Von Miller. The beauty of football is that one team is forced to employ such a diversely skilled set of players: QBs who can throw, RBs who can run, DTs who can eat entire stacks of pancakes, etc. To have all those miniature skill displays happening simultaneously on every down is what makes it fun.
Dave:
My friends and I were arguing who, out of the NFL's starting QBs, is the biggest masturbator. Consensus choice: Big Ben.
No wonder his penis is gray. Maybe he fapped until it turned sour. But no, my choice is Ryan Fitzpatrick. Harvard boys be fappin'. Just think about it: a cold-weather campus, with average-looking students, many of whom are so bogged down in their studies that they don't have time to orally pleasure members of the football team ... it's a recipe for mass fappitude.