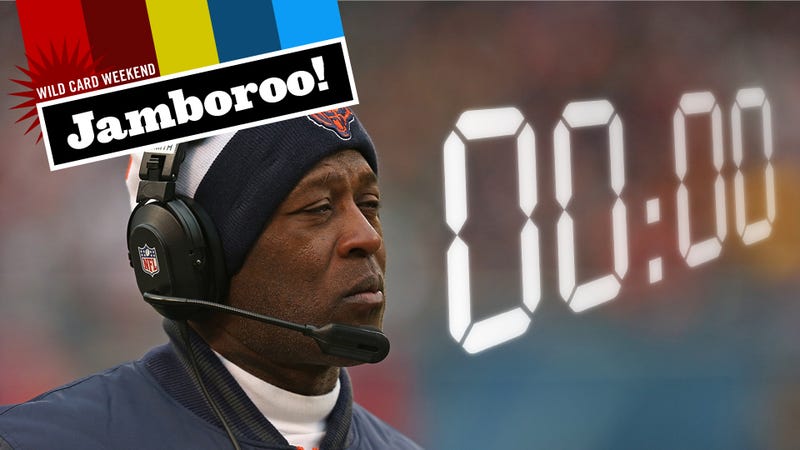 Drew Magary's Thursday Afternoon NFL Dick Joke Jamboroo runs every Thursday during the NFL season.
Josh Levin made a good case the other day for why firing Lovie Smith was stupid, not that seeing another coach fired didn't thrill me anyway. The Bears have said publicly that they fired Smith because their offense was perpetually shitty, with Smith bringing in new coordinators every year only to watch them fail. But the reason a lot of fans busted on Smith was because he was shitty at clock management. No one wasted timeouts early or threw needless challenge flags quite like Lovie, and it drove fans batshit.
The problem is that a LOT of coaches are shitty at clock management, and it's such an easy thing for fans to notice and harp on. Fans are often LOOKING for clock blunders, because that's an easy way to feel like you know more about football than the coach does. This isn't true, of course. You and I know NOTHING about football compared with Lovie Smith. If you were each given a team with equally talented players and you played on a neutral field (WICHITA!), Lovie's team would beat your team 85-0.
Drew Magary writes for Deadspin and Gawker. He's also a correspondent for GQ. Follow him on Twitter @drewmagary and email him at drew@deadspin.com.
But it's easy to cherry-pick a bad challenge or a wasted timeout and say, "That guy fucking blows." I know because I've done it a million times. Managing the clock is one of those tasks that, on the surface, seems relatively easy to do. Any idiot knows that you have to save your timeouts until the end of the game, and then you use them when A) the other team is ahead and has the ball and you desperately need it back, or B) when you are behind and have the ball and you want to maximize the number of plays you run, and therefore the number of chances you have to score. All that seems obvious. But as I've said before, it's a whole other story when YOU are the one on the sidelines, with a million things to do and 70,000 people screaming at you and your QB's helmet speakers occasionally going haywire. You and Bill Simmons would butcher the clock just as badly, if not worse. I bet coaches get shitfaced together and bitch endlessly about how naive fans are about keeping your shit together during a game.
There are any number of books and theories as to how to better manage the clock, but it's hard to have all that strategy memorized and ready to put into place in the span of mere seconds. Even revered coaches like Mike Tomlin and Bill Belichick have fucked up clock management. If anything, you should applaud coaches who manage to get through an entire game without fucking it up.
The Bears are gonna hire another coach and there's no guarantee that new guy will have the innate clock wizardry that Lovie apparently lacked, or that he will be as good as Lovie at cultivating defensive talent and weaponizing the special teams unit. And it makes me wonder just what the hell are the most important skills for a head coach to have. We always categorize the skill sets of QBs: arm strength, footwork, throwing motion, POISEY POISE. Head coaches are no different. They have to do a shitload of things, but it's hard to discern which skill set is more important than the other:
• Clock management
• Game planning/strategy
• Player development (teaching players how to tackle, giving them secret bonuses for nutshots, etc.)
• Player management (Ruh roh! Your star wideout won't play unless he gets to bang the tight end's sister! What to do?!)
• Roster evaluation (whom to sign, whom to cut, whom to start)
• Scouting college players
• Human resources (finding good assistants and working with them)
• Communication skills (the ability to teach players your scheme, establish a clear chain of command on gameday, and give a really fucking awesome speech the night before the game, etc.)
• Public relations (Just kidding. Only asshole newspaper people think "dealing with the media" is important)
• Organization (devising practice and travel schedules, etc.)
• Intangibles (Do you look head coachy? Are you fat? Can you look classy while standing on the sidelines wearing a fedora?)
Look at all of those skills. You probably can figure out which head coaches excel at certain things. Tom Coughlin is great at organization ("Be at practice on time, which is actually 17 minutes early the day before!"). Belichick is great at planning and strategy. Jim Harbaugh has good communication skills with everyone except referees. But there probably isn't one head coach out there who has every facet of the job mastered because it's not humanly possible. And looking at the list right now, I can't tell you that clock management is more important than half of the other shit up there. I'd rather have a coach who manages the clock poorly but can find good players rather than one who never wastes a timeout but loves Ryan Lindley as his QB.
Dubious game managers such as Mike McCarthy have won Super Bowls because they excel at a bunch of other stuff that you and I can't see as easily. To say, "He's a shit coach because he wastes timeouts," suggests that clock management is the only thing that matters when it doesn't. It can be symptomatic of a coach's greater shortcomings, but it's not the be-all, end-all of the profession. It's just the easiest thing for us fans to bitch about, and Lovie Smith just found out the hard way.
The Games
All games in the Jamboroo are evaluated for sheer watchability on a scale of 1 to 5 Throwgasms. And for the playoffs, I pick the games, because that totally makes me sound like I know football.
Five Throwgasms
Redskins (+3) 20, Seahawks 19: I know it's not the holidays anymore, but I'd still like Fox to use their snowy score box. It's just so jolly. I get real excited when there's visible snow accumulation on top of the score. Let's all wear sweaters and have hot cocoa!
Vikings (+8) 28, Packers 20: I watched last week's Packers-Vikes game at home, but I think I have to venture out to some DC Vikings bar (if there is one) for the rematch. Setting matters. It's always better to watch a sporting event or a movie with a like-minded crowd. That way, you get to high-five strangers and yell at the TV in front of other people, which totally impresses them because now they know that you know a lot about football.