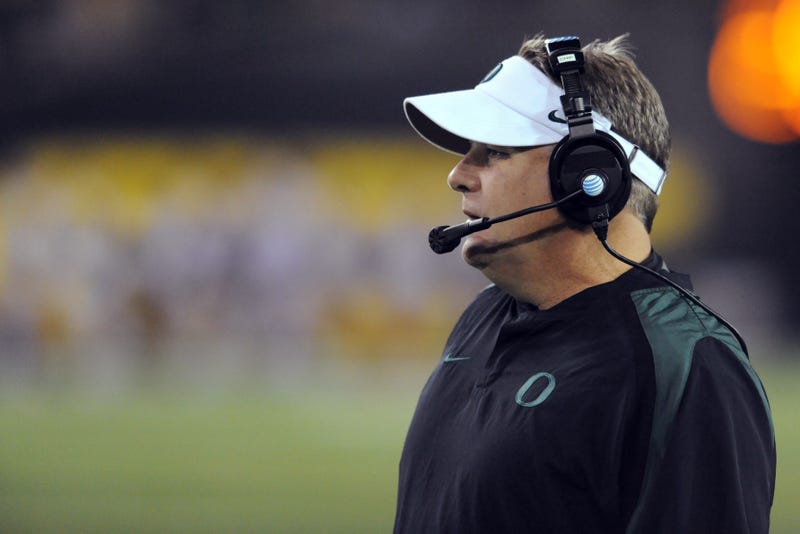 If you believe the reports, one of the most captivating eras in recent college football history ends tonight. Chip Kelly will coach Oregon against Kansas State in the Fiesta Bowl, and then he'll interview for NFL head-coaching jobs (chats with Philly, Cleveland, and Buffalo are scheduled so far), and then, presumably, he'll wind up in one of those jobs, because, really, who are those teams going to find that's any better than Chip Kelly? The last time the Browns and Bills went looking for head coaches, they wound up with Pat Shurmur and Chan Gailey.
In Kelly's four years, the Ducks have won a ton—they're 45-7. If a Stanford overtime or two had broken differently in 2012, Oregon would be in its second national championship game in three years. Under Kelly, they've run major college football's most exciting offense, a run-based spread attack with some of the game's best backs (LaMichael James, Kenjon Barner, De'Anthony Thomas) rotating. They've put up some gaudy, gaudy numbers. In 2012, Oregon finished second in the nation in points scored per game. They finished second, too, in the nation in rushing yards per game, while passing for an average of 226 yards on top of that. And it's not just because they run a lot of plays. The Ducks led the nation in yards per rush this year. They managed 6.1 yards per carry, which would easily impress us, if not for the fact that the 2011 Ducks averaged 6.7 yards per carry, also college football's best.
The offense excites its viewers even further thanks to the glitzy aura attending its spectacular performances. It's hard not to be gobsmacked—especially at late hours, in ESPN high definition, on Saturday nights—by the team's speedy no-huddle, or its goofy neon Nike prototype uniforms, or those amazing, mystifying sideline play cards. A recent one had Burger King's creepy mascot, the Hartford Whalers logo, a U.S. Navy destroyer, and "Glycerine" in its four quadrants. The cards presumably have some meaningful competitive function, but they also drip with Kelly's sense of humor, a virtue shared by few of his peers, save Les Miles. Kelly has, more broadly, gone about the business of being a college coach in the right way. When a fan sent a letter demanding reimbursement after Oregon lost at Boise State in 2009, Kelly sent him a $439 personal check. Boosters complain that Kelly isn't spending enough time with them, but given the general loutishness of the wealthy, entitled elders who linger around college athletics programs, this reflects rather well on him.