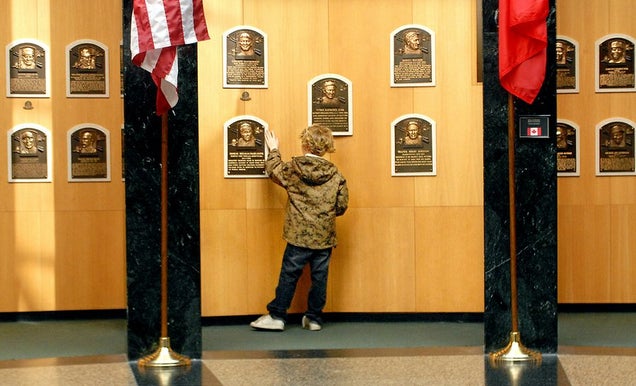 S
For just the second time, the Baseball Writers' Association of America has given its voters the option of having their Hall of Fame ballots made public. Of the 569 voters who cast ballots, only 108 chose to reveal who they voted for. (Of course, many more discussed their selections in their own columns—194 of them, according to Baseball Think Factory's exit polling, making up about one-third of the electorate.)
The final HOF vote looks slightly different than the exit polling, and from the ballots the BBWAA made public. Some disconnect is to be expected, since the voters self-selected for transparency, but it's worth comparing the numbers to see if any trends emerge.
Here's a chart showing the percentages players received from ballots made public by the BBWAA, the percentage of the votes revealed by the writers though exit polling, and the percentage of total HOF votes each candidate received. The rightmost column is the difference between the overall vote and the exit polls (a larger sample size), counting down from the players most hurt by the "secret" voters.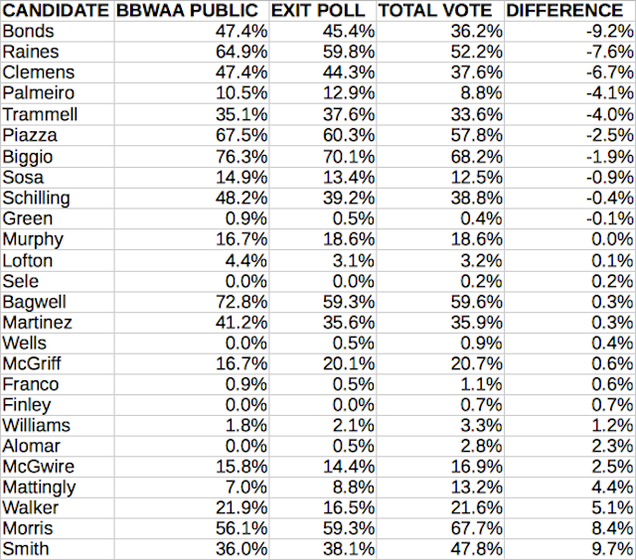 (Here's a Google Doc spreadsheet, for your sorting pleasure.)
What stands out?
• Bonds and Clemens, the big steroids names, received much less support from the total electorate than from the writers who made their ballots public.
• It's similar for the players suspected of steroid use: Piazza and Bagwell got more "yes" votes from the voters willing to publicly stand behind their ballots. The percentage drops for those who wrote about their ballots, but it's still higher than from the voting bloc as a whole.
• Longtime, "clean" candidates got a lot of support from writers who didn't go public. Jack Morris, Lee Smith, and Don Mattingly all received much larger percentages from the BBWAA as a whole; voters willing to show their work supported them in lesser numbers.
• Fringe candidates were often voted for in secret. Of the 16 people to list Sandy Alomar Jr. on their ballots, only two revealed it. Four people voted for Steve Finley and one for Aaron Sele—but we'll never know who they are.
After every Hall of Fame election, and especially one where no one gets in, we want to ask the voters what were they thinking? While the writers who make their ballots public may sometimes have stupid reasons for voting the way they do, at least they have reasons they're willing to share. A large majority of voters refuse to explain their selections. They aren't accountable in any way.
It's these secret voters, in large part, who are witholding votes from figures from the steroid era, and voting for players from the 1980s. They're probably from an older generation, and they're the ones causing pileups like you're going to see for the next few years. They're driving the controversy, yet we have no idea who they are. If they truly believe in the choices they're making, why aren't they willing to stand behind their ballots?