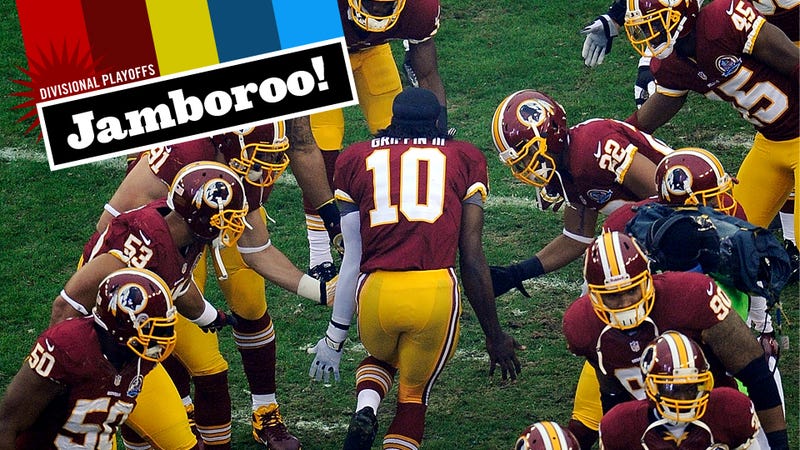 Drew Magary's Thursday Afternoon NFL Dick Joke Jamboroo runs every Thursday during the NFL season.
It's been 25 years since Doug Williams won a Super Bowl with the Washington Redskins, the first and only time a black quarterback has won a Super Bowl. This is not a good thing. We should have had another one by now. In a perfect world something like this doesn't matter, but every year that we go without a second black QB winning it all reinforces the idea in racists that you cannot win with a black QB at the helm. Because I promise you, there are still plenty of people out there who believe just that. The question is: Why hasn't it happened again? Is it just bad luck? Or are there more concrete reasons why?
Drew Magary writes for Deadspin and Gawker. He's also a correspondent for GQ. Follow him on Twitter @drewmagary and email him at drew@deadspin.com.
There are eight quarterbacks left in the NFL playoffs. Six of them are traditional pocket passers, all white guys. The other two—Colin Kaepernick and Russell Wilson—are African-American QBs who operate in offenses that include read option plays (Kaepernick more than Wilson). Another playoff QB who ran the read option—Robert Griffin III—was just dismissed from the playoffs after having his knee explode.
I want to believe that someone like Robert Griffin III is so talented that he can revolutionize the way football is played, just as Michael Vick promised to do. I want to believe this because watching teams run the pistol option is awesome, much more fun than watching Joe Flacco stand back there like a penis. There have been a zillion new rules implemented by Roger Goodell to cripple NFL defenses, and for a moment this season I thought that perhaps those rule changes would make it easier for teams to have long-term success in a system where the quarterback runs more often than the average pocket passer. But last weekend pretty much proved that wrong.
History has shown, time and again, that you don't win Super Bowls with this kind of hybrid offense. RGIII's long-term potential was just potentially compromised because his coaches had him running the football—including option plays!—when he barely had a leg to stand on. Why the fuck did they do that? Isn't that breathtakingly stupid? Colts quarterback Andrew Luck ran a 4.6 40 at the NFL combine, just .2 seconds slower than Griffin. But Luck attempted roughly half the number of runs (62) that RG3 did (120) all season long. In fact, Luck's 62 rushing attempts this season are nearly identical to Aaron Rodgers's rushing attempts over the past five seasons (56, 58, 64, 60, 54). If the Packers let Rodgers run 120 times a season, Mike McCarthy would be murdered. The Colts ran a couple of read option plays for Luck this season, but not nearly as often as the Redskins did. Why were Luck and Rodgers given better protection than Griffin?
I think (WARNING: ignorance ahead) that black quarterbacks are still getting hosed when it comes to being groomed as pocket passers. I think coaches look at white quarterbacks and think to themselves, "Whoa hey, we can't have him run." Luck and Aaron Rodgers are both capable of running the ball effectively, but their coaches happily sacrifice that part of their game because they know that, ultimately, their QBs will need to win games mostly by throwing the ball. But coaches look at black QBs and think to themselves, "Wow, look at him run! I'd be a fool not to use that part of his game!" I don't think this is overt racism at work. I think this is a case of typecasting. Why did Mike Shanahan run an option play with Griffin barely able to walk? Because he couldn't help himself, that's why. He thinks of RGIII as a multi-purpose threat and can't see him any other way.