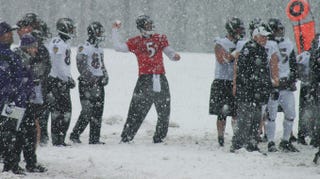 So, what's the weather going to be like in Denver today?
Accuweather says it's currently 12° Fahrenheit. The high today is 16°, and the temperature is expected to drop back down to 8° by the evening, when the game will be finishing up. There will be snow, too, if not blankets of it: Flurries fell around noon, just to make the field nice and frozen for warm-ups, and more are expected around 4 and 5 p.m. as the game is kicking off. At 6 a.m. this morning, it was -6° in Denver. and if the game goes to overtime, we may see football FOOTBAW at 26° below freezing.
How does the weather affect the vaunted "thin air" advantage for the Broncos in Denver?
Denver teams boast (and they do boast) an extra home-field advantage because the air in the Rocky Mountains is thinner (less dense, with fewer oxygen molecules packed into each of whatever unit you feel like measuring air with) than the air closer to sea level. At least one person (Champ Bailey) has claimed that Peyton Manning is well-suited to the unique conditions: "You could see the fatigue," Bailey told ESPN, after the Broncos beat the Steelers in Week 1. "Peyton has really opened up our offense. If we're in a shootout, it definitely works in our favor."
Maybe less so today, though: Cold air is denser than warm air, and not only will the Ravens have the luxury of breathing as if they were closer to sea level, the ball may not sail the way it does on a warm day in Colorado. Why did the Broncos even try for home-field advantage? (Apart from next week, I mean.)
Can you make some vague predictions about how the weather might affect the game?
Can I! If the Ravens have a clear advantage in this game, it's in their rushing attack, which averaged 118.8 yards per game despite the popular perception that Cam Cameron (and subsequently Jim Caldwell, after Cameron was relieved of his duties midseason) forgot about Ray Rice for long stretches of each game. Not including Week 17, for which all but seeding was sewn up for the Ravens, Rice averaged about 17 carries per game, and every Ravens defeat resulted in jeremiads from fans about why the Ravens coaching staff was ignoring their star running back. In a game like today, maybe the Ravens will finally unleash the sure-handed (1 fumble in 257 rushes during the season—we'll forget about his two last week against the Colts) Rice, and all will be well.