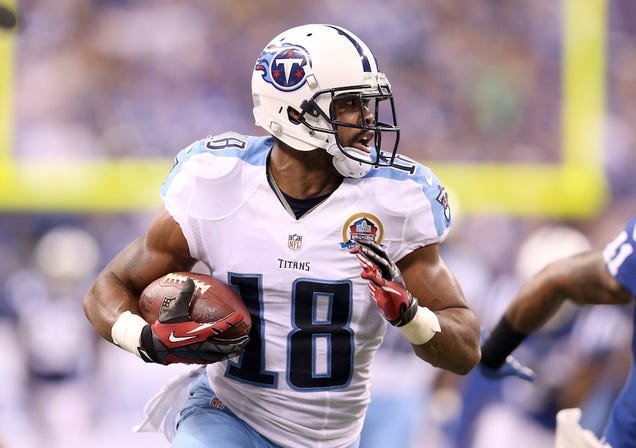 To review: Kenny Britt's friend* was brought to a Jersey City hospital early Sunday morning after having been stabbed during a fight that reportedly involved a lot of people. His injuries were not life-threatening. Britt, the Tennessee Titans wide receiver, was with his brother when his brother got to the hospital, but Britt refused to cooperate with police and soon left. As of yesterday around this time, Jersey City police were looking to question Britt. As of right now, that still hasn't changed, and the cops are even asking that the Titans—and anyone else, for that matter—assist in tracking him down.
N.J. police captain on Kenny Britt: "At this point he is still not cooperating with police. So whatever statement he puts out is false."

— Jim Wyatt (@jwyattsports) January 14, 2013
Capt Edgar Martinez on Britt: "We are asking anyone who has info of his whereabouts to contact us & that includes the owner of the #Titans."

— Jim Wyatt (@jwyattsports) January 14, 2013
More from Capt. Martinez: "Anybody who has information on where Kenny Britt can be located, please contact police ... at 201-547-5460."

— Jim Wyatt (@jwyattsports) January 14, 2013
* This post has been updated to reflect the following: Even though police initially said the stabbing victim was Britt's brother, they have since identified the 23-year-old man as Britt's "close, personal friend." The "false" statement to which police are referring was issued by an anonymous spokesman on Britt's behalf Sunday night. And the cops also would like to talk to Britt about another incident during which a gunshot was fired.
Previously: Titans Wide Receiver Kenny Britt Wanted For Questioning In Connection With His Brother's Stabbing
[Twitter]