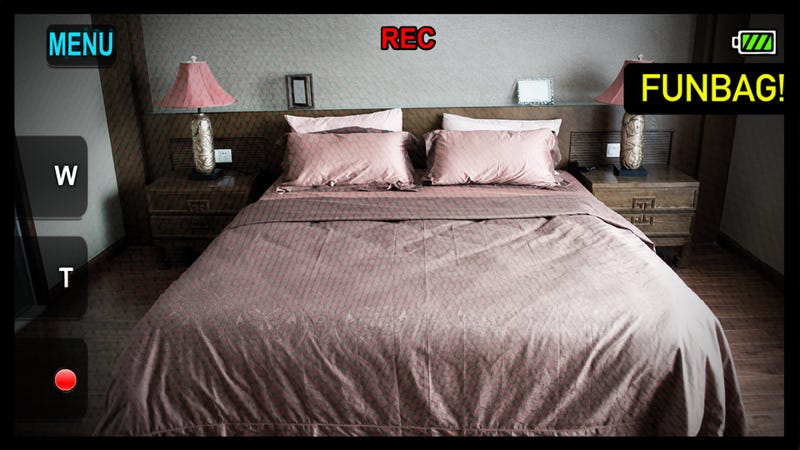 Time for your weekly edition of the Deadspin Funbag. Got something on your mind? Email the Funbag. Today, we're covering river rats, mustaches, hypocrisy and more.
Your letters:
BR:
I have tried for a long time now to convince my wife to make a sex tape. She refuses, believing I will show said tape to people I know. Am I wrong to just videotape it without her knowing? I only want it for my own personal fap sessions.
You can't videotape it without her knowing because it's probably illegal and because it would be a breach of trust.
I can't blame her for not wanting to star in an amateur porn tape. If your husband is careless, that shit could fall into the wrong hands with minimal effort. Even worse, your shady husband could share it with people without your consent. Ever see the movie Breach? That's the movie where Chris Cooper plays Robert Hanssen, the notorious CIA FBI mole. Turns out that not only did Hanssen sell government secrets to the filthy Soviets, he also secretly taped himself nailing his wife and had friends watching the video on a closed-circuit TV in a nearby room. Guys like Hanssen have RUINED the sex tapes hopes of millions of hard-working, horny American men. What woman is gonna trust a man enough to make a sexy sex tape if there's a chance he's a fucking scumbag? Stupid Robert Hanssen. MORE JAIL FOR HIM, PLEASE.
Anyway, since your wife apparently doesn't trust you enough to make a tape, and since you're willing to videotape her without her consent, I dare say you have larger issues to work out. That's my bestest DEAR PRUDENCE analysis.
Johnathan:
How much better do you think sports would be if commentators could swear?
It depends on the commentator. It sounds fun in theory across the board, but I don't think swearing will help improve Dan Dierdorf much. GREG, THAT PASS WAS COMPLETED THANKS TO AN OUTSTANDING FUCKING BLOCK BY ORLANDO FRANKLIN. Actually, that does kinda sound better. Most analysts would be just as annoying with swearing as they are without.
However, I do believe that swearing could help improve certain analysts. Like Gruden. I'm sure that Gruden spends every commercial break cursing up a storm. WHAT KINDA HORSESHIT EFFORT ARE THOSE GUYS PUTTING OUT THERE, MIKE? TOO MUCH CUM IN THEIR BRAINS! I'd very much like the unhinged Gruden on all MNF broadcasts instead of the spastic cheerleader we get now. The only time I liked Ron Jaworski was when this happened. For once, he stopped selling the broadcast and spoke his mind. That's all any NFL viewer wants. We always know that announcers have to hold their tongues. At least swearing would help cut out the bullshit.