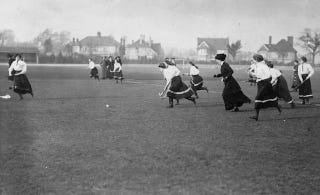 In preparation for the resumption of the long-delayed season, we've compiled a brief refresher on "hockey."
"Hock-ee"?
Ice hockey, the the sport which resumes today in North America, was played in non-frozen form as far back as 4,000 years ago and all the over world, ranging from Egypt to Mongolia, according to Wikipedia.
Today it exists as field hockey, ice hockey, and the kind where you wear rollerblades. Ice hockey, the version that matters (relatively speaking), is played on a frozen "rink" made of "ice" and uses a "puck" that must be hit with "sticks" into a "net." There are six players on either side at any given time—one, who tends the net, is called the "net-tender" and if players commit penalties, they get sent to a box, known as the "hockey prison" or "ice box."
A puck is like a ball?
Sure.
Who plays hockey?
Mostly the Canadian and Russian equivalent of what we would call "farm-boys," though there are no farms in those places, only ice. When young men from Canada and Russia aren't politely agreeing or filming insane traffic accidents, respectively, they play hockey, and lots of it. Sometimes they're large and gap-toothed, sometimes they're lithe and delicate. Sometimes they even hail from places in America, like California, and sometimes they come from from toxic-waste dumps in Siberia. It's a colorful group! (Not literally.)