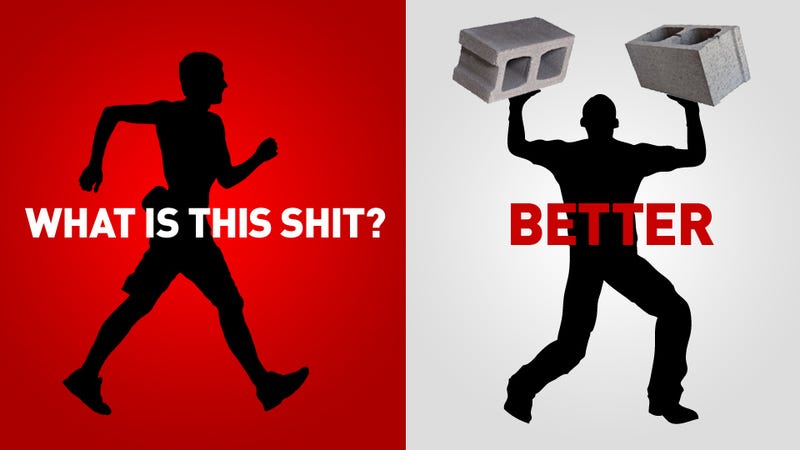 Every New Year, millions of people resolve to "get in shape." And, a few weeks into January—right about now—millions of people tire of their dreary new traditional exercise programs, and re-resolve to get in shape creatively. "I'll walk every night," they say. "I'll work in the garden, and take the stairs, and live an active lifestyle." I'm going to say something to all of those people now, and I want you to take this in the most constructive way possible, because I have the utmost respect for you and what you're trying to accomplish:
You are pathetic and delusional.
"I'm on my feet all day at work." "I ride my bike whenever I go to the store." "I'm in a bowling league, and a softball league, and a hipster kickball league." "I do tai chi." "I swim in the pool every summer." "I tighten my abs while I sit at my desk." "I get up and walk around the office every half hour." "I walk my dog." "I live on a fourth-floor walk-up." "Didja ever follow a toddler around all day? Now that's a workout!"
No. That is not a workout. None of that is a workout.
Again, I do want to commend you on your vague and wistful desire for "fitness," if not for your laughably wishful method of achieving it. There is absolutely nothing wrong with living an "active lifestyle." There is nothing wrong with walking, and biking, and swimming leisurely, and chasing frazzled children, and engaging in all manner of activities that feature basic human locomotion as one of their key components. Indeed—legs. Right? Why not use em? Right? Might be in a wheelchair tomorrow? Right? Why not stroll?
None of that is a motherfucking workout.
Let's just clarify here what it means to "get in shape," or to achieve some sort of "fitness." It means that your body has adapted positively to stress that you deliberately placed upon it. Your body is a maddening and marvelous machine which will change in response to what you make it do. If you make it do hard things, your body will get hardcore (basic Word Science of Fitness Biology 101). If you only do soft things, your body will be soft. If you carry huge Atlas Stones around in a purposeful manner, your muscles screaming and our lungs exploding and every nerve of your body begging for relief from the merciless gravity you are willingly inflicting upon it, your back will grow wide and your legs will grow stout and you will become an Incredible Hulke, able to fling small humans about in a manner befitting a Viking warrior. If the heaviest thing you carry is a fanny pack on your mall-walking expeditions to the Latte Shoppe, well, then, guess what, that's all that your body will grow: a fanny. A big soft fanny. Is that what you want? A big soft fanny?