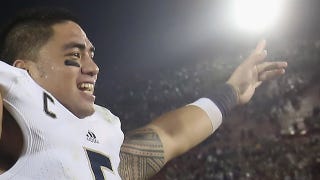 Originally published in Bloomberg View.
Whatever else Manti Te'o manages to accomplish in his interview with Katie Couric, the humiliated Notre Dame linebacker will at least be proving Karl Marx right: All historical events really do occur twice, first as tragedy, then as farce.
Last year, we watched a mythic college football program—Joe Paterno's Penn State—unravel in a horrific child-sex- abuse scandal. Now we're watching another unravel in a screwball comedy that could have been scripted by Mel Brooks.
As singularly ridiculous as the Te'o story may seem—that his incredible season was inspired by the phony death of an imaginary woman—the only real difference between it and the rest of the horse-pucky generated in South Bend, Ind., is that his heartwarming story of triumph over tragedy was exposed more or less in real time, before it had a chance to set as myth.