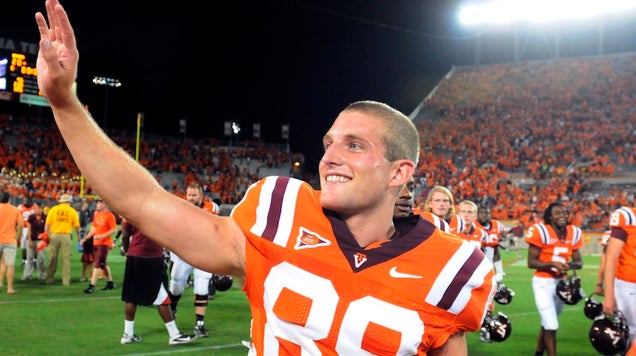 S
"Stuff like this happens," Cody Journell said. And he's right. Who hasn't been in a restaurant pleasantly minding one's business only to have to rush outside all of a sudden because some dipshit suddenly released the trigger on a can of pepper spray? Like Journell said, it happens. He ought to know. The kicker on the Hokies' football team, Journell happens to be the dipshit who did just that at a Blacksburg, Va., Buffalo Wild Wings on Jan. 24 around 9 p.m.*
From the Collegiate Times, Virginia Tech's student newspaper:
The entire bar and most of the restaurant ran outside onto the patio. People were crying, coughing and throwing up from the effects of the gas.

The restaurant was cleared for approximately an hour and about $50 dollars of tabs were left unpaid. Those working at the time also lost money in unpaid tips.

"I think he meant to do it," the server admitted, based on observation, "But I don't think he knew it was going to have the effect that it had."

"He was extremely apologetic," the server emphasized.
Journell maintains it was an accident. He says he was demonstrating how to use a key-chain-sized can of pepper spray for a female friend, and that when he handed it back to her, it triggered. He later self-reported the incident to the police. The restaurant has not pressed charges, and because being a dipshit is not a crime, no arrest was made.
[Collegiate Times; h/t to Andrew N.]
* The headline and text of this post have been updated to state that the incident happened last Thursday, not last night.