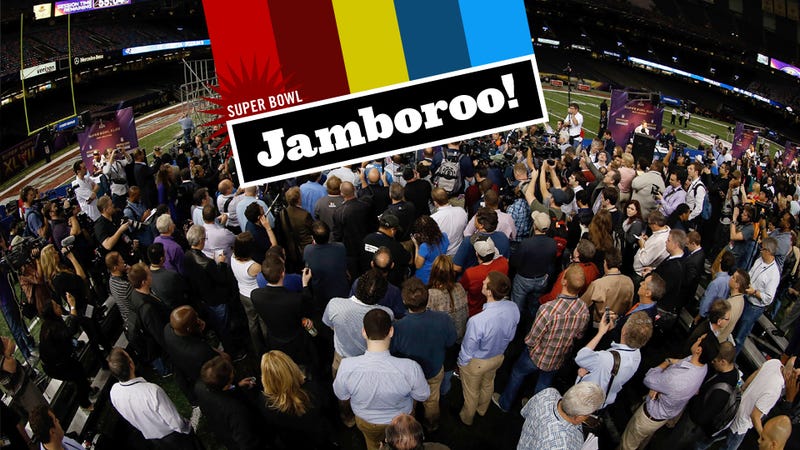 Drew Magary's Thursday Afternoon NFL Dick Joke Jamboroo runs every Thursday during the NFL season.
I wonder if everyone playing in the Super Bowl on Sunday gets as much of a cheap buzz out of putting on cleats as I do. I remember going to buy cleats as a kid. My mom took me to Herman's, the big sporting goods store, and I got try on all the football shoes and walk around in them. They had all the big brands like Nike and Reebok and whenever I put them on, I felt like I was in the Nike ad. I was some chiseled motherfucker running toward the camera in slow motion with Megadeth blasting in the background. Holy shit, did I feel like an athlete. I wasn't one, of course. I was just a sad fat kid. But you walk into a sporting goods store to try on cleats and you FEEL like a badass. They had little stools with angled mirrors so you could see your feet in them, but the reflection cut off at the ankle, so you could always imagine a 250-pound beefcake you filling out the rest of the image.
That's part of the allure of sports. [jump] It's not just the game itself ... it's the whole look and feel of it, from the jerseys down to the shoes. I loved getting new sports equipment and trying it on. I always thought it would be a magic cure for everything. These cleats ... I will wear these cleats and other kids will think I'm way cool now. When we got the cleats home, I would take them out of the box immediately and go running around in the yard, practicing my cuts even though I never played any position where you had to deke out another living person. Ah, but I had the magic cleats now. Perhaps these would DOUBLE my speed, and perhaps my JV coach would take a flyer on me at running back for one play only to discover he had the next Christian Okoye on his hands. Kids think this way. They're too young and stupid to know how absurd that idea is.