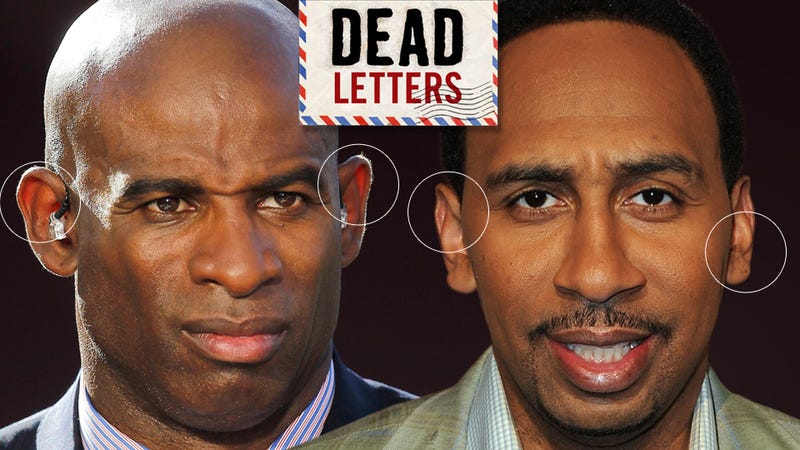 Welcome back to Dead Letters, the feature in which we reprint our favorite fan mail from throughout the week. It's like Deleted Scenes, but without all the scuzz money. We should take this moment to remind you that all emails to Deadspin and its editors are on the record unless otherwise specified. Now for your letters.
Subject: ESPN First Take = FRAUD ACTORS
From: Tony Assad (lastwarning6969)
To: The Staff

To whom it may concern :

I work ear biometrics for the State of Kansas. I compared Deion Sanders ears with Stephen A. Smith's, and they are the same person.

Deion isn't always in Bristol, CT as he is often at his home in TX and working for NFL Network. Nevertheless, I would assume NFL Network knows about this, and of course ESPN does. Anyhow, that would explain why Stephen A. Smith is always "via sattelite" while on FIRST TAKE... He obviously has some special understanding with ESPN about his work at his school in Dallas and work on the NFL Network.

A little background about ear biometrics. As you probably know, a person's ear is like a fingerprint. The lobe changes over time but the inner ear doesn't. You enlarge the ears and compare the inner workings with special tools and it is as accurate as a finger print.

What I am getting at, is you might want to do a deep check into Stephen A. Smith's background and I think you will find out that he is not only a FRAUD as a columnist, but he is Deion Sanders in Prosthetics (Fake nose, fake hair, and lighter stage make-up). Bottom line, that is a 100 percent match for Deion Sanders.

I have a degree in journalism, and when looking at Stephen A.'s bio, it doesn't make sense... He "Started" with a big newspaper in NYC as a COLUMNIST and then moved to the Philadelphia Enquirer. You know as well as I do you don't start as a columnist at that big of a market and you sure as hell do not start as a columnist.

My premise is that he did write for those papers, but only worked seasonaly covering the NBA primarily, and got to be a columnist that fast out of special treatment because he is Deion Sanders, who was planning for what he was going to do after his career as a football player.
Also, Skip Bayless has the exact same ears as actor John C. McGinley. They are the same person.

Skip wears some latex facial prosthetics (I did a close-up and enlarged it) when he is doing First Take, and some stage-make up, but not much more than that. I would imagine his background/ bio is a fraud too, however, I have not looked that deeply into his writing career.

Nevertheless, I am going to build a website dedicated to this (Clowning out the frauds on First Take). ESPN is obviously in on this and think it is cute having "actors" more or less do their award winning show who overexaggerate their history as "Columnists."
I would like to give this tip to you guys to have you guys look into it. There are other actors playing parts on ESPN, but at this time I just want to focus on the Skip and Stephen A. Smith angle. They are not who they say they are. Once again, they are actor John C. McGinley and athlete Deion Sanders.
Please let me know if you are going to look into this and possibly do a story on it, if not, I am going to start to build a website and dedicate it to the actors working on ESPN pretending to be Sports Journalists. I am not afraid of a lawsuit as I have gone over this with colleagues who all agree with my evidence.

Is what they are doing illegal? No. Unethical? YELL YES! I would put it in the same line as the Te'o story. And if they are going to sit up there and call everyone else a fraud, I am going to expose them for the frauds they are.
I appreciate your time and consideration, and would like to say, "congrats" on the Te'o story and all the other great stuff you do.
Regards,
Tony.
One day later...
From: Tony Assad (lastwarning6969)
To: The Staff

I have over 30 people from the ear biometrics community willing to swear that Stephen A. Smith is Deion Sanders after looking at the ear biometrics I have presented. I would suggest hiring your own expert to decide, but if I do not hear back from you by Tuesday of next week, I am going to proceed with building the site. There are also 2 other news outlets that want to interview me, but they aren't as big as you guys. I just thought this was the perfect time to clown out the frauds in sports after the Te'o and Armstrong stories coming out, but if you don't want any part of this I understand. The proof and evidence is coming out regardless.

Just a quick example... This is the 3rd week in a row that Stephen A. Smith is "via satellite" on First Take from L.A. after claiming he's "out there covering the NBA." NFL Network studios are in L.A. Deion is out there getting ready to cover the playoff games. The evidence I have goes beyond just ear biometrics. I also have a sworn statement from someone who worked for ESPN.

Thanks you
Later that day...
From: Tony Assad (lastwarning6969)
To: The Staff

Nevermind... Just got a site to cover ALL OF THIS! They are even going to interview all of us in the KS ear biometric community. Thanks for your consideration. I will have the site started by the end of Jan. and will email it to you then!
[Ed.: He has not contacted us.]
Subject: A Tip For You
From: C.J. Devine
To: The Staff

Deadspin, Here is a tip for you; . . . . . you stink ! C. J. Devine
Subject: Teo
From: Bill Rubin
To: The Staff

I never heard of Deadspin until the Teo story. After reading countless articles and hearing credible journalists interview Teo and get the facts straight, I have come to the conclusion that Deadspin is a "supermarket" type rag or like the old Enquirer from the past. You take a story and embellish it with your own thoughts...not facts, or do the famous..."from an unknown source"...LOL. I'm not a Notre Dame fan but I do like to read truthful, fact filled articles and unfortunately Deadpsin doesnt do that, they(you) choose to senationalise a story with untruths and skeptical facts.
Subject: I like Emma bcuz she looks like this girl who my girlfriend and I had a threesome with 6 times