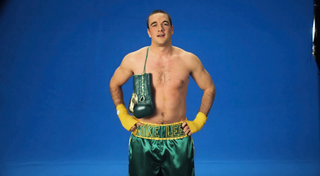 During last night's Super Bowl, one professional boxer appeared in a commercial. It was not Floyd Mayweather, and it was not Manny Pacquiao, though they are the two highest-earning athletes in all of sports. It was not any champion of any weight division at all. It was Mike Lee, a mediocre light heavyweight with only 11 fights. Why? Because Mike Lee went to Notre Dame, and because Mike Lee is white.
Boxing has a Great White Hope problem. (It's more of a problem if you're not white.) It always has. It's a cliché with its own Wikipedia entry, for fuck's sake. Since before the days of Jack Johnson, the white businessmen who run boxing have been very consciously on the hunt for white fighters with potential, because they are perceived as gold mines. This is racist. It is clearly and inarguably racist, when you look at the gallery of boxing's champions from the past half-century or so and consider how few white fighters are among them. The very idea of a Great White Hope is an outright dismissal of boxing's real champions. It is a statement that what matters is not success in the sport at hand, but marketing power, based solely on racial identification.
Boxing is elemental. It is a symbolic version of tribal warfare. It is populated by ethnic tribes that support their own kind— Irish fans for Irish fighters, Puerto Rican fans for Puerto Rican fighters, Mexican fans for Mexican fighters, and on and on. The problem, from the perspective of boxing promoters, is that plain old white fans, who have more money than anyone, have few members of their tribe to root for. The number of boxing champions who grew up in the suburbs is frightfully thin. The number of boxing champions who are white in that classic sort of "all-American" way is basically zero. This is not an actual problem; this is a marketing problem, for people whose business it is to milk racial identification for dollars.
And so when any moderately talented white boxer appears—and I mean classic white, American white, untainted even by the traces of Eastern Europe or Italy that are fairly common in boxing—you can be sure that the sport's Official Hype Machine will begin churning to make him into The Next Big Thing. This is the case with Mike Lee. He is, objectively speaking, a nobody. This is not to denigrate Mike Lee; anyone who can have a professional fighting career of any sort is a braver and more committed man than I am. But in the context of boxing talent, he is an afterthought. He is 11-0, and his opponents have a combined record of 39-51-7. That means that he has not even begun to prove himself as a contender.
Most new fighters, even solid prospects with impressive amateur records, need to win 10 to 15 fights before anyone really considers giving them plum spots on big time undercards, or even on TV. Mike Lee was on the undercard of a pay-per-view Manny Pacquiao match (as big as boxing gets) for his third fight. His third fight. I've seen Mike Lee fight in person, twice. He's OK. He's sort of a cockstrong, overeager straight-ahead slugger. Which has worked fine for him so far, since he has not fought anyone who could be considered a challenge. He would probably not be a betting favorite against any top 10 light heavyweight. Which is to say, he is not as good as Beibut Shumenov or Karo Murat or Isaac Chilemba. None of whom you have heard of. None of whom draws hundreds of cheering fans in Notre Dame gear every time he fights. And none of whom was in a series of Subway commercials during last night's Super Bowl. A white man! A fight man! Finally, a slugger with whom Americans like you and me can identify! No gangsta, Mike Lee! Embrace him, mainstream consumers!