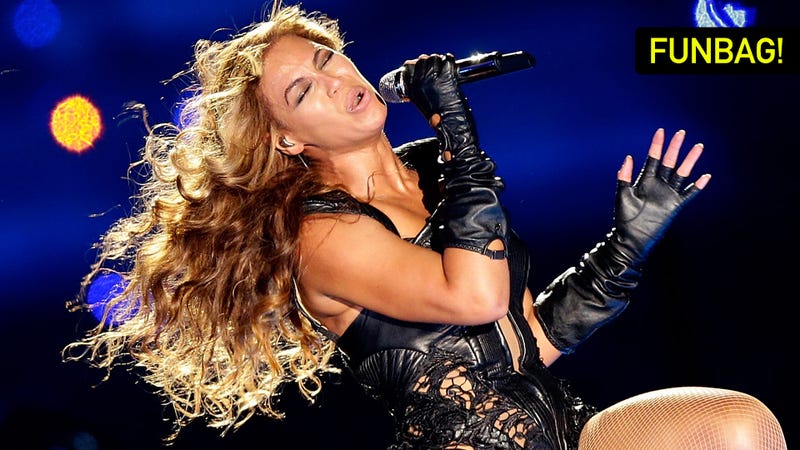 Time for your weekly edition of the Deadspin Funbag. Got something on your mind? Email the Funbag. Today, we're covering DVR prioritization, escaping from prison, blackout conspiracy theories, and more.
Before we get into this week's Funbag, a quick announcement: The last Jamboroo of the season posts on Thursday. So starting next week, there will be TWO Funbags a week. There will be the usual Tuesday Funbag. And then, every Thursday, there will be a LIVE Funbag. We'll do this all the way through to the beginning of the 2013 NFL season. Got that? Regular Funbag on Tuesday, Live Kinja Funbag on Thursday. Adjust your lives accordingly.
Your letters:
Tyler:
What would happen if 10 minutes before the start of halftime Beyonce developed a massive case of the runs and couldn't perform? Or if a future performer drops dead of a heart attack a few minutes before his performance? Would the rest of the band continue to play? Would they cancel the game? Or would we get 30 minutes of Shannon Sharpe attempting to speak coherently?
Given the sweat she worked up on stage, I think Beyonce still would have performed the halftime show even if she had come down with a nasty case of mud butt. You gotta play hurt sometimes. There was no way that lady was missing out on her chance to make your girlfriend weep in feminist solidarity. I was watching that halftime show with Sarah Kogod of the DC Sports Bog and when Beyonce came on, you would have thought Jesus arrived carrying a complimentary six-pack.
Drew Magary writes for Deadspin and Gawker. He's also a correspondent for GQ. Follow him on Twitter @drewmagary and email him at drew@deadspin.com.
Death is another issue. In a way, dying right before the performance would be a relatively easy fix for the NFL. They could simply announce the halftime show is canceled, cut to CBS doing an extended, awful halftime show, and go from there. The bigger issue would be if Beyonce died DURING the performance. After all, the power went out that night. What if it had gone out while she was executing a dangerous slide and she fell to her death? It's hard to hide that shit. They would have to cut the sound and then everyone at the stadium would think that terrorists were trying to kill Beyonce. Women would scream. Children would cry. Grown men would have to stop masturbating. MASS CHAOS. Then the NFL would get the game restarted as quickly as possible (no way they cancel the game, even if Beyonce took a ninja star to the forehead while she was up there) and deal with the nation's collective grief after the game is over. Poor Bey. SHE WAS SO STRONG FOR US ALL.
During the show, the other two girls in Destiny's Child shot up from under the stage, "Lay Your Hands On Me"-style. They totally would have had their shit ruined if the power had gone out right then. Like being crushed in an elevator shaft. If that had happened, I bet Beyonce wouldn't have batted an eyelash. She woulda just stepped over Destiny's Child B and C to execute a perfect shimmy.
Mark:
How awkward do you think the next Harbaugh family dinner will be? I'm sure at first everyone will be nice and cordial towards each other but at some point the game has to come up. Who do you think will bring it up first? Jim, John, good ole Dad? Will the end result be Jim walking around the dining room perpetually jerking his arm up and down yelling, "HE WAS HOLDING!!! HE WAS HOLDING!!!"
I think ALL Harbaugh family dinners are awkward. Jim Harbaugh is such an obsessive control freak that he probably commandeers the stove from his mom and tells her to get the fuck out so he can make a proper gravy. These are not mirthful people. One day, Jim Harbaugh will fling off his headset and it will decapitate a child, and then Jim Harbaugh will blame the child's death on the refs. It's gonna be awesome.
Seriously though, I find Jim Harbaugh fascinating. There's no way he lasts another decade, right? He's just gonna drop dead of eight simultaneous heart attacks. Even Urban Meyer is like, "Whoa hey, settle down there, amigo."
By the way, one of the lowlights of CBS' performance on Sunday night was when they showed John Harbaugh cursing the shit out of a stadium official and then James Brown said, without irony, that John Harbaugh is usually the calm Harbaugh brother. THERE IS NO SUCH THING AS A CALM HARBAUGH. They're all fucking lunatics.
Brian:
We've seen our first actor president with Ronald Reagan, but when will we see our first sports star president? And what sport would they come from? Eisenhower played football for West Point but never played past that. And while Jack Kemp made a run for president, the closest he got was becoming Bob Dole's running mate.
I think that we'll probably see a celebrity become President sometime within the next three or four decades. Celebs like Arnold Schwarzenegger, Jesse Ventura, and Al Franken run for office plenty. It's only logical that some famous actor or football player would try to take the next step. A celebrity already has brand-name recognition, which makes organizing a campaign for him that much easier (NOTE: You gotta be a real celebrity though. Fred Thompson doesn't count for shit). You don't have to worry about name awareness at all. And you don't have to worry about media coverage because the media would go batshit if George Clooney or Ben Affleck (both of whom cream their jeans any time people tell them they should run for office) ran for President.
This is why some people want Ashley Judd to run for Senate. Who cares whether or not she's qualified? It's possible that Ashley Judd can't even do multiplication tables.
Cam:
Remember last year when those pictures of the sniper nests in Indy hit the web? Those guys must have been losing their shit when the lights went out, right?
Here are the pictures in question, if you need your memory refreshed. I assume the New Orleans snipers had kickass night vision goggles so that they could scan the crowd for potential threats. But yeah, a sudden power outage in the middle of the Super Bowl on a fine weather day? I would have been scanning the stadium floor for Manson family members as well.