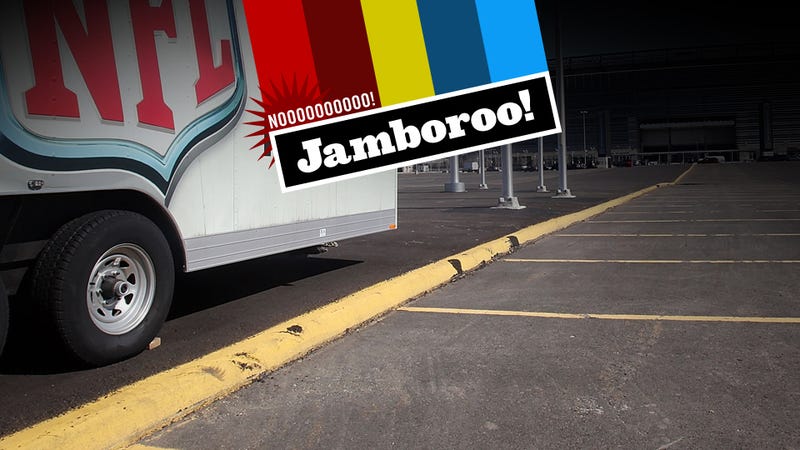 Drew Magary's Thursday Afternoon NFL Dick Joke Jamboroo runs every Thursday during the NFL season.
The NFL season is over! NOOOOOOOOOOOO! Christ, I have no clue what to do with myself. Right after football ends, you can feel the world slow down to a crawl. It's like a personal mini-apocalypse. From here on out, it's nothing but cold listless weekends with me lying down in the basement and the kids throwing Legos at the window. The clock moves slower than it used to in Spanish class. I'm bored senseless by 9:30 a.m. There is NOTHING out there for me now. GAHHHHHHHHH I CAN'T TAKE IT!
Anyway, it's time to close down the Jamboroo for the season, including a thorough and most definitely final breakdown of a terrible, 80,000-word Gregg Easterbrook column. Let's dig in, shall we?
The Games
No more games. No more throwgasms. So very sad. Let's get right to the random crap:
• Given that CBS had virtually no contingency plan for a half-hour delay on Sunday night, I wonder what would have happened if the game had been delayed any longer. What about a three-hour delay? What then? Would CBS have cut to a rerun of Undercover Boss? I totally bet they would have. What if the power just NEVER came back on? They would have had to suspend the game for the night and then move the action to Houston the next day and it would have been the single worst thing that has ever happened in sports. I kinda wish that had happened. I think the President would have bombed a small island nation just to help us collectively work out our frustration.
• I'm not sure I remember a year where so many new quarterback talents emerged simultaneously. Between Robert Griffin III, Colin Kaepernick, Russell Wilson, and Andrew Luck, it's an embarrassment of riches out there. There will always be teams that have serious QB problems in any given season (Jets, Cardinals, Jets, Jaguars, Jets, Jets, Jets), but you would be hard pressed to find another point in history when the league was flush with this much talent AT THE QUARTERBACK POSITION. Despite having his worst season from a PR standpoint, Roger Goodell has again managed to stumble ass-backwards into a goldmine. Next season is gonna be fucking crazy.
• I have a kid who's obsessed with trains, and so I read him train books every night. You can learn a lot about trains reading the same four books over and over again. For example, did you know that there are LEVITATING MAGNET TRAINS?! Here's a MagLev train in Shanghai that travels at over 250 miles per hour:
Peter King just wet himself. WHY DO WE NOT HAVE HOVER TRAINS HERE IN THE US? We have Amtrak trains that slow to four miles per hour when the engineer sees a particularly bendy piece of track coming up. Meanwhile, the Chinese ARE FLOATING ON FUCKING MAGNETS. This is an outrage!
Drew Magary writes for Deadspin and Gawker. He's also a correspondent for GQ. Follow him on Twitter @drewmagary and email him at drew@deadspin.com.
By the way, that video includes what is arguably the dumbest YouTube comment ever, which is a bold statement, but not so bold when you read it: "You don't want maglev in the u.s. few of my friends have been on long distance train journeys in the states and all said the people and views were amazing, wouldn't see much travelling at maglev speeds and wouldn't have as much time to meet new people,, why ruin it?" Indeed. Why ruin a 27-hour train ride?
• Reader Ben would like to point out this breathtakingly awful passage from Dan Pompei of the Chicago Tribune:
Joe Flacco is a Super Bowl MVP, which puts him in some elite company. But he still is not as elite as the most elite in the NFL. He is not as elite, for instance, as $20-million man Drew Brees. Or $19.2-million man Peyton Manning. Or $15.7-million man Tom Brady. Or $15.2-million man Eli Manning. Or $10.8-million man Aaron Rodgers. You could debate if he is as elite as Ben Roethlisberger or Matt Ryan.
So now not only are we debating the empty concept of eliteness, but now that are various LEVELS of eliteness to which Joe Flacco—who just won a goddamn Super Bowl and didn't throw a pick in four playoff games—must aspire. You see, Joe Flacco is currently only at Operating Elite Level IV, which does not allow him to move pencils with his mind the way Operating Elite Level XI QBs like Drew Brees can. I'm very excited for the people at First Take to take this topic and run with it.
• I went to the grocery store the other day and they rearranged everything. They switched the bread aisle with the card aisle. They put the yogurt on the opposite side of the dairy aisle. They changed the whole fucking layout. And it wasn't like they were expanding the store. Apparently, they just move shit around once in a while as a practical joke on customers. I walked in and it was like they had switched the hemispheres of my brain. Do you fuckers know how long it took me to memorize where the curry paste is? Rearranging a grocery store should be illegal.
• One more thing from that blackout post on Monday: I think that NFL analysts know that a TV gig is their only chance to have a high-paying, high-profile job after retiring from football. There's NO other option for them, apart from perhaps coaching (which no one wants to do because coaching sucks). Once ESPN cuts you loose from its studio crew, that's it. You're off the gravy train. No more TV crowds and strip clubs for you. So I think all these guys bend over backwards to make sure they NEVER get cast off. Because after that, it's nothing but failed real estate ventures and migraine headaches. Fat Keyshawn Johnson has to know that this can't last forever.