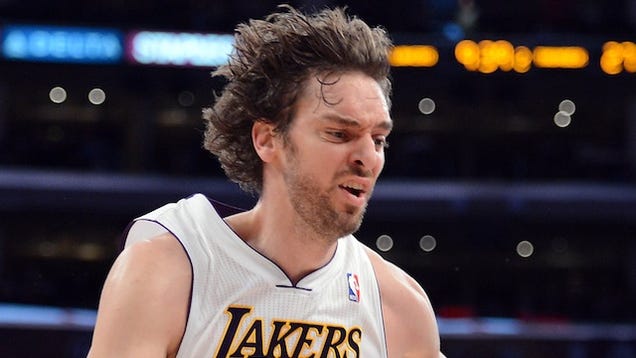 You all won't have Pau Gasol to push around anymore. At least for the next six weeks, anyway. Gasol left last night's Lakers-Nets game after hearing a "pop" in his foot, and he has now been diagnosed with a tear in his plantar fascia.
Pau Gasol has a partial tear of his plantar fascia and is expected to be out at least six weeks, league source tells @cbssports.

— Ken Berger (@KBergCBS) February 6, 2013
Bummer. Gasol's season was already going down a sad road: Mike D'Antoni gave his starting job to Earl Clark, his numbers are way below his career averages, and he's been tossed into more trade rumors than anyone else in the NBA. On the bright side, he should have a lot more time to send all kinds of awesome and informative tweets.
Congrats to both teams for the great game and making it to the #SuperBowl! The Ravens came out on top but it could've gone either way.

— Pau Gasol (@paugasol) February 4, 2013
That is so true, Pau.