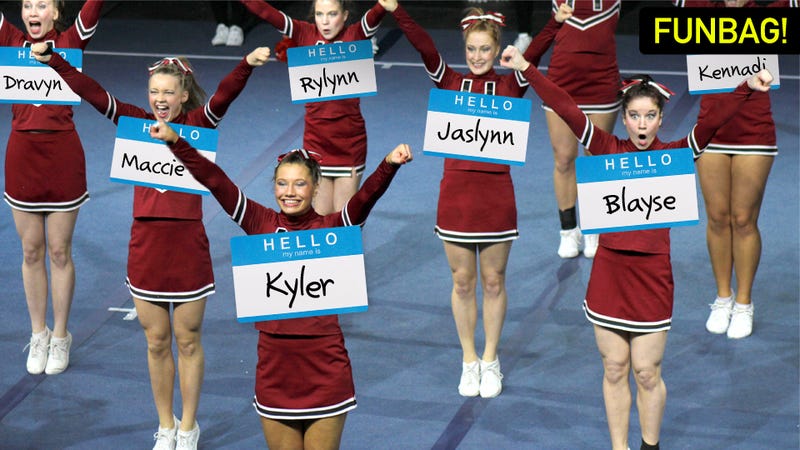 Time for your weekly edition of the Deadspin Funbag. Got something on your mind? Email the Funbag. Today, we're covering elderly couple sex positions, soundproof pants, the end of movies, and more.
Your letters:
Jesse:
I'm at a 'tumble and cheer' thing and all the kids have their names on the wall. Here are the 'good' ones:

Cambree
Karli
Baylee
Jaslynn
Maccie
Balei
Addison
Izzabelle
Kasey
Jadyn
Abigayle
Kinley
Kinsley
Ryleigh
Kyler
Dravyn
Jacelyn
Jacelynn
Kolie
Khloe (2)
Caryss
Blayse
Karsyn
Jaylynn
Kennadi
Brooklyn
Rylynn

I may have missed a few because there were so many horrible ones they just blended together into one big clusterfuck of terrible.
Well, this email has to be from Utah. Jesus, that is a damning list. The only way Izzabelle is an appropriate name is if your last name is Stradlin. And Maccie! I hope she has a sister named Jayceepynny.
I'd also like to single out Kyler for supreme awfulness. They just took Tyler and switched in a K. That's such a white trash move. Expect a future riddled with Kamuels, Kessicas, and Katthews. There's no stopping these terrible baby namers. They are getting worse at an exponential rate. Look at how badly abused the letter Y is up there. Rylynn uses no vowels at all! I'm waiting for Utah parents to seize upon the W as the next replacement vowel. If you don't think there's a Jwcwlwnn in our future, you are dead wrong. Eventually, all American baby names will resemble some kind of old Welsh dialect.
/waits for a commenter to tell me I'm a dick because Kyler is actually a common Hindu name