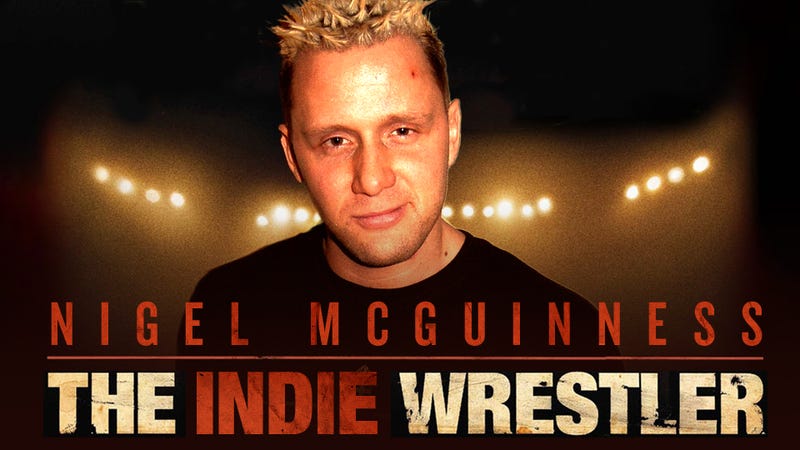 During his 10-plus year career, Nigel McGuinness, the former Ring of Honor World Champion, wasn't recognized much away from wrestling. There was that one time on the New York City subway, but he was commuting to a match and there were wrestling fans on the train. Being spotted in the Tampa delicatessen where he sliced cold cuts for a living seemed unlikely. But one day in 2011, a customer ordering a quarter pound of ham gave him that curious look that could only mean one thing.
Please don't fucking say it, McGuinness thought. Please don't fucking say it. There was another part of him though, the self-loathing English part, that said, You arrogant motherfucker. You think that anyone knows who the fuck you are? And then it happened.
"You're Nigel McGuinness, aren't you? You're Nigel McGuinness."
He tried downplaying it. Oh, I get that all the time, McGuinness said. He envisioned the headlines on wrestling websites: Nigel McGuinness Working at Deli Cutting Ham. After a while, he lightened up. "I appreciated your matches," gushed the fan. "You were awesome." The recognition felt good. He wasn't forgotten. Even if he had followed the career arc of Randy the Ram, the down-and-out former grappler portrayed by Mickey Rourke in The Wrestler, who also ended up behind a deli counter. (McGuinness briefly appeared in The Wrestler, in a scene filmed at a Ring of Honor show.) McGuinness makes the comparison. Then quickly rescinds it.
"I never had that big money run," he says. "That would be one thing if I got to do tons of coke and fuck girls everywhere. I just ate chicken every three hours, went to the gym five days a week and tried to be the best wrestler I could."
McGuinness is right: He never enjoyed the spoils. Wrestling on the independent scene pays about as well as you'd imagine; McGuinness never sniffed six figures. Wrestlers must work for World Wrestling Entertainment, or, on a smaller scale, Total Nonstop Action wrestling, to earn a comfortable living. That was McGuinness's plan. And he was on his way too, signing with WWE in 2009. But he flunked the physical and WWE withdrew the offer. "Absolutely tragic," says ROH wrestler Chris "Jimmy Jacobs" Scobille. "He really dedicated himself to this dream and goal. So to get the rug pulled from underneath you like that, there's not much worse that can happen as far as a wrestling career."
McGuinness quickly regrouped and joined TNA, debuting in a spectacular main event program with 1996 Olympic Gold Medalist Kurt Angle. "[We] clicked," Angle told me during a November 2011 interview. "I thought he was going to be the next champion. I told [everyone] that we got to push this kid. He's awesome."
His time on top was short lived, however, and he was disregarded once Terry "Hulk Hogan" Bollea took over the company—the Hulkster wasn't much of a fan of McGuinness's work. And then McGuinness contracted hepatitis B, and was eventually fired from TNA, which is why he spent most of 2011 hopeless and bitter as a clerk in Tampa.
"After a long day someone is complaining that you cut the wrong amount of salmon off the fillet, you go, 'God fucking hell, is there where I've ended up?'"
* * *
A year later, there's a new ending. McGuinness no longer works at a deli. He lives in Los Angeles, pursuing acting and stand-up comedy. He made a documentary about his wrestling career, The Last of McGuinness. And though he's retired from in-ring competition, he's back with Ring of Honor as an on-camera authority figure. And here he is on a Sunday morning in December, standing outside the Hammerstein Ballroom in midtown Manhattan.
More stories you might like from The Classical.
• Yokozuna in the Crease
• Drive
• Trap/Defense: The Basketball and Rap Lives of Marquis Daniels
• Be Here Now
McGuinness, now 37, wears a baggy black suit—he's swimming in the shoulders—an untucked white Nautica dress shirt, and black shoes. He is 6'1", around 200 pounds, and so down 15-20 pounds from his wrestling days. His hair is mowed close to the scalp. At first glance, he could pass for Jason Statham's taller stunt double. We walk past security and enter the main ballroom where the ring is already set up for this afternoon's Final Battle 2012: Doomsday, the last Ring of Honor internet pay-per-view of the year.
The main event features ROH champion Kevin Steen defending against Rami "El Generico" Sebei in a ladder match. It should be a doozy. Steen is a violent Quebecois who is agile and graceful despite his cartoonishly large belly. Fans chant "Kill Steen Kill" during his matches. Sebai plays a "generic" high-flying masked Mexican luchador except that he is not Mexican; he is white and redheaded. About a month later, he'll sign with WWE.
In the storyline, Steen and Generico are former tag-team partners who have battled on-and-off for the past three years. This match is a blow-off to their feud. At the moment though, they are two co-workers running through their match in the ring. "This is really important," McGuinness says watching from ringside, a slight Australian twang inflecting his London accent. "You are putting your body in someone else's hands. It's nice to do stuff on the fly and ad-lib but when you have things like a ladder involved, it's very dangerous."
Most ladder matches feature death-defying falls from preposterous heights. It's one of the most hazardous contests in the wrestling canon. But there will not be blood in this afternoon's match. Since McGuinness's return, ROH has discouraged intentional bleeding, or "blading." And in a few minutes, McGuinness and the company's booker Hunter "Delirious" Johnson, will announce a strict ban.
The wrestlers congregate around Johnson and McGuinness. Shelton Benjamin holds a bag of Chipotle. Terry "Rhino" Gerin chugs a Red Bull. Matt Hardy sips from a Dunkin Donuts cup. It's an eclectic roster comprised of youngsters dreaming of a WWE contract, indie stalwarts who never made it to the big leagues and former WWE stars on the downsides of their careers.
McGuinness is nervous but speaks clearly and with confidence about the company's new edict. "I feel as though certain changes need to happen in the industry, certainly in Ring of Honor," he says. "There are so many viruses that can be transmitted in blood. That being the case, I feel as though going forward, there should be no intentional blood on the shows."
"Agreed," shouts a voice from within the scrum.
"Yeah," affirms another.
McGuinness also advises the wrestlers to get vaccinated for hepatitis B. A few moments after wrapping up the speech, he looks pale. "I feel like I just came out," he tells me. "I think everyone feels the same way [about blading]. You can still have great matches without the blood."
But a match doesn't need blood to be dangerous. Steen and Sebei crashed through a handful of ladders during their contest, which Steen won after piledriving Sebei onto a ladder that was laid down horizontally between two standing ladders. McGuinness admits the spot was risky. Insane? "Probably not," he says.
The Charlie Haas and Shelton Benjamin versus BJ Whitmer and Rhett Titus street fight earlier in the card, however, ended with an insane spot. Haas launched Whitmer off the top rope and across the ring where Whitmer landed headfirst through a table. From where I sat in the front row, it looked nasty. The crowd roared—a mix of horror and astonishment—and the referee counted one-two-three ending the match. Whitmer wasn't expected to get up immediately. In other words, he had to "sell the finish." But most hardcore wrestling fans can differentiate between good selling and a legitimate injury. It got quiet real fast.
In an unscripted moment, McGuinness and other officials hurried to the ring. Whitmer somehow walked gingerly to the back, flexing his fingers.
After the event, I asked McGuinness what went through his mind while watching Whitmer crash through the table. "Is he alive?," he answered. "You see so many of those sort of bumps that you almost become conditioned to them. You have that sense that they are going to get up. In the back of your mind though, you know there's going to be a day when someone doesn't get up. When that day comes, um"—he pauses searching for the right words—"it's going to be a very bad day."
* * *
Back in the 1980s, an atomic drop was considered a devastating maneuver and violent gimmick matches were few and far between in the WWE (then known as the World Wrestling Federation). Promotions in Puerto Rico, Japan, Memphis and Texas were rougher and it wasn't uncommon to see Jerry Lawler throw fireballs or Larry "Abdullah the Butcher" Shreve dig a fork into Carlos Colon's forehead.