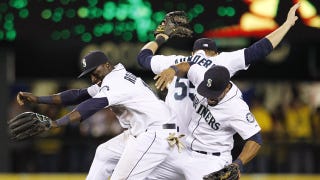 The guy who just beat everyone else in America at all the fantasy sports, again, is a computer science professor who is not so much into trades but who is really, really into spreadsheets. Clark Olson, the 2012 winner of ESPN's omnibus Uber Challenge fantasy game, again, tallied the high score across an Olympiad of fantasy games, from baseball and football and basketball and hockey to niche sports and individual game picks. He is the fantasy Jim Thorpe.
"I try to keep it from taking over my life," Olson told me by phone today. "I do have a regular job and everything."
He lives in Seattle and teaches at the University of Washington at Bothell, northwest of the city. On a typical day he wakes up, checks his email and updates his teams, which are spread across several leagues. Baseball's his jam, his first passion, and he spends the bulk of his time on it. Football's next, with basketball and hockey more rote. For the ESPN games, he'll then make picks on women's college basketball or NASCAR or draft forecasts or whatever else is the more exotic pick of the day. "Used to be they'd have crazy stuff," he said. "I certainly wasn't willing to put hours of research into a fantasy fishing game."
When he's not teaching or in meetings he'll keep a browser window open and monitor his little sports world, but he doesn't exert "constant effort" to feed and water his teams. He doesn't propose many trades, unless he has a rotisserie league that's flagrantly unbalanced. The bulk of his effort is on the front end. Mostly, he drafts well. Before a given season he collects various analyses he trusts—all publicly available, he says, and none very expensive*—and then grinds up the numbers himself.