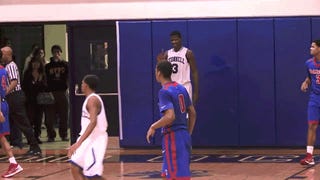 Looks like an already-messy situation on the D.C. hoops scene is about to get messier. Junior Etou, a breakout star at Bishop O'Connell High School in Arlington, Va., is about to turn 18 all over again.
Simon Wilkinson, a spokesman for FIBA, tells me in an email that the Geneva-based international basketball sanctioning body has just received "official documents" that indicate Etou was born "4th June 1994 and not 4th June 1992," as the group had previously stated.
In response, FIBA will likely lop two years off Etou's official basketball age, despite having in its possession an "official" copy of Etou's birth certificate that gave the 1992 birthdate. Also, in our first story about Etou, we found a 2007 message board post apparently written by Etou in which he refers to himself as 15 years old, which would put his birthdate in 1992. At 20 years old, he would be too old to play at O'Connell. The Washington Catholic Athletic Conference bars anybody who turns 19 before Sept. 1 of his senior year.