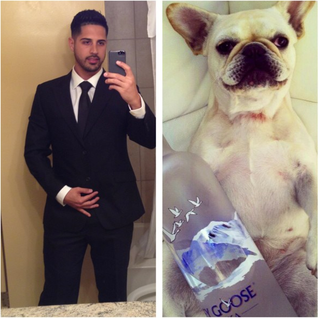 Not really sure what else there is to say that hasn't already been said. This is weird, an injury—technically—and it is baseball-related. Oh, and it happened in 2013. While Gio's injury is not all that serious—he was able to make his first start of the spring today and pitched relatively well—no weird injury is too mild to cover.
Gio on "Hollwood": "She gave me a rug burn. I hate her. And then I love her. And then I look in her face and then I love her again."

— Dan Kolko (@masnKolko) February 26, 2013
His dog's name is Hollywood and she is a booze hound. Could explain the violent outbursts.
Previously: The First Weird Baseball Injury Of 2013: Twins Reliever Breaks Ribs During "Horseplay"
The Second Weird Baseball Injury Of 2013: Red Sox Prospect Bryce Brentz Shot Himself In The Leg
Image via
Gio Gonzalez got rug burn on his forehead from wrestling with his bulldog, "Hollywood" [Nats Enquirer]