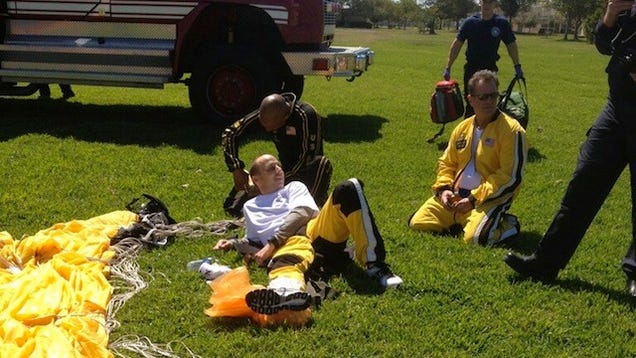 Yankees GM Brian Cashman went skydiving today in order to help raise awareness for the U.S. Army's Wounded Warriors project. Things were going fine until Cashman's second jump, when he broke his ankle so severely that the bone came bursting through his flesh.
Cashman injured on 2nd landing. They've brought ice to put on his foot or ankle. Apparently Caught it in ground on landing.

— John Harper (@NYDNHarper) March 4, 2013
People who attended to cashman say they're pretty sure his ankle is broken. They say bone was sticking out. Took him to hospital.

— John Harper (@NYDNHarper) March 4, 2013
Gah! How can Cashman look so calm and relaxed while his bone is sticking out of his skin? Any GMs looking to make deals with him in the future should be very afraid. The man clearly has ice water in his veins.
[Twitter]