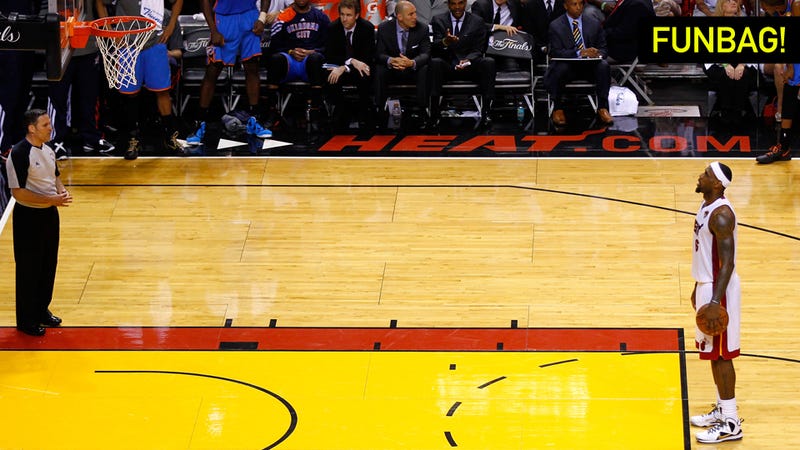 Time for your weekly edition of the Deadspin Funbag. Got something on your mind? Email the Funbag. Today, we're covering Presidential tipping, shitty recipe instructions, fighting old people, and more.
I was in New York on business last week (as much as what I do can be called "business" with a straight face) and I was working out of this office building downtown one morning when I had to go take a shit. So I grabbed my guest pass, beeped my way through a set of hallway doors (I always pretend I'm walking into NSA headquarters when I do this), and then walked absent-mindedly into the bathroom.
The bathroom was divided into two rooms: one for toilets and one for sinks. I found this unusual, but not enough to stop me from walking into the deserted toilet area and dropping anchor. As I was finishing up, I could hear a bunch of footsteps outside the stall, but no voices. I wiped up, flushed, pushed open the stall door, and was greeted by the sight of three or four women. I was not in the men's bathroom.
A smart person would have underplayed this moment. He would have uttered a simple "Oh my goodness, so sorry..." and then quickly exited. But I fucking FREAKED. I was like OH MY FUCKING GOD THIS IS NOT THE MEN'S ROOM! I allowed every woman in there to get a good long look at me for a police sketch while I pleaded with all of them that this was a total accident and that I never, ever did this sort of thing. NOT A PERVERT, GANG. Then I ran out of there and forgot that I never washed my hands. And I figured that was the end of it, but one of the ladies walked out of there the same time I was running.
WOMAN: What's your name?
ME: Uh... Drew? (I should have given her a false name, like Jack Dickey)
WOMAN: Did you not wear your glasses today?
ME: IT WAS AN ACCIDENT!
And I ran away from her. If I had a time machine, undoing this sequence of events now takes priority over killing Hitler.
Now, your letters:
Randy:
What if, in basketball, the shooter had to take their foul shots where they were fouled? Would teams completely alter their gameplan? Would teams start hacking away immediately after the inbound pass? Would games even be watchable assuming teams just spend half the game mauling each other the second the other team touches it?
You can institute the rule strictly for "in the act of shooting" fouls, and keep regular free throws for all the other fouls. And for those spot shooting fouls, you wouldn't make it a bunch of one-point free throws. You would just let the shooter take a free shot from the spot. So if LeBron gets hacked while dunking, he gets a free dunk worth two points. If he gets hacked from beyond the arc, he gets a free, uncontested three-pointer from that spot.
I'm sure there are a million reasons why this rule wouldn't work. But it SEEMS cool. Free throws tend to be a drag on basketball games. At the end of the game, when little Timmy has to make both shots for Scrappy Boy U to upset the three-seed, free throws are riveting. But otherwise, they're mostly boring as shit. They're always taken from the same spot, and your team's shithead power forward NEVER makes them when you really need him to. It seems unfair that if your guy gets hacked on a layup, he has to go shoot two shots from much farther away. Giving him a free layup on a foul would probably result in less hacking and smoother gameplay. Those games where there's a foul called every five seconds are the fucking worst. Unless you're Dwyane Wade, in which case that means the refs were ordered to let you win tonight.
Patrick:
When does fame run out? Is Fran Tarkenton still famous?
I think he is. Millions of people know who he is, which is a pretty solid case for fame. Obviously, his fame is regional. If Fran Tarkenton walks into a restaurant in Mankato, people turn their heads. If he does the same thing in Copenhagen, people just keep on eating their lingonberry and twig pizzas. But if you're famous somewhere, that's usually enough. That's the amazing thing about being famous. If you've done something that makes you recognizable to a significant portion of the general public, they usually remember you FOREVER, often fondly (One exception: Ryan Reynolds, who is clearly NAWT A MOVIE STAHHHH).
Once I recognize someone as famous, they stick. Thirty years from now, I'm not gonna be like, "Justin Bieber? I don't remember anyone by that name." I'm gonna be like, "BIEBER! He's the kid who sang all those songs and then developed a nasty meth addiction and eventually hired a crew of thugs to hold the Grammys hostage!" Fame has extraordinary staying power. You and I remember famous athletes long after they've finished their careers. If you saw Herschel Walker at the airport, you'd still flip out and be like, "Holy shit! It's Herschel Walker! And his other personality, Madam Bixby!" Even when that person slips out of your mind for years and years, you still remember them instantly with a little bit of prodding.
Drew Magary writes for Deadspin and Gawker. He's also a correspondent for GQ. Follow him on Twitter @drewmagary and email him at drew@deadspin.com.
This is why so many people want to be famous. Last week, we sorted out that Hall & Oates, who haven't had a hit in decades, still probably pull down hundreds of thousands, if not millions, of dollars every year simply because of the staying power of both their fame and their music. For a lot of notable people, being famous essentially means you are your own resume. You can spend the rest of your life making money in some shape or form merely by being you. That's a rather valuable asset, and that's why Lindsay Lohan can still usually find a Saudi prince who will pay her $50,000 for a blowjob.