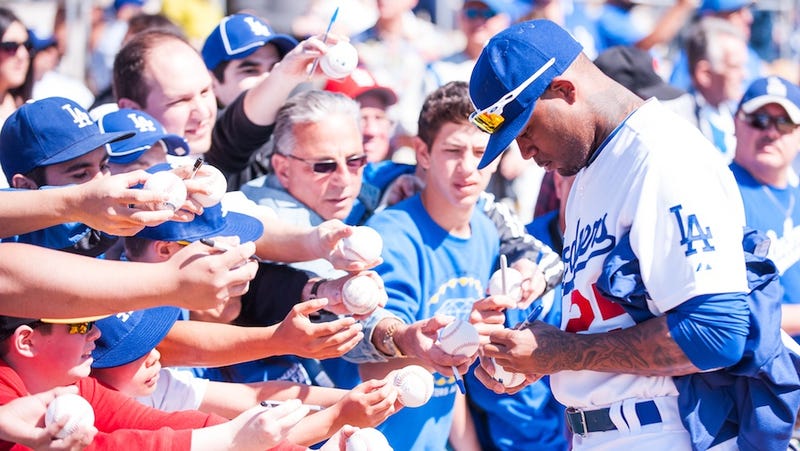 Carl Crawford spent most of two miserable, injury-plagued, lucrative seasons in Boston. But he's a free man, having been shipped to L.A. when the Red Sox decided to blow up everything. He's fighting lingering effects from Tommy John surgery, and may not be ready for opening day, but at least he's found his smile again.
Crawford gave some bracingly honest quotes to CBS Sports's Danny Knobler, taking some blame for his underperformance, but mostly expressing just how fucking miserable Boston can be for a professional athlete.
"That smile turned upside down quick," Crawford said. "I think they want to see that in Boston. They love it when you're miserable.

"Burying people in the media, they think that makes a person play better. That media was the worst thing I've ever experienced in my life."

...

"I took so much of a beating in Boston, I don't think anything could bother me anymore," he said. "They can say what they want — that I'm the worst free agent ever — and it won't get to me. But it bothered me the whole time there."
We've been down this road with the Boston media before. Clay Buchholz faced its wrath, and Kevin Youkilis was relieved to briefly escape. But it's not just a Boston thing. In most cities, reporters actively root for their team to do well. It makes readers happy, it makes players more talkative, and it makes the writers' jobs easier. Yet in two-newspaper towns, especially in the Northeast, writers want drama. It fuels follow-ups, and talk radio, and a reporter's job is infinitely more exciting. And if there's not enough drama, the whiff of it will be played up, or invented from whole cloth. This is probably a reflection of cynical, bloodthirsty fanbases and a more general yellow journalism tradition than an indictment of specific writers, but it's a real, established phenomenon, and athletes like Carl Crawford can't reasonably claim they didn't know what they were getting into.