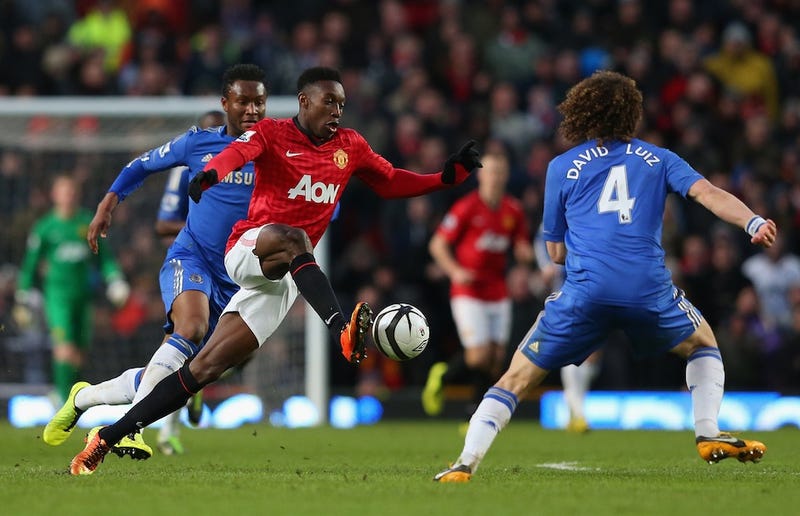 It only took five minutes for Manchester United to draw first blood against their rivals Chelsea in today's quarterfinal FA Cup match. Michael Carrick drove a great ball over the Chelsea defense which found Javier Hernandez's head. Instead of heading it down, as forwards are taught, the Mexican striker lofted the ball over Petr Cech and into the far corner of the net to put United up 1-0.
Six minutes later, the match felt like it was over when United's Wayne Rooney bent a free kick into the area from just outside the left corner of the box. Chelsea's defense was shoddy the entire first half, and both Chelsea centerback David Luiz and new boy Demba Ba whiffed on their attempts to head the ball from danger. It took one bounce in the six and skidded far post to put the home side up 2-0. A few minutes later, United almost went up three goals when Luiz mistakenly headed a ball on his own goal instead of over the crossbar. Only a wonder save from Petr Cech kept the match from being effectively over at halftime.
The second half, however, was a different game. Chelsea star Eden Hazard subbed on in the 52nd minute and scored seven minutes later on a ridiculous bending strike from outside the penalty area. Seriously, have a look:
Nonsense. Gus Johnson pissed himself. Anyway, Ramires tied the game for Chelsea when he slotted home the final pass from a quick Chelsea counter attack, and the away side almost stole the game outright from United at the end of the match when Juan Mata brought down a long pass over the top from Luiz, cut inside on United defender Johnny Evans and shot from the edge of the six-yard-box. Only a kick save from goalkeeper David de Gea kept Chelsea from advancing to the semifinals.
The two English giants ended in a 2-2 draw after 90 minutes, and FA Cup rules mandate a replay. The deciding game will be played at Chelsea's home, Stamford Bridge, sometime this month. The match, however, hasn't been scheduled yet because Chelsea is still competing midweek in the Europa League.
More important news, however, at least as far as the Premier League is concerned, is that the winner of the match will play Manchester City in the tournament semifinal. Wigan Athletic, who advanced along with City yesterday after defeating Everton 3-0, will play the winner of the Blackburn/Milwall matchup, which is being replayed on Wednesday.
If you've been following, you already know what this means. The post-Tim Howard apocalypse is here.