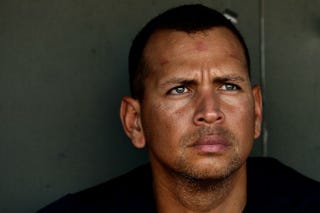 Not 36 hours after an arbitrator largely sided with MLB and pegged Alex Rodriguez's suspension at all of 2014, Bud Selig took a bizarre, televised victory lap. A double-length 60 Minutes segment that publicly (and for the very first time) laid out the evidence against A-Rod, featuring sit-down interviews with the commissioner, MLB COO and arbitration panel member Rob Manfred, and the man of the hour, accused PED dealer and chief witness Anthony Bosch.
60 Minutes, which in recent months has come under fire for pieces amounting to PR for Amazon, the NSA, and Benghazi conspiracy theorists, carried MLB's water here. The piece was titled "The Case Of Alex Rodriguez." It was not. It was the case against him.
What did we learn?
Bosch said he first met Rodriguez in 2010, when Rodriguez approached him specifically asking for the substances Manny Ramirez used in 2008 and 2009. His goal? To reach 800 home runs.
Bosch claimed Rodriguez was scared of needles so he had Bosch inject him, including once in a bathroom stall at a Miami club.
Bosch said Rodriguez paid him $12,000 a month to maintain a drug plan, one that included testosterone lozenges that could be taken before games and be undetectable in urine taken after the final out.
Bosch claimed that once the shit hit the fan, Rodriguez's camp alternately threatened his life and offered him bribes to stay silent.
Just about the only "hard" evidence were pages of text message records between Bosch and Rodriguez—those alone probably were enough to convict Rodriguez. But this piece had the distinct implication that Bosch's word was gospel, when he's every bit the scumbag Rodriguez is. Complicated stories must be compressed and elided for TV, yet 60 Minutes correspondent Scott Pelley failed to ask some of the most basic questions.
If Rodriguez's PED regimen was undetectable, why have four of Bosch's clients tested positive? Why was Bosch not pressed on his own false claims of being a licensed doctor, and of peddling PEDs to teenagers? Why was MLB's guarantee to protect Bosch from criminal prosecution never brought up? Why was Rob Manfred allowed to get away with using the fact that Rodriguez declined to take the stand as an indictment of his guilt? Why was Manfred not pushed on the identity of evidence-broker "Bobby," who we now know to be a convicted criminal directly involved with the theft of Biogenesis documents?