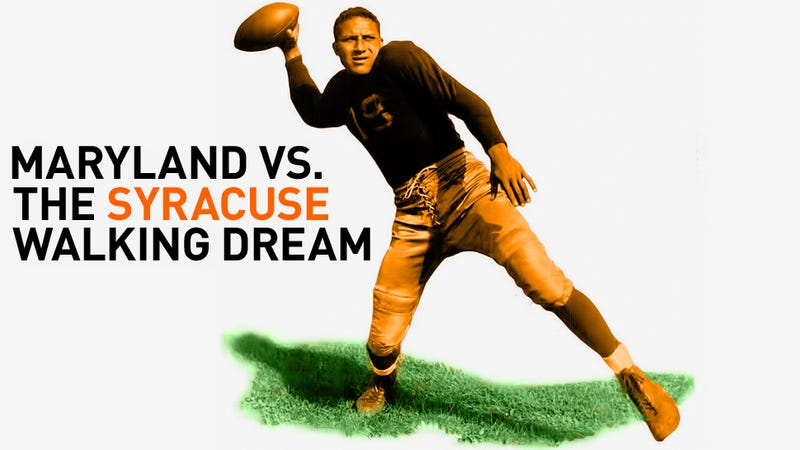 In October 1937, Maryland administrators threatened to cancel a game with Syracuse unless the then-Orangemen benched their offensive star, Wilmeth Sidat-Singh. The problem, as Maryland saw it, was that he wasn't the right type of colored boy.
Seventy-six years later, the school is again bringing in Syracuse for a football game, and the hosts will finally get around to righting one of college sports' all-time wrongs.
"I never thought this day would come, when Maryland would own up to what happened," says Lyn Henley. He's Sidat-Singh's cousin and the caretaker of his kin's incredible legacy. It's a righteous task.
Sidat-Singh was a unique figure of the 20th century whose renown never matched his athletic gifts. He had come to Syracuse two years earlier to play basketball after leading New York's DeWitt Clinton High (Class of 1935) to a city championship. From the time he arrived on campus, Syracuse's athletics office had led journalists to believe that Sidat-Singh's cultural roots were in India. A wire story that appeared in the Washington Post in March 1937 described him as "the only Hindu basketball player in the United States."
He was asked to join the football team for the next school year after a coach watched him throw in an intramural game. In his first year of organized tackle football, Sidat-Singh was installed at halfback, which, in the single-wing scheme that was in vogue at the time, was a melding of the modern running back and quarterback positions. Whatever Sidat-Singh lacked in experience, he made up for in instinct and versatility. A week before the Maryland game, Sidat-Singh had begun attracting national attention by leading the Orangemen on the ground and through the air in a win over favored and undefeated Cornell.
In previewing the upcoming contest, a Washington Post writer asserted that if the Terps wanted to hang with Syracuse, which came in ranked No. 17 in the country, the hosts would have to nullify the "full-blooded Hindu" who had emerged seemingly out of nowhere to become the Orangemen's leader. The writer mocked his name, too, replacing "Sidat" with "Sit-Down."
But on Oct. 23, 1937, a day before the game, the Washington Tribune, a D.C. weekly with a black readership, published a bombshell: "NEGRO TO PLAY U. OF MARYLAND" read the banner headline. "THEY CALL HIM A HINDU" was the subhed.
Turns out that Sidat-Singh wasn't a Hindu, and had not a drop of Indian blood in him. The Tribune piece let out that Syracuse's gridiron phenom was a straight-up American Negro, born Wilmeth Webb in Washington D.C. in 1918. Readers learned that his biological father, Elias Webb, was a local pharmacist who'd died of a stroke in November 1925. His mother, Pauline Miner, then married Samuel Sidat-Singh, a West Indian physician who adopted young Wilmeth, gave him a new last name, and moved the family to New York.
Though there was no byline on the Tribune stories, the Webbs back in D.C. knew who'd outed their kin. "We knew that came from Sam Lacy," Adelaide Webb Henley, Sidat-Singh's aunt, told me in 2008. Lacy, the son of a Native American woman and an African American man, was then in the early stages of a long and legendary sportswriting career, which would end only days before his death, at 99, in 2003. She continued: "He was a Washingtonian, and a friend of my family. He knew Wilmeth wasn't a Sidat-Singh. He knew he was a Webb."
Adelaide Webb Henley, who is now 101 years old and still living in D.C., had helped raise her nephew. Lacy's Sidat-Singh expose caused a lot of stress in the family, she once told me.
Lacy's scoop also almost led to the Syracuse-Maryland game getting canceled. Blacks weren't banned by rule from playing at Syracuse at the time, though the Orangemen had never had a black football star.
The University of Maryland, however, not only barred blacks from playing sports; the school didn't even permit black kids to enroll in class in 1937. Maryland's first black student didn't enroll until 1951, and only did so then by court order. The Terps' first black athlete didn't arrive until 1962, when Darryl Hill transferred over from Navy to play football. But in Sidat-Singh's day, Maryland administrators were so keen on segregation that they prohibited Terps athletic teams from scheduling any school that allowed blacks to play.
"Sophisticated Maryland University's tradition stands to be knocked into a crooked hat Saturday," Lacy wrote. "For behind the scenes stands a Negro. He's been exploited by local dailies as a Hindu, obviously for the purpose of explaining the presence of the dark skinned footballer in the visiting backfield."
Also: "And now—oh, horrors—[Maryland] must match wit and brawn, shoulder to shoulder, with a colored person. What ironical tricks are played on the poor unsuspecting Nordics!"
Maryland didn't take Lacy's news well. On the morning of the game, Syracuse's first-year head coach Ossie Solem came into the locker room and told his players that Maryland would not allow Syracuse to field a Negro. And now that Sidat-Singh was suddenly not Hindu but black, there would be no football game unless he was benched. Syracuse caved. The game was played.
Lyn Henley, 67, wasn't yet born when that game took place. He never knew Sidat-Singh, but he says the travesty of what happened in 1937 has haunted his family for more than half a century. "My father [Benjamin Henley, who was also Sidat-Singh's uncle] went to that game thinking Wilmeth was going to play," Lyn Henley says. "He always told me about that day, a very rainy day, and how bad he felt watching Wilmeth the whole game, sitting on the bench with a towel over his head, looking so sad."
Maryland won the game, 13-0, giving Syracuse its first defeat.
The Terps never took any heat for their blackballing of a black player. The benching of Sidat-Singh was not treated like a story by the mainstream media, local or national, at the time or since.
For all the hype given the Hindu star in its preview story, the Washington Post made no mention of Sidat-Singh's benching or the racial controversy that inspired it in stories about the game that ran the next day. In fact, the only reporting of the incident ever to make that newspaper came in the form of a letter to the editor that ran on Nov. 1. It was from E.B. Henderson, a former head of recreation for D.C.'s "colored" schools and the guy credited with introducing basketball to the black community there. (Henderson was inducted to the Basketball Hall of Fame this year for his contributions to the game.)
"For a week the sport lovers of Washington were deluged with praises and color-incidents about Wilmeth Sidat-Singh, a reputed Hindu player on the undefeated Syracuse football team," Henderson wrote. "As late as Friday night preceding the game with Maryland thousands of readers were led to believe that Sidat-Singh would play at Maryland. … [But] Sidat-Singh was forced to sit on the bench and see his team go down to an undeserved defeat because Maryland authorities insisted that Maryland never had and would not play a team on which there was a colored boy."
The New Yorker's Rogers E.M. Whitaker wrote several paragraphs about Sidat-Singh in his college football column for the Nov. 20, 1937, issue after he saw him lead Syracuse to an upset victory over Sid Luckman's Columbia squad. Whitaker's piece ran nearly a month after Sidat-Singh's benching against Maryland. But the writer dropped no hint that he was aware either of the awful shenanigans that took place in Maryland or of Sam Lacy's bombshell about the player's actual ethnicity. Whitaker, who referred to Singh as "Sing," was still playing up the cultural-freak angle, even referring to him as "the only Hindu in football." A passage:
You'll be disappointed to know that Sing is only technically Hindu; although his father, who's been practicing medicine in New York for the past dozen years, was born in India, Sing himself has an American mother, his birthplace is Washington, D.C., and he's a Christian. We say you'll be disappointed because a member of the Hindu faith who's the son of a doctor would, in the course of a Syracuse football schedule, meet a good many players who, because of caste lines and rules about "untouchables," he wouldn't block or tackle. … Except for his rather dark complexion, Sing looks and acts exactly like an ordinary football player.
Sidat-Singh made news for his football skills in the 1938 season. He was calling signals for a rematch with Maryland, played at Syracuse. The Orangemen crushed the Terps, 53-0. The Crisis, a publication of the NAACP, put Sidat-Singh on its next cover, above the headline: "He got revenge on Maryland."
A week after the Maryland blowout, Sidat-Singh engineered three late scoring drives during a 19-17 upset of Cornell. Grantland Rice was there, and the ensuing prose was particularly empurpled.
"A new forward pass hero slipped in front of the great white spotlight of fame at Syracuse today," Rice overwrote after that performance. "The phenomenon of the rifle shot event went even beyond Sid Luckman and Sammy Baugh. His name is Wilmeth Sidat-Singh."
Rice, an idolmaker if sportswriting ever had one, devoted a good portion of another 1938 column to "The Saga of Sidat-Singh," a fawning poem Rice attributes to a John S. Martin. Representative couplet: "The shades of night were falling fast and the score was 10 to zero, When Sidat-Singh, the wizard, passed six times to become a hero." The poem's conclusion: "Did you see that thing? That's Sidat-Singh—the Syracuse walking dream."
---