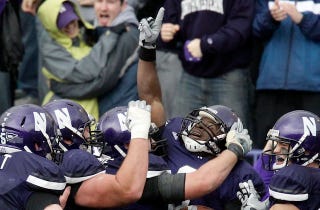 On Tuesday, we learned that the Northwestern football team had filed paperwork with the National Labor Relations Board in an attempt to unionize and officially become classified as university employees. Thomas Frampton, an attorney and co-author of A Union of Amateurs: A Legal Blueprint to Reshape Big-Time College Athletics, is here to explain how the Northwestern football team's fight for unionization will likely play out.
Who gets to unionize?
Under the National Labor Relations Act (NLRA), the federal law that governs private-sector labor relations, "employees" have the right to form a union. They also have the right to be free from retaliation for seeking improvements through "concerted activity"—signing petitions, wearing union buttons, even walking off the job—regardless of whether unionization is the goal.