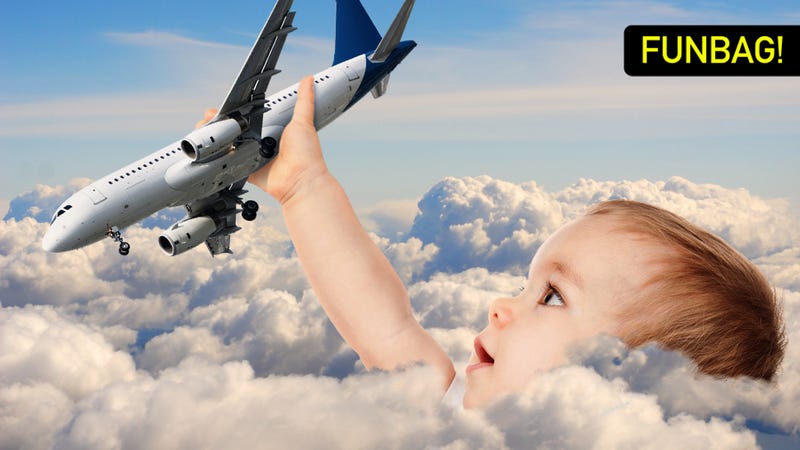 Time for your weekly edition of the Deadspin Funbag. Got something on your mind? Email the Funbag. Today, we're covering celebrity porn habits, gym clothes, poop, and more.
Your letters!
DeDe:
Any tips on surviving a day of air travel - two flights and a layover - with a three-and-a-half-year-old and a two-month-old? Let's assume sedation isn't an option for the children (or adults) involved, and we'd ideally like to keep our marriage and custodial rights intact.
I assume the 2-month-old is a lap child, right? A kid under 2 can fly free with you so long as you keep them on your lap (and you have a copy of a valid birth certificate, and those fuckers at the counter won't hesitate to give you the shit eye when you've forgotten it). Keeping a lap baby with you for an entire flight is every bit as excruciating as you think it is. But buying an extra seat is an impossible luxury, so you just have to deal with it the best you can. The upside is that the baby almost always wants mommy on an airplane and not you (unless you're the mommy, in which case my condolences), which means you get to deal with the older child, who is easier and has his own seat.
As for older kids ... iPads and iPhones. That's a shitty piece of advice to throw out when not everyone has an iPad (I don't know how so many people have them when they cost so fucking much), but if you have a screen for the kids to stare at and you have snacks and you have a couple of books and you get up and walk the aisle a couple of times, you should be able to establish a kind of airplane training circuit for the kid: screen time, eating, reading, walking, screen time, eating, reading, walking, and repeat. This requires you to take enough kiddie supplies to fit inside a U.S. Army canvas deployment bag, and the one item that you need will ALWAYS be at the bottom of the fucking bag, leaving you hunched over in agony for hours at a time. But you have no choice.
All of this is substantially easier when you bring a car seat an board and strap the 2- or 3-year-old in it, but that requires bringing the car seat through customs (along with the Army bag), then getting it onto the plane and installing it while 200 people boarding behind you MURDER you with their eyes as you struggle with the seat belt. It's a pick-your-poison scenario, frankly. You're a dead man either way. Just keep lots of screens and unhealthy shit to eat close at hand.
Kyle:
Have penises become larger over the course of history? I am taking a Greek Mythology class and our professor shows us power points of arts of the Gods and other significant figures and all of them have very small dicks. I didn't think much of it at first, but then I recollected the statue of David, history's most iconic penis, and how undersized his is depicted as. Couldn't he have had the artist exaggerate? Or was penis size just not a concern? But it had to be, right? All these Greek Gods and Roman Emperors were sex-obsessed and fucked nearly everything that moved. Didn't they see bigger dicks as the enemy?? Dicks seem to be naturally bigger now. Or maybe we as a society just watch too much porn. If dicks have gotten larger, what, in the course of history, could have made them so?
Well, over the past century-plus, we have grown larger as a species. We are now taller and fatter than we were 140 years ago because we eat more and because we are less prone to contracting crippling hunchback diseases. I've been to museums and looked at suits of olde tymey plate mail armor and those suits always look like they were designed for the petite section at Ann Taylor. So, if we're bigger overall as a species, then it would stand to reason that our dicks are larger, no? And I bet bigger-donged men are getting more action and making more babies with their big dicks and birthing a larger segment of the dick-rocking population, right?
Perhaps not! Turns out that there have been numerous studies comparing body size to penis size, and, "They found that age and body characteristics were not associated with size of penis except for the 'index finger length' ..." Which means that Pedro Martinez must be hung like a fucking grandfather clock. Now, if we've grown overall as a species in the past 140 years, maybe it would stand to reason that our index fingers are a little bit bigger, which means our dicks are a little bit bigger. But you and I know full well that there are large men with small dicks and small men with large dicks. I looked when in the high school gym shower. I'm not made of stone! You can only keep curiosity at bay for so long, dammit! If our penises have grown over the course of history, it's probably not by a significant measure. You won't be able to comfort yourself at night knowing that you are more capable at deep dicking than your ancestors. Sorry, amigo.
I would like to get a proper measurement of my own apparatus one day. When I was a kid, I used to sneak downstairs in the middle of the night and try to measure my boner with a ruler, but the reading was never optimal. I used to really jam that thing down into the root, too, for maximum length. I need a professional length-assessment service that provides both customary and metric measurements for me to put on insurance forms. "Whoa, this guy is a full six and two-thirds! APPROVE THAT LOAN."
Mike:
Justin Bieber's recent legal problems don't seem to have diminished the degree to which his biggest fans (Beliebers) adore him. What would he need to do to lose their affection? Murder? Rape? Chris Brown, arguably a peer of his, beat the crap out of his girlfriend, a pop star in her own right, and his biggest fans didn't miss a beat. I think Justin would have needed to crash his Lamborghini into a bus full of nuns before his Twitter tally dropped.
I don't think even that would turn off die-hard Beliebers. If you're that emotionally invested in an artist or a movie star or something like that, you'll concoct any reason to justify your habit. He's just a kid! He needs help! The media are out to get him! Those nuns were throwing themselves at him! WHORES. Stuff like that. I mean, it's not that different from my enjoyment of the NFL. Roger Goodell could stand on a podium this week and club a fetal pony to death and I'd still watch football.
The only thing that will diminish the whole Belieber frenzy is time. Kids are fucking insane about the things they like. I was no different. When I was a kid and Def Leppard got knocked off the top spot on Dial MTV, I would fucking FUME. And if anyone ripped on Metallica in front of me at school, I would get all huffy and be like, "You don't know shit about anything JAMES HETFIELD IS A GENIUS AND U ARE A LOOZER!" And if you were some girl who liked New Kids on the Block, as far as I was concerned, you were the ENEMY. I can't even imagine what an ass I would have made of myself on the Internet at that age. When you're young, you love the things you love a whole lot more irrationally than you do when you're older.
So it'll all fade away at some point. Bieber will keep getting into trouble and making records and the fanbase will move on to other shit, with a few stragglers left who grow up to be cat ladies. I worked with an old lady who kept a poster of Ricky Martin in her office. That's what a Bieber refugee will look like twenty years from now. The rest will grow up into perfectly normal, well-adjusted people. We all have our phases.
Curt:
I've heard it's been about 10 years since "Nipplegate", aren't we due for a good Super Bowl halftime show controversy? And with the Bruno Mars/Red Hot Chili Peppers bill, isn't it probable there will be a "malfunction" with Flea's underwear/sock wardrobe? And will the weather play a significant role in this?
Well, there was that brief dustup when M.I.A. flipped the birdduring Madonna's set. M.I.A. was fined $1.5 million by the NFL for the incident. For the record, that fine appears to be larger than any fine that the NFL has ever handed down on a player or organization. Spygate, Bountygate, Ndamukong Suh going knee-hunting—all of that merited a lesser fine than a momentary bird flash that you probably would have glanced right over if you didn't have a DVR. Glad the NFL has its priorities in order.