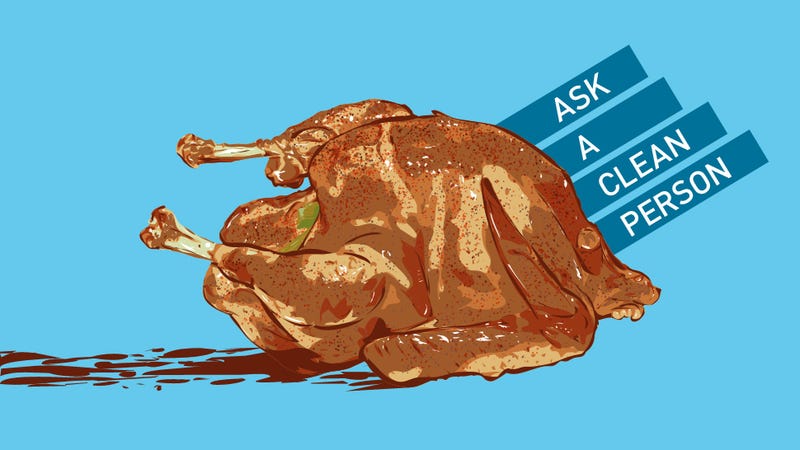 Jolie Kerr is a cleaning expert and advice columnist. She'll be here every other week helping to answer your filthiest questions. Are you dirty? Email her.
The holidays are a great time of year for my line of work, which is actually sort of sad because it means that while I'm delighting in all the horror stories gracing my inbox, you all are staring forlornly at a giant mess. I'm sorry for your mess!
OK, fine: I'm not really that sorry for your mess. But only because your mess keeps me in work.
Speaking of your messes … in past years, I've taken on what I like to refer to as Holiday Disasters; this was the 2011 version, and here comes the one from 2012. This year, I've decided to take a preemptive approach and write up a primer of sorts on the most common stains that mar the fabric of our otherwise perfect holiday seasons. With that said, the holiday season is only just beginning so do feel free to thrill me over the next few weeks with the tales of all the things you've dirtied up.
Before we get into it, though, allow me to say a quick word of thanks: I just adore this job, and I wouldn't be able to say that if it weren't for all of you wonderful people who read and comment and email me with your wild and weird cleaning conundrums. It's touching, in a way that's hard to articulate without sounding ham-handed, to be trusted with the questions you ask of me and I am so grateful for that. Thank you all from the bottom of both my heart and my supply bucket!
Blood
We all dream about stabbing one of our relatives, so just in case one of you actually does (um, don't?) here's everything you need to know about cleaning up blood stains. Even if you don't plan on stabbing a relative, these are handy instructions to have close by, what with all the drinking and carving and such that goes on at Thanksgiving.