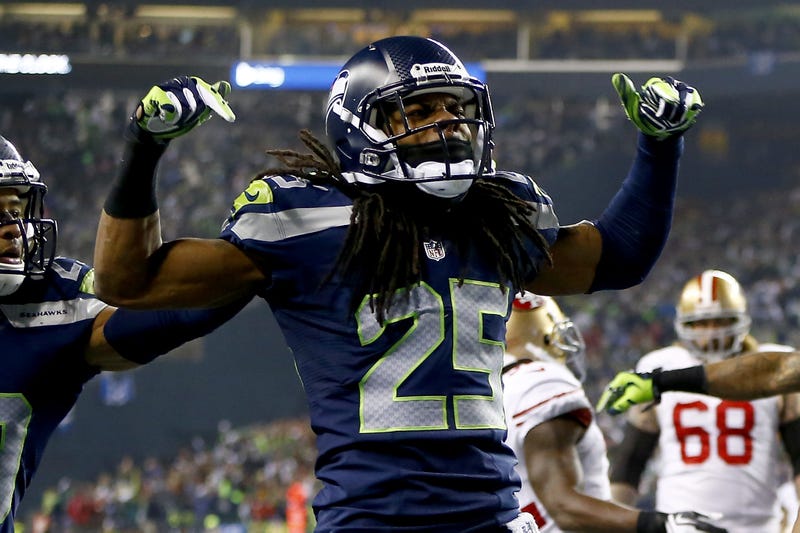 World, meet Richard Sherman. He's an interesting guy.
The Basics
Sherman is a 25-year-old cornerback out of Stanford, where he also played wide receiver before injuring his knee. He was picked in the fifth round of the 2011 draft, has been voted to the All-Pro team the past two years.
The Seattle defense is nicknamed the Legion of Boom (L.O.B.), but Sherman stuck the nickname Optimus Prime on himself, because Optimus kicks Megatron's ass. (Calvin Johnson had three catches for 46 yards on eight targets when the Lions and Seahawks played last season.)
So what the hell was that about with Crabtree?
So here's why we're talking about Sherman today. Last night, at the end of a fantastic if sloppy NFC championship game, Sherman tipped a ball intended for Michael Crabtree to a teammate for an interception to seal the game. It was a fantastic, acrobatic play, and afterward, Sherman ran up on Crabtree, smacked him on the ass, held out his hand looking for a handshake with a shit-eating grin that stretched the atomic bonds of reality. Crabtree smacked him in the face.
Why was Sherman being a dick? Crabtree had been talking. Here's CSN Bay Area in the leadup to the game:
"Uh, no, I don't think so," 49ers wide receiver Michael Crabtree said on Thursday.

Why not?

"I don't know (anything) about the best cornerbacks in the league," Crabtree said. "I just know teams. We are playing the Seattle Seahawks and hopefully we come out with a win.

"You study him and you study the defense, the overall defense. A lot of guys play coverages. It isn't just man-to-man the whole game. So you got to study the whole defense. It is not just one guy. It is the entire defense."
That isn't exactly a tank of kerosene and a pack of matches, but Sherman is very loud about being the best corner in the game, and wants everyone to know it. He told everyone that he is the best corner in the game in his fantastic, barking, murderous interview with poor Erin Andrews afterward. This makes sense, because Sherman is the best cover corner in the game.