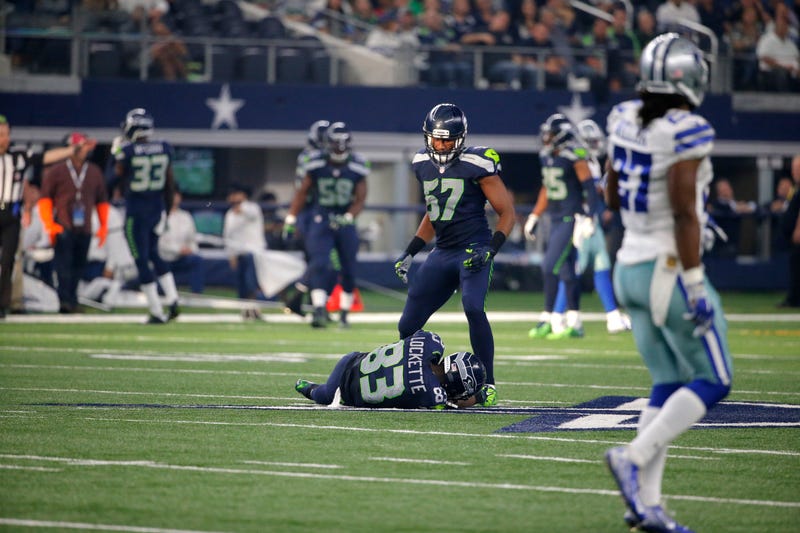 Woof. It might be hard to remember, now, that the NFL was having a rotten, rotten week before Deadspin uncovered the brutal details of why Greg Hardy was arrested for assaulting his ex-girlfriend.
Week 8 games took an unusually high toll on players—Reggie Bush, Keenan Allen, Ricardo Lockette, Le'Veon Bell, Steve Smith, Khiry Robinson, and Cameron Wake suffered season ending injuries, running the gamut from the drearily common to the terrifying. Keenan Allen suffered a lacerated kidney. Ricardo Lockette needed neck surgery. Khiry Robinson had an open fracture in his lower leg. Achilles injuries to Smith and Wake—a gnarly, catastrophic leg injury, generally—come off as a near-relief by comparison. Bush's ACL is almost good news.
Former player Brady Quinn told the Roughing the Passer podcast that he thinks there's an uptick in injuries, and that it can be pinned on PED use. This is dubious, but it's a bad look, too—if nothing else, that this is a concern at all really underlines just how much devastating injuries have become a central part of the average NFL season. And the conversation about the post-career consequences of playing a violent sport is now a weekly, unsurprising routine: Kyle Turley talked on Highly Questionable about a daily struggle with "suicidal and homicidal tendencies" related to his struggle with mental health issues he believes are related to his playing career, which featured over 100 diagnosed and undiagnosed concussions.