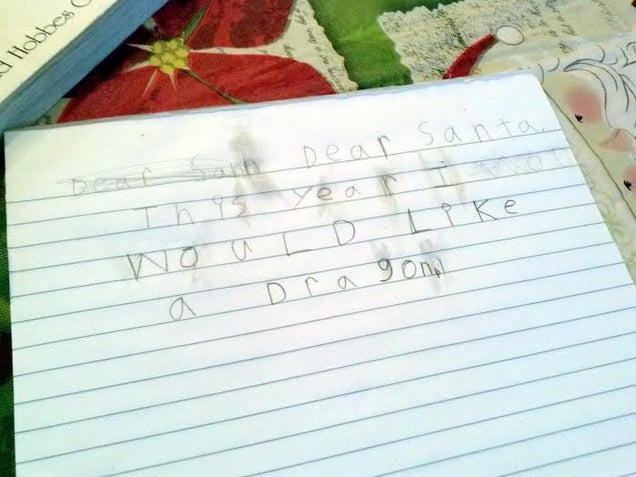 S
After I posted my kid's goofy Christmas wish list on Wednesday, we asked you readers to send in some of your own. You were not a disappointment to us. One guy's kid sent in the entire contents of the toy section at Target. Another reader's kid had a list that included a diagram (its instructions and purpose were not clear). And I got one list that included "Meet my real dad" as a line item, though I daresay that list was a phony.
Here, in every bit of their glory, are some of the more amusing entries.
---
Cora, age 5: "Pieces of ribbon w/stuff on them"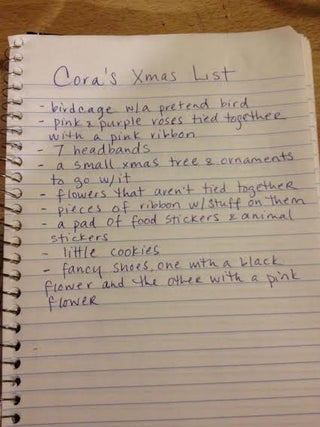 S
---
Anonymous, age 8 1/2: "Waitress costume"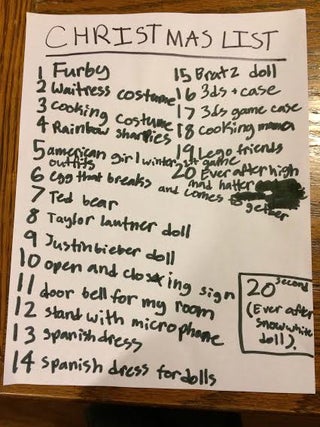 S
---
Mike's Daughter: "Giant squishable cinnamon bun"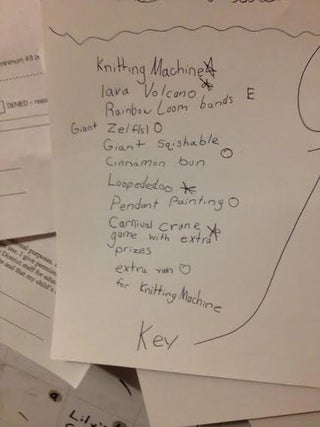 S
---
Anonymous, age 7: "iPod Touch" (NOTE: This was intended to be a wish list not for the boy, but for his pet guinea pig)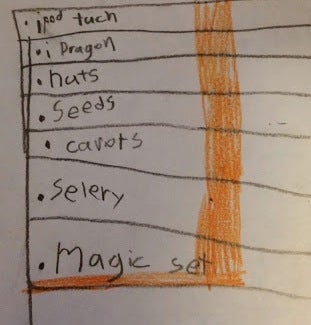 ---
Michele: "My 8 yr old son wrote my two yr old's list for her a la Charlie brown and Sallie. I think sabotage was afoot, the star is suspicious."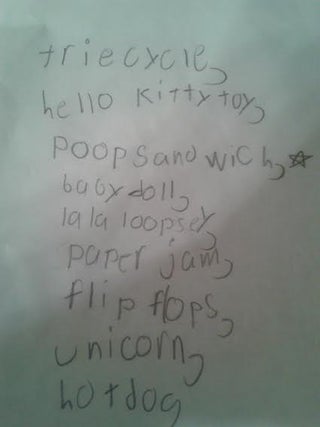 S
---
Anonymous, age 9: "10,000 dollars"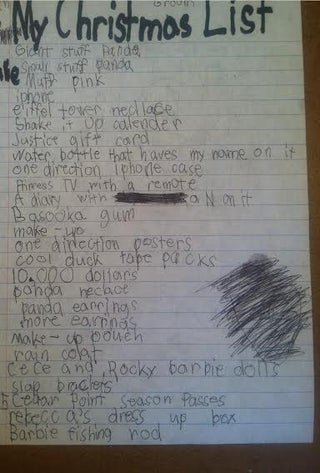 S
---
Anonymous, age 8: "1,000,000 pieces of shrimp"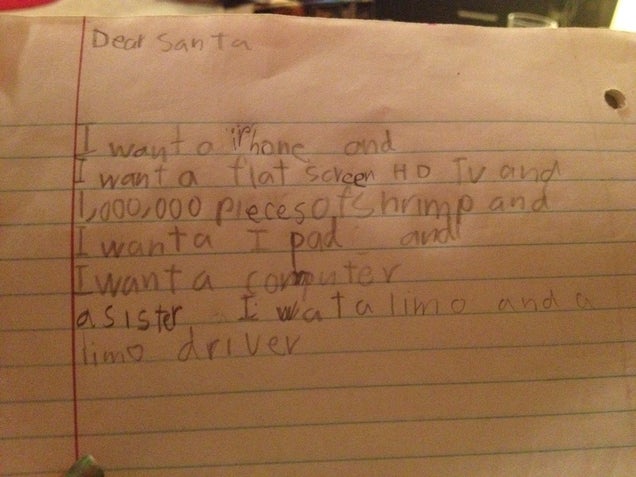 S
---
Alexande(???), age unknown: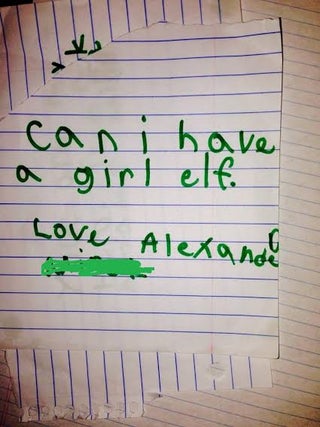 S
---
Will, fourth grade: "Rob Gronkowski" (Note from his dad: "What exactly is his ranking system? I see Geno Smith has the same number of stars as Brady, Brees and Manning?")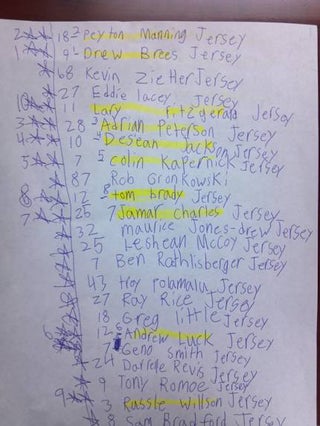 S
---
Anonymous, age 11: "More freedom for our country"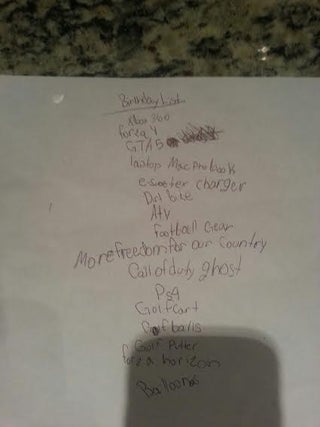 S
---
Kaya, age 6: "1000 cheese doodies"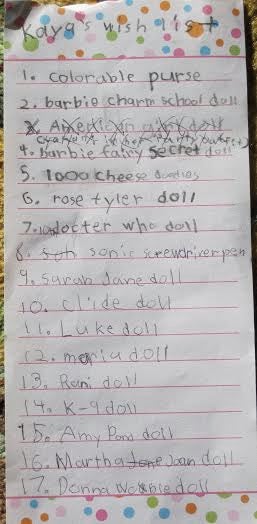 ---
Lilly, age 10: "A unicorn"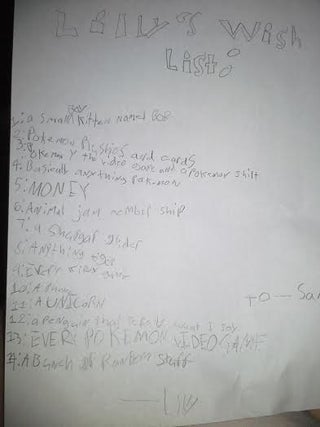 S
---
Anonymous, age unknown: "Go see Thor 2 everyone"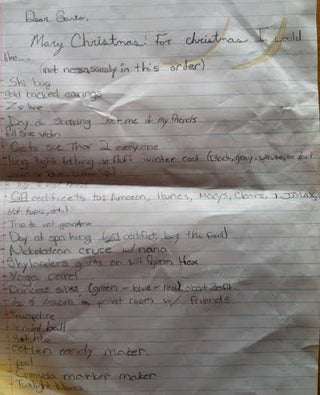 S
---
Anonymous, age 6: "Fake pills" (Note from her mom: "Made after my brother, who doesn't have kids, obviously, gave my kids M&Ms in REAL prescription bottles last time he saw them.")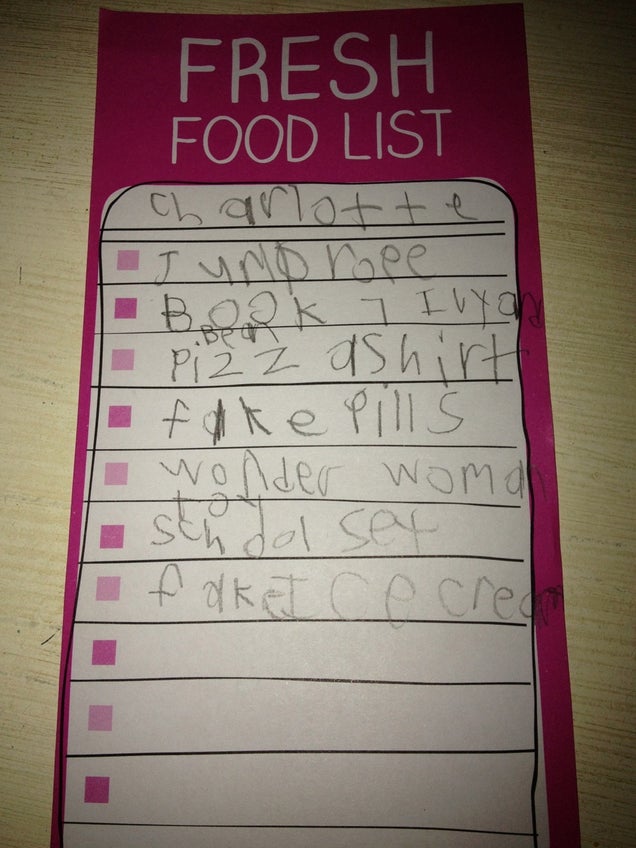 S
---
Wellington, age 8: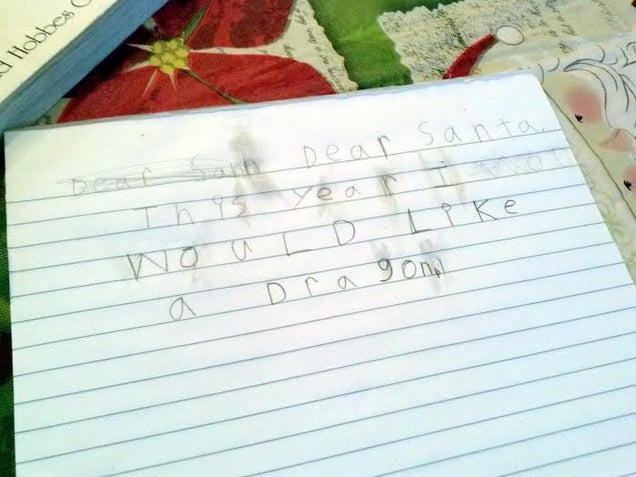 S
---
Wellington's sister, age 5: "A dozen swords"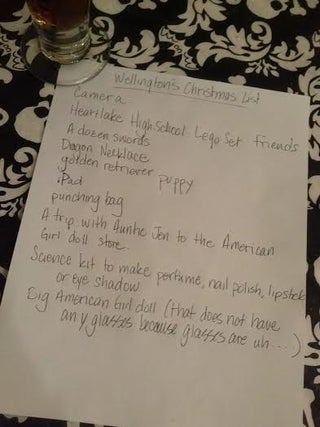 S