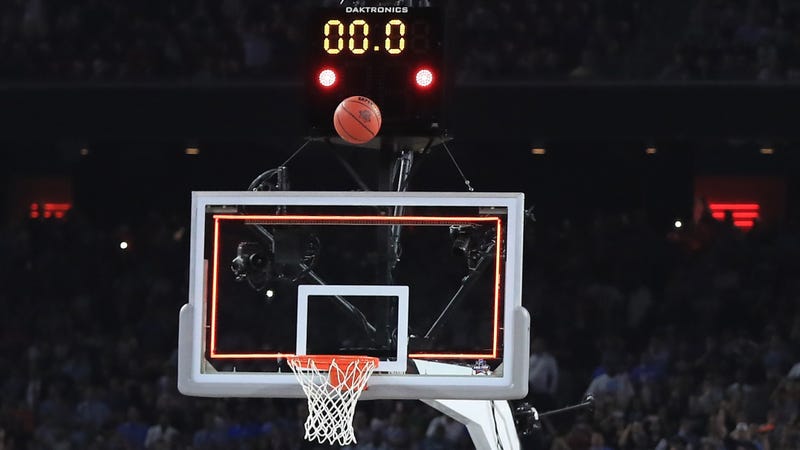 Thanksgiving is three days away, so it's probably (past) time to talk some college hoops. In the spirit of our NBA preview, here is our very timely and holistic 2016-17 NCAA basketball preview.

Since you turds couldn't vote me into writing about Louisiana-Monroe this time, I've reviewed 15 college basketball teams that will actually be good come March (once you get past 15, choosing who deserves to be in the top 25 gets pretty dicey, as it's only Week 2.) If I missed your team here, it's due to one of the following reasons: there are too many college teams; I am human and occasionally dumb; this list had to end at some point; your team is not good and is in fact Bad; you've been following a fake team. But I've been in a basketball hole for a bit now, so I will be more than willing to yak it up about all your programs and tell you why Duke or N.C. State will crush your puny teams down below in the comments.
And we're off (in random order)!

---
Kentucky
What's new with Kentucky: Okay, this isn't new: John Calipari may be less of an asshole than other college coaches, but he's still an asshole. But at least the used car salesman in a Kentucky jumpsuit isn't afraid says some righteous shit to ESPN about the one-and-done culture:
"It took Duke to do it for it to become OK," Calipari said. "And that's, everybody knows ... I'm not saying it to be nasty or mean. It is what it is. The minute that happened, they said, 'You know, Coach K adjusted to the times,' and it was great."
Calipari's loves to rub it in as much as he likes to show off his washed celebrity friends, but he's absolutely right! As soon as Jahlil Okafor, Tyus Jones, and Justise Winslow took Duke to a national title, it was clear: using freshmen for a year is Fine for everyone. But I'll be damned if Kentucky isn't still the best at it.
The Wildcats have the dope freshmen this year: the big-time guard, Malik Monk; the 6-foot-10, 260-pound manchild, Bam Adebayo; the explosive wing, Wenyen Gabriel; and the up-tempo, facilitating point guard, De'Aaron Fox. The Wildcats will also have a consistent scoring threat on the perimeter in sophomore Isaiah Briscoe and a pair of capable veteran reserves in Derek Willis and Isaac Humphries. They're going to be the shining beacon of the SEC and will be extremely good at beating down Georgia and Tennessee.
A guy to know: This one's tough, because instead of touting one John Wall or Anthony Davis, the Wildcats have a handful of potentially great, but not other-worldly, freshmen. Alone, they would not alter a blueblood's entire season; together, they're a lock for a top seed and SEC title. Malik Monk is likely going to be the big scorer of the group, but Bam Adebayo stands out to me as the more intriguing prospect. He already boasts a massive frame and athletic build that give him an advantage on the majority of SEC; he should be pocketing double-doubles every other night, at least, and could end up being one of the Wildcats' highest draft picks in next year's draft given his size and growing skillset in the paint.
---
Wisconsin
What's new with Wisconsin: The Badgers aren't high-flying, up-tempo hell-raisers, so when they put up 65 points a game and win with sound defense this season, don't be surprised. But come tournament time, Wisconsin will channel some midwestern, cheese-curd magic and grind teams into dust while looking to its stars to produce in big moments.
This season, like in 2014, the Badgers have a pair of stars that will potentially make the regular season worth following and the postseason extremely fun. Junior guard Bronson Koenig—the most notable Native American athlete/activist in college sports—reportedly made massive strides this offseason while working on his explosiveness with a personal trainer, which I hope means his shot selection will include fewer jump shots, more attempts at the rim, and, subsequently, more free throws. Koenig will be joined at the forefront of the Wisconsin attack by forward Nigel Hayes, a unanimous All-Big Ten selection and member of Wisconsin's Woke Boys. Past that are a gaggle of role players, none of which I foresee breaking out, but all of which I foresee playing the aforementioned sound defense.
A guy to know: Nigel Hayes is worth knowing for a couple very good reasons. First, Hayes is arguably the most notable athlete in college sports to take a public and individual stand for proper athlete compensation and racial injustice. That he's coming off a season in which he averaged 15.7 points and 5.6 rebounds and is poised to once again be one of the nation's best forwards only helps his efforts. Hayes has the ball skills to get to the lane from the perimeter and an arsenal of post moves to torture defenders with once he's there. His efficiency could use a bump considering his two-point shot conversion rate wasn't overly impressive at 40.0 percent; if he raises that, he will have a shot at being the conference's top player. At 6-foot-8, 235 pounds, Hayes is one of the most athletic big men in the Big Ten and consistently produces as a result—in 2016, Hayes poured in double-digit scoring efforts in 31 of 35 contests. He's going to be awesome; you should watch.
---
Duke
What's new with Duke: As I've written multiple times, the existence of the preseason and early-season AP Poll is a disservice to the game of college basketba—awww shit! Duke preseason No. 1! RIP Ethics!
Strap in for a season full of unbiased Deadspin coverage of the very handsome, lovable Duke boys. The Blue Devils boast one of the most impressive line-ups any team not named Kentucky has trotted onto the court in the past five years. In Wooden Award hopeful Grayson Allen, fifth-year senior forward Amile Jefferson, and senior guard Matt Jones, the Blue Devils have a veteran core that's in its third season together, the first of which resulted in a national championship.
The frontcourt is loaded, starting with the jewel of the 2016 recruiting class, Harry Giles, who's been billed as the second coming of Chris Weber but is still recovering from an ACL injury suffered in high school. The remaining rookies—forward Jayson Tatum, center Marques Bolden, and guard Frank Jackson—will all play serious minutes this season and rightfully so: they, along with Giles, make up the best freshman class in the nation. Add in sharpshooting sophomore guard Luke Kennard and always-fouling-ass sophomore forward Chase Jeter, and by God, you've got a championship-caliber team. Keep in mind, Duke played a fully-healthy Kansas team that's expected to challenge for title without Tatum, Giles, or Bolden and still only lost by two.
A guy to know: Harry Giles is everything you could want in a forward: explosive through the lane, destructive at the rim, smooth in transition, mystifying on the block, soft with his hands, etc. He was the No. 1 recruit in the nation coming out of Winston-Salem, N.C.; once again, Duke snapped the top prospect up. Now, there's a Leonard Fournette-type debate happening around Giles, as he is recovering from his second torn ACL. A smart man, like, say, Charles Walker, might advise Giles to recognize his potential worth as an NBA lottery pick and not risk injury at the college level. Another man might weigh the pros of returning and decide Giles could somehow boost his draft stock by playing the second half of the college season. Whichever man Giles listens to, I hope we get to see him play against not-high schoolers at some point.
---
UNC
What's new with UNC: The Tar Heels missed out on the national title last year thanks to Kris Jenkins pulling off the greatest tournament-ending shot in 33 years, which sucked, because even as a Dookie, I know Marcus Paige deserved that shit. That's about as far as my sympathies extend.
UNC brings back Justin Jackson, Isaiah Hicks, Joel Berry, Theo Pinson, Nate Britt, and Kennedy Meeks. None of them are tank-worthy, world-changing talents, but all of them constitute a talented, dependable core of capable scorers and rebounders that will likely give the now-woke Roy Williams another Final Four squad. With 6-foot-11 freshman Tony Bradley, a top-30 recruit, in tow, the Tar Heels are in the perfect spot to push Duke and ultimately succumb to the Blue Devils' handsome looks and superior depth after 40 minutes of hard-fought basketball.
A guy to know: It's been entertaining to watch Justin Jackson use his awkward, lanky-arm-having body to his advantage the past three years. It took a year or so for Jackson to adjust to the physicality of college play, but he still managed to average 10.7 points and 3.7 boards as a rookie; now, he's out here posting the highest defensive rating on the team and making use of what's become a trademark baseline floater to own defenders to the tune of 15.5 points and 4.0 rebounds per game. It's a big "if," but if Jackson can keep his 3-point accuracy up (he shot 30.4 and 29.2 percent the past two years) and get to the free throw line more often, he has the potential to be one of the best forwards in college basketball.
---
Kansas
What's new with Kansas: The bluebloods ain't going away anytime soon, and Bill Self's Kansas squad is a prime example of why. The Jayhawks return veteran guards Frank Mason and Devonte' Graham—Mason's already in midseason form, putting up a combined 51 points in opening games against Indiana and Duke, including the Kemba Walker-esque step-back game-winner against the Blue Devils. Kansas also has the benefit of adding a completely healthy future lottery pick in Josh Jackson to a frontcourt already touting forward Carl Bragg, Jr. Oh yeah, the Jayhawks haven't lost the regular season Big 12 crown since I was nine. Allen Fieldhouse will (again) be home to one of the most talented teams in the nation; watch if you like winning and fans furiously masturbating to the ghost of James Naismith.
A guy to know: Josh Jackson, No. 2 recruit in the nation, is 6-foot-8, 207 pounds and already in position to become one of college basketball's premier defenders. His athleticism had all the major programs salivating by the time he was a sophomore, and it was Kansas that won the not-Harry-Giles lottery. His offensive game will need some polishing as the season progresses; with Mason playing balls-out this year, it feels like Jackson will have plenty of time to grow into himself and become a devastating option on both ends by March.
---
Villanova
What's new with Villanova: The reigning NCAA champions' run to the title last year was a damn work of art. Since the Wildcats did it in 1985, no other team has reeled off four straight March Madness wins against top-3 seeded teams ranked in the AP top 10—two of those games (Kansas and UNC) were nail-biters decided by a combined eight points; Villanova beat the brakes off Miami and Oklahoma by a combined 67 points in the other two.
The Wildcats figure to once again be one of top defensive units in basketball, but their offense is in need of a new show-runner. While Villanova returns three starters from last year's squad, replacing Ryan Arcidiacono will be no easy task. The Wildcats have to replace Arcidiacono's 12.5 points and 4.2 assists at the point guard role in Jay Wright's offense with sophomore Jalen Brunson and junior Phil Booth, who will once again be the team's sixth man. Brunson, on the other hand, is coming off a successful freshman season; while his shot selection was questionable at times last year, he's taken strides to improve his marks (he's shooting 52.4 percent from the field and 43.8 percent from long range.) The Big East isn't just Villanova's for the taking—Seton Hall, Butler, Creighton, and Xavier will all have their chance to knock off the champs. But until star forward Kris Jenkins, Josh Hart, and Mikal Bridges all stop wearing Wildcat uniforms, the Wildcats will be the favorites.

A guy to know: Kris Jenkins may have hit the biggest shot in program history to bring the hardware back to Philly, but Josh Hart represents the Wildcats' best chance at repeating as conference and national champions. Hart put up 15.5 points last season and was the model of efficiency while doing so: he was second on the team in win shares per 40 minutes rate and player efficiency rating, per SportsReference. Combined with Jenkins, Hart's ability to play inside-out and cover multiple positions opens up a lot of options for Wright; that's bad news for everyones else.
---
Oregon
What's new with Oregon: Dana Altman's squad had a helluva season last year, reeling off a 31-7 record, Pac-12 title, and Elite Eight run in the tournament behind Dillon Brooks and Elgin Cook. Cook now plays in the D-League and Brooks, a preseason All-American, started the season on the bench with a foot injury. Enter forwards Jordan Bell, Kavell Bigby-Williams, a standout junior college recruit, and Chris Boucher. Until Brooks gets back, the team will rely on those three to clean up on the boards and score enough to balance out Oregon's guard attack.
With Payton Pritchard running the show, Dylan Ennis and Tyler Dorsey fill out the rest of a talented backcourt for the Ducks. Oregon is an entertaining offense to watch work the floor; it takes a ton of shots from inside the 3-point line (ranked seventh in converted field goals in 2016) and the charity stripe (ranked ninth in free throw attempts and makes, per SportsReference).
A guy to know: Dillon Brooks was amazing in 2016. In addition to being the productive do-everything player college coaches love, he also managed to defeat and piss off Coach K, and then get the Duke coach in trouble for lying about being a smarmy douche in the handshake line. The 6-foot-7 forward led the Ducks last year with a nightly stat line of 16.7 points, 5.4 rebounds, 3.1 assists, and 1.1 steals. Oregon will have a national championship roster the moment Brooks returns—according to 24/7 Sports, that moment will come next week's Maui Invitational. That would be a good time to start watching.
---
Xavier
What's new with Xavier: Last year, Villanova was the jewel of the Big East, but lest you forget, Xavier played some good-ass basketball. Head coach Chris Mack had the Musketeers running a mean 1-3-1 defense that kept scoring high for both sides—Xavier closed the season ranked 19th in scoring at 80.5 points per game and 133rd in points allowed at 70.4. Don't expect much of a change this season.
In guards Trevon Bluiett (yes, I know he also plays small forward), J.P. Macura, Edmond Sumner, and rookie Quentin Goodin, Xavier has a premier backcourt that is as deep as any other team's. They'll be without guard Myles Davis, who was suspended indefinitely in September after being charged with misdemeanor criminal damaging following an incident with his ex-girlfriend, in which he allegedly smashed her phone and dented her car door.
Also missing from this year's squad will be the interior presences of Jalen Reynolds, James Farr, and Eddie Ekiyor. The team was money on the boards last year; without those three patrolling the paint, it'll be interesting to watch and see what kind of lineups Mack favors this season. Transfer RaShid Gaston, Kaiser Gates and Sean O'Mara will be the new big guys for the Musketeers, but only Gaston has any real experience or proven talent.

A guy to know: Bluiett took a quarter of Xavier's shots last season, and if the Musketeers aim to replicate that success, they'll let Bluiett take the lion's share again this season. Whether or not he steps his game up and earns a spot on the first-team All-America squad this year will depend on how well Macura and Sumner are able to flank him as dependable scoring options. Bluiett is smooth as hell with the basketball, and at 6-foot-6, he can line up at multiple positions and cause problems. The Musketeers will need their supporting cast to help with the scoring, but if Bluiett is able to expend his energy stuffing the statsheet like he did during the 2016 campaign and not worry solely about getting buckets, Xavier will be better for it.

---
Virginia
What's new with Virginia: The last three years of Virginia basketball have been paradise for those in Charlottesville; for everyone else, it's been like being forced to watch a YouTube video of how to play excellent basketball at half-speed, with the occasional relief shot of Tony Bennett.
The Wahoos lost eight games last year by a combined 36 points and won the other 29 thanks in large part to Malcolm Brogdon, Mike Tobey, and Anthony Gill, all of whom have since departed. With over 50 percent of last year's scoring gone from the roster, Bennett will turn to Marial Shayok to pick up the slack while London Perrantes runs the point once again. Up front will be 6-foot-9 redshirt freshman Mamadi Diakite, who, in just 14.0 minutes this season, has shown a knack for blocking shots and picking up fouls. Losing Memphis transfer Austin Nichols to dismissal hurts the roster's interior scoring in a major way, as the junior averaged 13.3 points for the Tigers two years ago and was expected to immediately fill in as a starter this season. Forwards Diakite, Shayok, and Isaiah Wilkins will all need to improve their play if the Hoos want a shot at knocking off UNC and Duke. Still, even with the Nichols dismissal, Virginia looks like a program that has long thought ahead about its post-Brogdon future; I expect a Cavaliers back-slide as much as I expect them to drop 85.0 points per game.
A guy to know: With Nichols out, London Perrantes becomes Virginia's best shot at leading the team back to the Elite Eight. After averaging 5.5 and 6.4 points in his first two seasons, Perrantes's scoring line caught up to the rest of his stat sheet in 2015, jumping up to 11.0 points per game on 48.8 percent 3-point shooting, making him one of the deadliest shooting point guards in the conference. The senior has maintained his career assist mark through three games this season, rocking a 13:2 turnover-assist ration that's even better than his previous career total of 441:153. He's the man Bennett trusts to run his offense and is more than capable of defending any of his ACC explosive point guard counterparts. He might not drop 20 every night, but with this defense, he won't need to.
---
Arizona
What's new with Arizona: You guys remember Lute Olson? Was at Arizona for 25 years until 2006; kept telling people they could have his job then reneging? No? Well, I bring up Olson to point out that, damn, Sean Miller has the goods. Dude is 48 years old, has 190 wins to his name, and commands one of, if not the strongest West Coast programs (Arizona counts, dammit!) Is he Bill Self? No, but he's also not at Kansas, though he recruits like it.
Miller nabbed himself a trio of gems in freshmen Lauri Markkanen, Kobi Jordan-Simmons, and Rawle Alkins, handle the majority of Arizona's scoring needs this year. Makkanen may very well be Unicorn 2.0; Simmons is dirty on offense; Alkins is a monster on the court that will score-and-board to your heart's desire.
Redshirt senior Kadeem Allen and junior Parker Jackson-Cartwright will run the point once again for the Wildcats (there are way too many teams called the Wildcats, by the way) and sophomore Chance Comanche will handle the interior work along with junior Dusan Ristic. Even without redshirt freshman Ray Smith, who retired in early November after tearing his ACL for the third time, Arizona is loaded as fuck. While the status of guard Allonzo Trier is murky, to say the least, the Wildcats have the potential to be very good without him and great with him. Sucks for the Pac-12!
A guy to know: Lauri Markkanen is a teen that knows his basketball. The Finnish 7-footer tore it up at the FIBA U20 Euros, averaging 26.4 points per game while shooting nearly 40 percent from behind the arc. I'm not here to make Kristaps references and get every Arizona fan thinking they may have the best rookie mainstream fans have yet to be introduced to, but I'm also not not doing that. Kid's going to be fun.
---
Louisville
What's new with Louisville: Uhh, since last season? Not much, why?