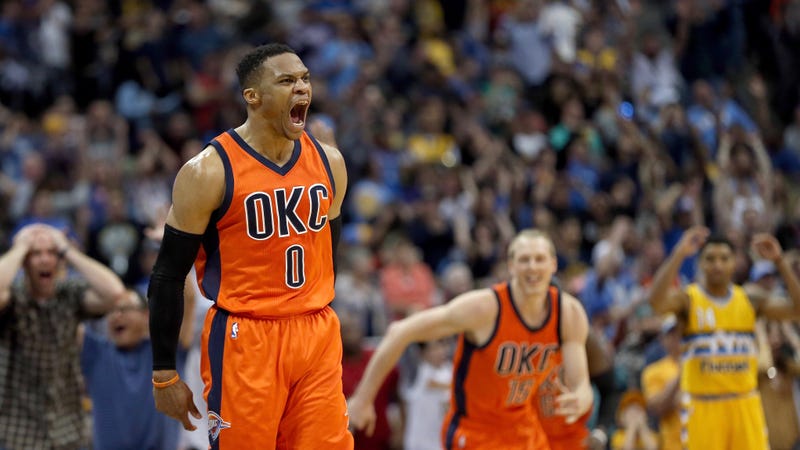 Good afternoon, basketball viewers! It's time for the second part of our very on-time and definitely not late at all 2017 NBA playoffs preview blog post. Here's what you need to know about the first-round series that are scheduled to begin today, presented in the order the games will start.
Washington Wizards (4) vs. Atlanta Hawks (5)
What time does the game start?
1:00 p.m., Eastern, on TNT.
What is the deal with these teams?
After a dismally embarrassing 2015-16 campaign, and a 2-8 start to this one that had some fans (me) wanting to throw the franchise into the toilet, the Wizards just wrapped up their third-best regular season by winning percentage since the franchise left Baltimore in 1973 (the competition is not very fierce; mostly the Wizards/Bullets have been shitty). For a while there—by what turned out to be the end of a run of insanely good play that stretched from the beginning of December to the All-Star break in mid-February—they looked like they might be the East's second-best team, but they faltered a bit after the break as a heavy minutes load caught up to the starters. They're fast and fun on offense and pretty lousy on defense, which, in the opinion of this hopelessly biased Wizards fan, makes for pretty good television. Can you tell that I'm trying to temper my enthusiasm, here? Ho hum, the best and most exciting hometown NBA team of my lifetime is kinda okay, I guess.
Then there's the Hawks. The Hawks shuffled off former boring, low-wattage cornerstone players Al Horford and Jeff Teague after last season, traded away Kyle Korver this season, and reportedly dangled All-Star forward Paul Millsap over the trading block ahead of the deadline, but nothing much has really changed: They're still a kind of anonymously, unremarkably competent mid-tier team, for like the 20th year in a row. They're certainly good enough to jump up and snatch this series away if the Wizards continue their post-break wobbling, but they're almost certainly not good enough to put a scare into either the Cleveland Cavaliers or the Boston Celtics without some major help from the injury report. If this is basketball purgatory, it's a pretty good kind of place, where your fans get to watch meaningful basketball games into late-April or beyond every year. But also ... I'm sick of these assholes! Give somebody else a crack at the fifth seed, willya?
Who are the key players in this series?
For the Wizards, you're probably familiar with John Wall by now. If you are not, here is John Wall:
[sniffles]
[wipes away tear]
I just love him so goddamn much.
Other Wizards of note are: Sharp-shooting guard Bradley Beal, who after a few years of only appearing to be a good and dangerous scorer actually blossomed into one this season; fourth-year forward Otto Porter, who turned himself from a Swiss Army knife Tayshaun Prince-type dude into a Swiss Army knife Tayshaun Prince-type dude who is also one of the deadliest spot-up three-point shooters in basketball between last season and this season; and center and Twitter doofus Marcin Gortat, for my money still the best screener-and-roller in the entire NBA at age 33.
Another Wizard to keep your eye on is swingman Bojan Bogdanović, whom the Wizards acquired from the Brooklyn Nets at the trade deadline. For one thing, he's a terrific shooter off the bench, and when he's splashing threes in Washington's small lineups they can appear all but unbeatable. For another thing, "Bojan Bogdanović" is extremely fun to say.
The Hawks' main dudes are point guard Dennis Schröder and center Dwight Howard, plus whichever combination of swingmen Kent Bazemore, Tim Hardaway Jr., Mike Dunleavy Jr., and Thabo Sefolosha can make some shots and keep the Wizards' defense from collapsing on those first two guys. The Hawks dumped Jeff Teague in part to make room for Schröder, who was the more electric of the two guards for at least one of the previous two seasons; he's been solid in the starting role, if maybe not quite as good as they were hoping, and there have been rumblings that he doesn't get along quite so well with Dwight Howard (or anybody else). But he's shown a knack for slicing up the Wizards, or anyway it sure as hell seems like it whenever I watch the two teams play.
Dwight Howard and Marcin Gortat were teammates for a few years in Orlando; for whatever reason (probably that they're both kinda macho shitheads, and Howard in particular is notoriously grating on teammates and opponents alike), this seems to have resulted in them particularly disliking each other. Howard will be eager to go right at Gortat in this series, and he'll mostly have success doing it so long as he stays out of foul trouble, because Gortat essentially can't jump and is pretty useless as a rim protector. The Wizards likely will counter with the infinitely more athletic Ian Mahinmi, who has given Howard problems in the past, on other teams.
Oh right, and then there's Paul Millsap! I forgot about him. Eh, I mean, he's still Paul Millsap, I guess. His efficiency nose-dived this season, as he struggled with some injuries and with being a 31-year-old undersized power forward. Now that I have treated him dismissively in this blog post, he will average 27 points a game in this series and the Hawks will sweep.
Is this series good or butt?
This will not be the consensus view, but I'm calling it good. The Wizards are terrifically entertaining: They run and shoot threes and play matador defense, and Wall, as ever, is extremely easy to root for. The Hawks aren't quite the buzzsaw of unselfish ball movement they were two years ago, but they're feisty and well-coached and Schröder's usually good for a couple of crazy high-arcing floaters per game. It's a good series! Shut up!
What do I say, at the bar, when this game is on the television?
"It's a good series! Shut up!"
Who will advance?
[faints]
---
Golden State Warriors (1) vs. Portland Trailblazers (8)
What time does the game start?
3:30 p.m., Eastern, on ABC.
Who are these basketball groups?
You know the Warriors, you coy sonofabitch. They won a championship the season before last, then they were the best regular-season team ever last season, then they crapped a 3-1 Finals lead down their legs, then they signed Kevin goddamn Durant, then they won 67 games despite losing him to a knee sprain for 20, all of which is to say that they are still the NBA's best team by a lot. They play just as fast and free as ever; they move the ball beautifully and bomb threes and have fun; it's miraculously good television. Fuck them to hell!