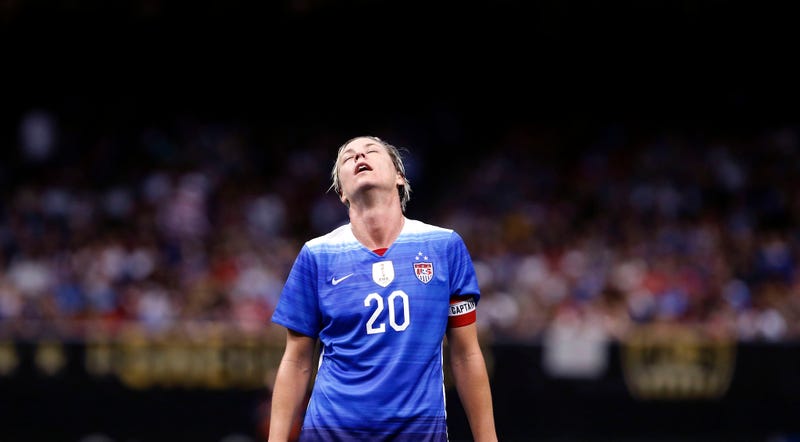 Abby Wambach left her final United States Women's National Team game tonight to a thunderous standing ovation, but was unable to score the storybook goal her teammates were so desperately trying to assist. The USWNT's 1-0 loss to China in New Orleans—coming at the end of their long World Cup victory tour—was their first loss on home soil since 2004. On that day they lost 3-1 to Denmark, with Wambach scoring the only American goal.
Wambach played for the national team for 14 years, amassing 255 caps and scoring 184 goals. Her 14 World Cup goals are tied for second-most all time, behind only Marta's 15. One of those 14 was perhaps the greatest goal in Women's World Cup history, her 122nd minute header to draw level with Brazil in the 2011 semifinals.
Given those accolades it has been a difficult year then, for the greatest forward in American history. The USWNT attack lacked spark during the World Cup group stage, as Wambach's skill set dictated they thump cross after ineffectual cross towards her forehead. It wasn't until she was benched that a fluid attack picked apart Germany in the semifinals. Carli Lloyd then went gangbusters as the US defeated Japan 5-2 to win the World Cup, with Wambach a 79th minute substitute long after the game had been decided.