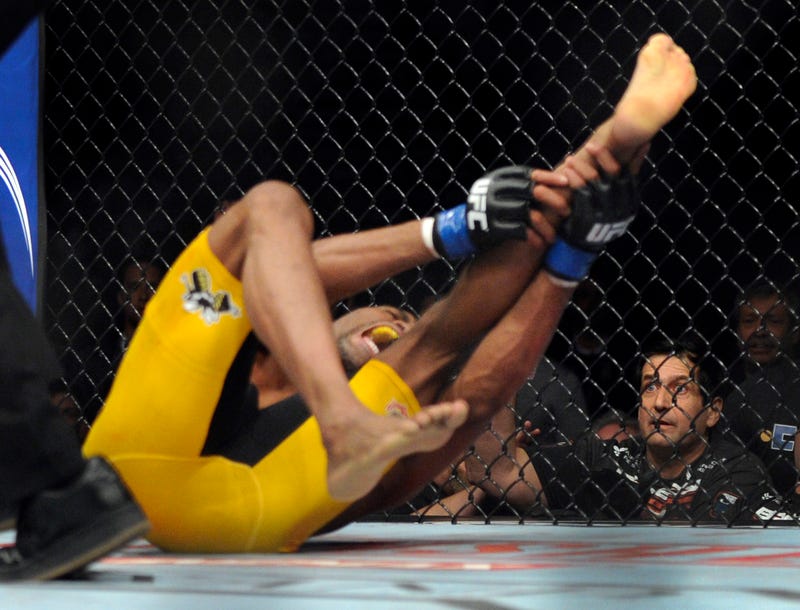 Anderson Silva, more than any other fighter ever, had—or has, who knows—a gift for timing, so that his career played out as a sequence of essentially perfect moments. The best may have been a Chaplinesque performance in a loss this summer that was so unimprovable that he should have said he was done right there, but there were probably a dozen nearly as good.
A lot of fighters could have won a title by catching a clinch and drilling the champion with knees to the face; only Silva would have won the rematch by using the exact same technique in the exact same position on an opponent clearly intent on avoiding it at any cost. Dodging Forrest Griffin's punches by leaning back at a 45-degree angle and then dropping him with a playful little flick of the wrist, or lacing Vitor Belfort with a straight and effortless front kick, or trapping Chael Sonnen in a triangle as he was riding out the last two minutes of a certain victory, Silva seemed less interested in winning than the possibility of doing so memorably.
It's fitting, then, that what may well have been the final moment of his career was the most memorable of all. In the second round of the most anticipated title fight of the year, against Chris Weidman, Silva threw a perfectly ordinary left kick, the kind he's thrown thousands of times before. Then he collapsed to the ground, screaming and using his hands as a brace against his leg; he'd snapped it clean in half, not too far up from the ankle.
The break—it's floating around online, if you have to see it—had nothing on the truly low moments in the history of sports broadcasting, like fatal motorsport wrecks and boxers all but dying in the ring, but as more or less normal injuries go, it was almost uniquely awful. This was partly due to the moment's visual intimacy—Silva wasn't a distant figure at the bottom of a pile-up or on a far edge of a court like Joe Theismann or Kevin Ware, but fully in the center of the frame as his leg was shown fracturing from various angles—and partly because the image was so dissonant.