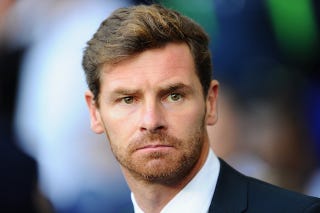 Well, that was fast. Today, Tottenham Hotspur have announced that André Villas-Boas and the club have mutually agreed to terminate his contract on the heels of a 5-0 home routing at the hands of Liverpool. This is his second mid-season sacking in three seasons, and we wouldn't be surprised if he never wanted to step foot in London ever again.
The move isn't exactly shocking. After a fairly strong start to the year, the pressure has steadily grown with each successive disappointing performance. Still, though, you'd think that with this season's general craziness, there would be a sort of moratorium on an early sackings, until there was more evidence of who's good and who's bad. A penny for David Moyes's thoughts right now.
At least early on there was a sense that this new squad, which sold off superstar Gareth Bale and introduced at least seven important players who were new or returning from loan, would take a while to gel. Despite not playing very consistently, they still find themselves only five points outside a Champions League berth. Plus, there was AVB's maiden season with the club, which saw Spurs earn their highest ever Premier League point total.