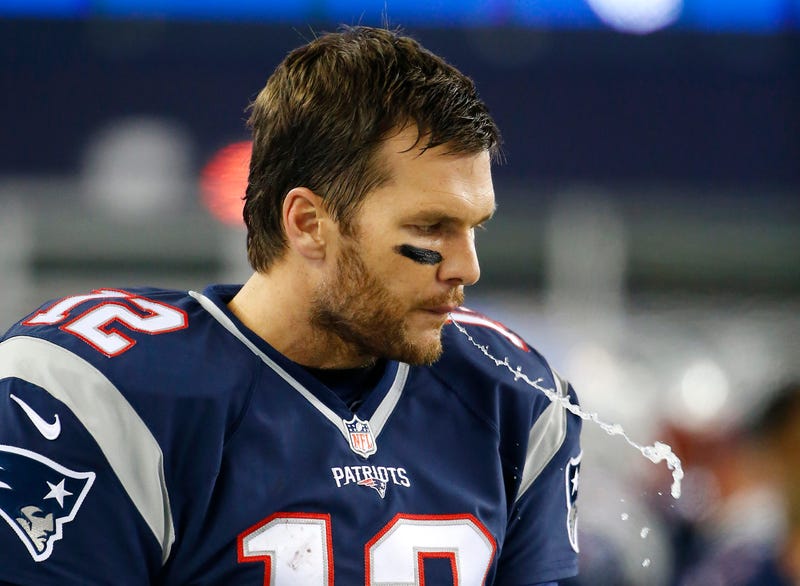 We're down to the final four weeks of one of the crummiest NFL regular seasons anyone can remember. Your boy Adam Schefter pointed this out a few weeks ago, and the situation has not improved:
There are still just 11 teams better than .500 on the season. There are two whole divisions—the garbage AFC South and the burning garbage NFC East—with no teams over .500. The NFL has nearly as many teams below .400—10—as there are above .500. The NFL is having a very bad year.
This was another icky week in NFL news, too. You had a quarterback making a crucial error almost immediately after taking a nasty hit to the head, just days before cameras caught Roger Goodell yucking it up over a concussions joke. Then you had an NFL Executive providing cover for taxpayer extortion in St. Louis while a St. Louis alderwoman alleges bribery and corruption in ongoing negotiations between the NFL and the city. Gross.
There's been a new trend in the dismal world of NFL fans, too: psychotic flavor-of-the-day racism. Americans in San Diego were refused entry at a Chargers game for wearing turbans, presumably because ignorant assholes don't differentiate between Sikhs and Muslims, who, of course, must all be evil terrorists. A fan in Minnesota was accosted by another fan for virtually the same reason. Americans everywhere are swirling into Donald Trump's rhetorical and idealogical toilet, but no one should be surprised to see this shit manifest itself among drunken ignoramus NFL fans, easily the worst fans in American sports.
But, hey, at least the NFL is taking a look at its ridiculous catch rule! That they are doing so via a six-person committee is absolutely perfect. Because clearly it will require multiple brains and actual meetings to determine what it means to catch a football.
Hey, here's some other stuff going on on the good old television:
Other Sports
12:15 p.m. — beIN Sports Español — La Liga Soccer: Atlético Madrid vs Athletic Bilbao
Atlético can stay solidly ahead of Real Madrid if they grab full points today, but Bilbao could be a test. This might be a fun one.
2:30 p.m. — beIN Sports — La Liga Soccer: Villareal vs Real Madrid
Great afternoon to check in on Spanish soccer. Atlético are one unexpected Barcelona slip from grabbing a share of first place. Real Madrid need points to stay ahead of Celta Vigo, and Villareal are right there, just behind that lead pack.
2:30 p.m. — beIN Sports Connect — Serie A Soccer: Fiorentina vs Juventus
Hey, also not a bad time to check in on Italian soccer: these two sides are part of a five-team group who've distinguished themselves at the top of the table, and this should be a pretty fun match between stout Juventus and explosive Fiorentina.
2:45 p.m. — beIN Sports — Serie A Soccer: Napoli vs Roma
These sides are separated by three points near the top of the table. The standings could be shuffled quite a bit depending upon the results in the two afternoon Serie A matches.
3:30 p.m. — NBA League Pass — NBA Basketball: Timberwolves @ Suns
This will be a fun game between two teams who are probably doomed to stay outside of the playoff picture this season, even in a significantly weakened West. The Suns too often find ways to lose, while the Wolves are still just learning to play together. For the first time in eons, the East is deeper in terms of quality, even while the West remains stronger at the top.
6 p.m. — NBA League Pass — NBA Basketball: Grizzlies @ Heat
The Heat have tumbled a little since claiming first place in the East early last week, having lost three straight, all by double-digits. They came unraveled after a bogus call went against them in a loss to the Wizards, then came out lifeless in consecutive games against teams who've now passed them in the standings. The East is tough enough this season that a four-game losing streak could conceivably drop them all the way from first to ninth in the conference, so they need to grab a win. Meanwhile, the Grizzlies are scrapping along in the upper half of the West despite having the fourth-worst point differential (-5.3).
7 p.m. — NBA League Pass — NBA Basketball: Jazz @ Thunder
The Jazz are a bit of a bummer. They lost Dante Exum before the season even started, and now they'll be without Rudy Gobert for a while. It's not an exaggeration to say those two international men of mystery once accounted for the bulk of the popular enthusiasm surrounding this team. They'll still win some games, and may even sneak into the 8th seed in the West, but it'll be another year before we have a real sense of what they can be. The Thunder, meanwhile, are cranking fools, and have the fourth-best record in basketball, but, man, they're the same team they were with Scott Brooks. Billy Donovan was supposed to give them some nuance, at least, but that hasn't happened. It still could! But it hasn't.
7:30 p.m. — ESPN 2 — International Soccer Friendly: US Women's National Team vs China
I don't know much about this.
TV Reruns
12:19 p.m. — Comedy Central — South Park
This is a day-long marathon, if South Park is your thing.
1 p.m. — WeTV — Roseanne
The old standby.
1 p.m. — TV Land — Golden Girls
After seeing its Sunday schedule briefly and cruelly usurped by goddamn Reba, Golden Girls surges back into play. Goddamn right.
4 p.m. — FXX — The Simpsons
Episodes today include the excellent "Cape Feare," the acceptable "Rosebud," and a bunch of bullshit.
4:30 p.m. — Spike — Bar Rescue
A marathon to get you through the evening.
Movies
12:30 p.m. — TBS — It's Complicated
OK, so, mostly I dislike this movie. It's dreary lifestyle porn, on top of being ridiculous. But it does have the following things going for it: Alec Baldwin doing a pretty solid Alec Baldwin sendup, and Meryl Streep playing a human character and not just a slick impersonation of a historical figure.
1:30 p.m. — AMC — The Road Warrior
Heck yeah, AMC. And they've got Beyond Thunderdome at 3:30 if you want to keep going.
2 p.m. — CMT — Rambo: First Blood
Here's a cool review of this flick: