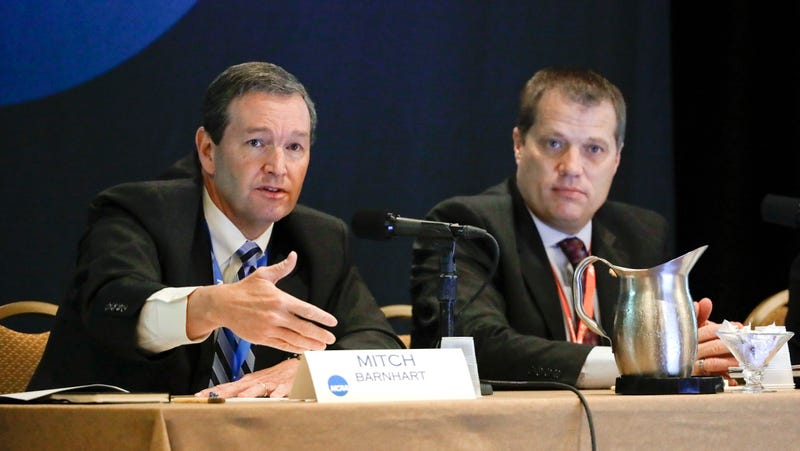 Five university presidents and athletic directors offering their unfiltered thoughts on why the NCAA and its members should hold fast to amateurism, a model that's landed them all six-figure base salaries, may be the best argument for abolishing the system.

First spotted by USA Today, notes on interviews conducted by Kenneth G. Elzinga, an economics professor at the University of Virginia*, which can be read in full at the bottom of this post, appeared online Friday as an exhibit in an ongoing lawsuit against the NCAA and several member conferences. The suit was filed against the NCAA and its top conferences to challenge the limits put in place by these organizations on how athletes are to be compensated.
Former Purdue athletic director Morgan Burke, Richmond athletic director Keith Gill, Texas president Greg Fenves, Kentucky athletic director Mitch Barnhart, and Wake Forest president Nathan Hatch all sat down to offer their defenses of the NCAA. Burke offered up the spiciest quotes—such as claiming athletes receive too much from schools already—but the other four did their best to keep pace.
Some of the recurring themes that popped up in the interviews are the same ones the pro-amateurism side has been pushing since the NCAA's creation: Athletics are just another part of universities, like singing clubs or the Chemistry department; fans wouldn't want to watch college sports if athletes were paid because this would diminish their school ties; players would be too competitive about pricing and undermine their teams; the disaster that would befall non-revenue sports programs in a pay-for-play model.
Before we go any further, let's just get this out of the way: These arguments have always been nonsense and they always will be. You can read our previous coverage of this issue for specific explanations as to why the arguments against paying players are disingenuous slop: