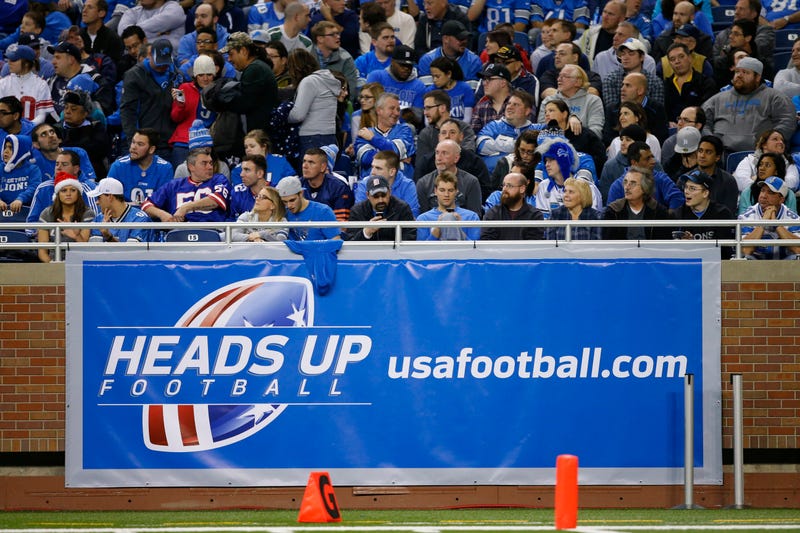 For my money, the big NFL news this week was Diana Moskovitz's report that discredited quack Dr. Elliot Pellman is still playing an important-seeming role in the NFL's concussion safety apparatus. Try as they might, the NFL can't solve concussions—that's impossible in football—but they also can't keep them out of the news, nor can they seem to get their house in order such that their handling of the issue isn't, itself, news.
Joe Haden went on the Cleveland Browns' official podcast this week and talked a little about his fear and frustration in dealing with his first diagnosed concussion. It's sobering to listen to, especially when he talks about the fear that people will question his commitment while he misses time with an injury no one can see. He talks about the protocol almost like a force to struggle against—he'd been showing up daily and working to progress through it in an effort to get back on the field. It's a complex issue!
When I played football as a kid and into high school, concussions were not part of our injury discussion, they were not something we were aware of. I remember driving to a game one time with a teammate who recounted the time a friend of his got hit in the head so hard he got "a tumor." That must have been some hit! I didn't know what the fuck he was talking about—I'm still not totally sure—but no one around us had the vocabulary to even consider whether he was describing a concussion.
I remember one day at practice a much bigger, much faster kid pulled down the line and crushed me with a block I never saw coming. I have no idea whether he launched himself at me or had his head up or down or what. I never experienced the hit, nor landing on the ground. All I knew was one minute I'd been holding the edge to force the runner upfield, and the next minute I was regaining my feet and my helmet was vibrating like a tuning fork. I never left the field, but the rest of that practice was a blurry, scary mess where I felt like I was constantly trying to dodge bullets, like I suddenly couldn't stay up to speed on the action around me. No one ever asked how I was doing, but I did get barked at by a coach for being too disoriented to join the defensive huddle.
That was just one hit—I can think of half a dozen or more times when I either took a hit like that or delivered one, and, as an adult, that shit scares me. At the time the only thing I felt was a headache and confusion about why I couldn't seem to muster up much energy out on the field. If it persisted, I would have chalked it up to me being an idiot, just deficient in a general way that happened to suddenly include confusion and low energy while playing my favorite sport.
That the NFL thinks of concussions as just another PR concern is a problem, and that they see fit to keep in their employ a man with exaggerated credentials and a history of downplaying the danger of brain injuries is an even bigger one. Tom Brady's political leanings are a bad look; Washington's hilarious Twitter behavior is a bad look; the Cowboys instituting absurd new rules to limit the ability of reporters to, you know, report on the team is a really bad look. Elliot Pellman, and what his presence says about the league's real stance towards concussions, is a fucking embarrassment.
Hey, here's a very good slate of counterprogramming options on the last Sunday before Christmas:
Other Sports
Noon — beIN Sports — Serie A Soccer: Frosinone vs AC Milan
Milan are coming off consecutive disappointing draws against Carpi and Verona, the two very worst sides in Serie A. Now they've got Frosinone, the third-worst side. With a win, Milan could find themselves as high as 6th on the table.
Noon — beIN Sports Connect — Serie A Soccer: Sampdoria vs Palermo
Couple of go-nowhere mid-table sides, here. Break in case of emergency.
12:15 p.m. — beIN Sports Connect — La Liga Soccer: Athletic Bilbao vs Levante
Solid-but-unspectacular Bilbao should beat the absolute hell out of good old bad old Levante.
12:15 p.m. — beIN Sports Connect — La Liga Soccer: Granada vs Celta Vigo
Another Sunday afternoon La Liga mismatch.
12:15 p.m. — beIN Sports Español — La Liga Soccer: Real Sociedad vs Villareal
Villareal can pass Sevilla in the standings if they grab full points today, which they should.
1 p.m. — NBA League Pass — NBA Basketball: Trail Blazers @ Heat
The Blazers have lost three of four, but they're still enormously fun to watch. C.J. McCollum is a delight, and, man, Alan Crabbe can get hot and burn the house down. The Heat recovered from a recent three-game skid to win three in a row before dropping their last game to the Raptors. They're tough at home, but the Blazers are the kind of team that can wreck even a defense as stout as Miami's, simply by knocking down a high volume of tough, contested shots. The NBA didn't serve up a very good schedule today, but this could be a fun one.
2:30 p.m. — beIN Sports Español — La Liga Soccer: Malaga vs Atlético Madrid
Atlético will find themselves atop the table after they grab full points today. They've got the top defense in La Liga, while Malaga have by far the worst attack.
2:45 p.m. — beIN Sports — Serie A Soccer: Inter Milan vs Lazio
Inter started today six points clear of Juventus atop the table, before Juventus won over Carpi. Inter can get their commanding lead back if they grab full points against Lazio, who haven't won a match since before Halloween.
6 p.m. — NBA League Pass — NBA Basketball: Hawks @ Magic
Surprisingly, the Magic are ahead of the Hawks in the standings. I don't think this will last, although I do think the Magic are a good team. They seem to have found something by moving Victor Oladipo to the bench and breaking up the Oladipo-Elfrid Payton combo that was killing their offense. The Hawks will rip off some wins, though, and the Magic probably aren't quite as good as their current record. This should be a good, tough game between teams with contrasting styles.
TV Reruns
1 p.m. — We TV — Roseanne
You know the drill.
1 p.m. — TV Land — Golden Girls
The usual marathon to get you through the early games.
4 p.m. — Spike — Bar Rescue
The usual Sunday afternoon/evening marathon.
4 p.m. — FXX — The Simpsons
Episodes today include the brilliant and devastating "Bart Gets an F" and the respectable "Lisa on Ice." It's a steep, steep drop from there.

Movies
11:30 p.m. — Comedy Central — Ghostbusters II
Lots of Ghostbusters content on Comedy Central today. Here's a cool thing to read about a memorable character from this movie: