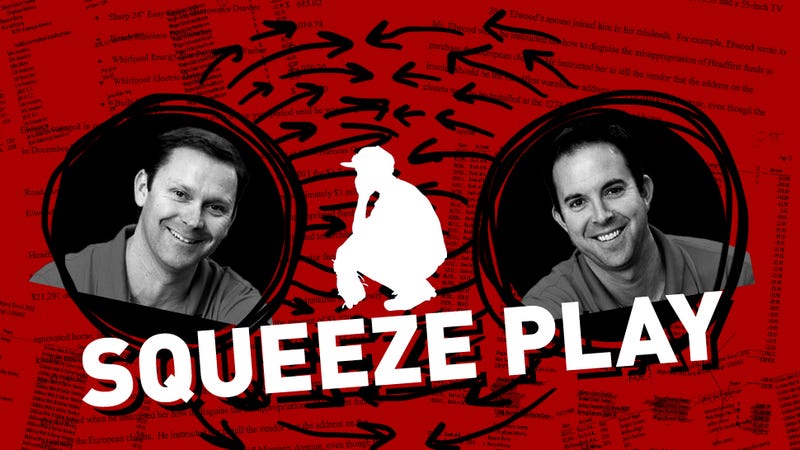 Washington D.C., former home of two different major league teams that fled and current home to one best known for resting its healthy ace pitcher in the postseason, has never had much of a reputation as a baseball town. It is, however, an inarguably great town for youth baseball camps.
Whenever school is out, the camps take over vast swaths of green space in the moneyed neighborhoods of the city's Northwest quadrant, where the well-off residents of Upper Caucasia have long loved sending their kids to pitch-and-catch conclaves. Kids who attend camps run by Headfirst Baseball, which claims to be the District's biggest operator, get T-shirts adorned with what may as well be a statement of principle for their lawyering, lobbying, and contracting parents: "Play Smart, Get Dirty!"
These days, the grownups who have run Headfirst for the past two decades aren't playing very smart, but they're certainly getting dirty. Brendan Sullivan III and Robert Elwood, scions of Upper Caucasia's trough-feeding set turned business partners turned mortal enemies, are going through a vicious professional breakup, and have filed dueling lawsuits in federal court in D.C. They make great reading, both for their outlandish pettiness and for their extravagant claims of fraud and deception.
Before all the nastiness was entered into the public record, Headfirst made for a heartwarming boys-of-summer story. Here were former Little League teammates who'd played high school ball together at tony St. Albans and stayed together—in town and in the game—well into adulthood, in the process building up a seasonal powerhouse. Headfirst claims to have served 8,500 campers during the summer of 2012, and also operates outside the Beltway as the official provider of youth baseball instruction for the Boston Red Sox, Chicago Cubs, and New York Yankees. According to Elwood's suit, the operation was recently appraised as being worth as much as $20 million.
The Headfirst Baseball filings, though, are loaded with accusations of serious no-goodnik behavior. Thefts, forgeries, and tax fraud are just a few of the illegalities alleged.
These suits have gotten no real notice around town so far, but much of well-to-do D.C. will be paying attention if the baseballers' brawl ever reaches court, and not just because the future of a company patronized by so many upper-crust children is at stake. The proceedings have the added local allure of involving one of the city's most prominent defense lawyers, a law firm founded by a former Baltimore Orioles owner, and St. Albans, perhaps its most elite prep school and a flagship campsite for Headfirst from its earliest days.
"It was like they had an indestructible grip on the market for smart but also good baseball player kids here," says a former attendee of Headfirst's St. Albans camps. "At the other camps in D.C. you might get the coach of Southern Mississippi or UMBC to stop by, but [Headfirst] targeted parents who would pay an extra $100 for [a camp] that would put their kids in front of the coach of Princeton or Harvard. Nobody saw this. I know there's shock and awe in the St. Albans community over what's happening."
Sullivan started the whole thing with the filing of a brutal complaint against Elwood and his wife, Stacey, in which he lets it be known he's out for blood with the suit's opening sentence: "Over the course of several years, Robert Elwood stole hundreds of thousands of dollars from his employer." Historically, company literature gave Sullivan (at left in the adjacent photo) and Elwood (at right) equal billing as "founders and directors of Headfirst," but Sullivan's complaint says Elwood deserves no credit for Headfirst's founding and no share of its ownership. Instead, Elwood is painted throughout the filing as merely a worker bee, albeit one with a $300,000 annual salary, who commenced a "frenzy of stealing" both because he was angry over his lack of equity and because a dip in Apple stock cramped his lifestyle.
The complaint lists $566,000 in specific alleged thefts just from 2010 to 2012, adding that an "investigation into how much Elwood stole before 2010 is ongoing." Elwood and his wife allegedly spent the ill-gotten gains on both stereotypical embezzler luxuries ($5,391.91 on a trip to Vegas in April 2011, $1,249 on a 55-inch TV) and snooty alleged discretionary spending ($3,520 on "European closets," $634.94 on a "high end Miele vacuum"). The really big-ticket thievery is supposed to have gone toward down payments and maintenance on high-end real estate, including a $2.3 million home with "magnificent views of the Chesapeake Bay" in Annapolis, Md.
In the great pains he takes to detail Elwood's acquisitions, Sullivan often seems ridiculously petty. The suit outlines trips to McDonald's and Subway and has an entire section titled, in bold type, "Elwood Bought a King Size Mattress With Funds Stolen From Headfirst." Another one is labeled, "Dog Fencing Paid By Elwood With Stolen Headfirst Funds." The slimiest accusation? After being invited to Sullivan's 2012 wedding in Nantucket, Elwood allegedly stole from the company coffers to pay for a room for another guest, then took reimbursement money from the guest and "pocketed that cash and thus made money on the wedding." Boo!
When Elwood failed to refill the till with the moneys he'd allegedly been caught spending on personal items, the suit says, Sullivan fired him at the end of 2012. For the alleged transgressions, Sullivan asks the court to order Elwood to pay "an amount to exceed $550,000," and to void any ownership interest Elwood claims to have in the company.
"While I was reading [Sullivan's] complaint, I was thinking, '[Elwood] is going to jail,'" says a D.C. lawyer who got to know the former partners while sending his kids to Headfirst over the years. (The lawyer added that he has no knowledge that the allegations of criminality in Sullivan's suit are accurate.)
Elwood then took his turn at bat and swung for the fences. The main theme of his lawsuit? I ain't going down alone!
Elwood's complaint alleges not only that Sullivan was aware that he was commingling business and personal funds and taking big loans out of company accounts, but also that Sullivan was using Headfirst money as his own, as a matter of practice. Elwood paints himself as the white knight of Headfirst, claiming that Sullivan embarked on a mission to make him appear "odious, infamous, or ridiculous" only after Elwood had uncovered a veritable buffet of frauds being perpetrated by Sullivan and urged him to start doing the right thing.
The rebuttal suit outlines the "loose tax practices" that Sullivan put in place, the most serious allegation being willful and illegal avoidance of payment of workers' compensation insurance to cover staffers. Elwood alleges that Sullivans's other motivation for firing him came when investors made an offer to buy Headfirst, and subsequent evaluations made by Sullivan's brother put the company's worth at $15 million to $20 million. Sullivan didn't want to share the profits from a sale with his Little League buddy, Elwood explains, so he instead set out to destroy him. Elwood's suit contains copies of vintage photos of the two partners as kids together on a Little League team, shots that Sullivan removed from Headfirst's website after firing Elwood.
In any case, something had soured in the partnership as early as 2008. Included as an exhibit in the counterclaim is a 2008 chat transcript between Elwood and a friend. Elwood was traveling in Vietnam at the time. The friend had overheard Sullivan in a bar, bitching about his partner. In the chat, the friend summed up the sentiment: Elwood is "off 'getting his dick sucked in thailand' and can't be a part of the decision making process anymore."
Among all the accusations in Elwood's counterclaim, the one most likely to raise hackles uptown and stir up the posters on D.C. Urban Moms is the charge that Sullivan has for years been defrauding St. Albans School. That's probably the most revered high school in a city full of tony preps, and alma mater of such famous juniors as Harold Ford, Al Gore, and Jesse Jackson. (Another alum was Gore Vidal, who claimed for decades before his death to have had a sweaty affair with Jimmie Trimble, a 1940s baseball superstar who became a mythic figure at the all-boys school after his death at Iwo Jima in World War II. In his 1995 memoir Palimpsest, Vidal recalled how the big boy on campus' "large callused hands gripped my cock like a baseball bat.") Both Sullivan and Elwood were top jocks at St. Albans, where sports have always been taken quite seriously; a framed black-and-white photo of Sullivan and Elwood on the school's 1991 conference champion baseball squad still hangs in the Activities Building, just above a shot from the previous school year of the conference champion football team featuring Elwood and manchild teammate Jonathan Ogden.