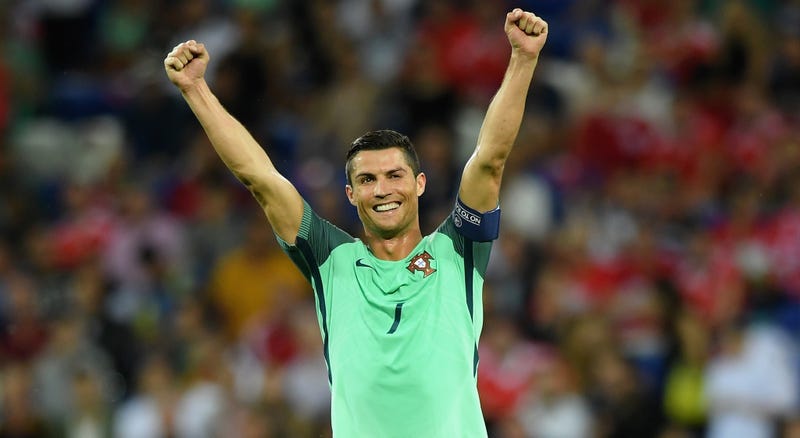 Euro 2016 has kind of sucked. There haven't been more than about four honest-to-goodness entertaining games, the over-expanded field and the resulting imbalanced matchups have given us too many teams too content to play—"play"—for 0-0 draws, and only a couple of the best teams and players have put on shows worthy of the event. So it made sense that today's Portugal vs. Wales, Cristiano Ronaldo vs. Gareth Bale, Meh Team vs. Formerly Fun But Now Boring Team was another nigh-unwatchable spectacle that, at the very least, mercifully ended after 90 minutes.
Seriously, almost nothing of interest happened all game. The performances of Wales, and Bale in particular, were probably the biggest disappointment, as they looked so good and fun for much of the tournament. Bale made some pretty good runs throughout the contest, and took a bunch of whacks on goal from distances where he was never going to score from, but overall he appeared neutered without the aid of Aaron Ramsey, the Robin to his Batman, after the bleach-blond Arsenal man got suspended thanks to the Euros' bad yellow card accumulation policy.
Portugal impotently shot a whole lot in the group stages without much reward, still managed to advance despite finishing third behind Hungary (???) and Iceland (???????), and proceeded to attack the knockout rounds in the most defensive way possible. Ronaldo hasn't had a great tournament overall (not his fault, really, since Portugal's lack of a natural center forward meant he had to occupy a role in the team that doesn't play to his strengths) and wasn't great today, either. Renato Sanches was as cute and energetic as always, but he too failed to make anything cool happen.