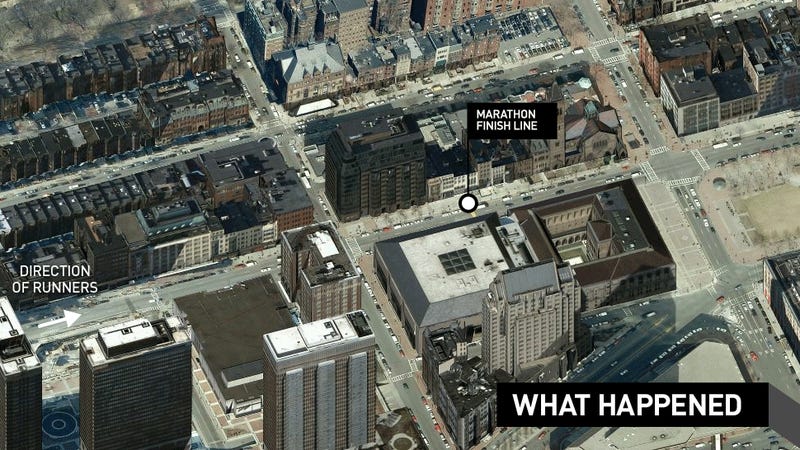 As with any crisis, early information is incomplete and sometimes outright wrong. The day after the Boston Marathon bombings, a clearer picture has emerged. Let's get up to speed with where things stand right now.
What do we know about the bombs?
The first bomb went off at 2:50 p.m., a few feet short of the finish line, in front of a sporting goods store and a LensCrafters. The second went off 12 seconds later, about a block further up Boylston Street, which serves as the home stretch of the marathon. You can see the blast locations on the map above, annotated with eyewitness video of each explosion.
The bombs themselves were "small portable explosive devices." A surgeon at one Boston hospital likened the injuries treated to those caused by "improvised explosive devices." Initial reports claimed the bombs were set off inside trash cans, but authorities seem to have backed off those claims. At the very least, the inward-shattering storefront windows indicate the explosives went off on the sidewalk, as opposed to inside the stores.
An Associated Press report now says the bombs were were "fashioned out of pressure cookers and packed with shards of metal, nails and ball bearings," placed in duffel bags, and left on the ground.
What about unexploded bombs?
Contrary to early reports, there were no other explosive devices found in Boston, Gov. Deval Patrick confirmed at his press conference this morning. There were hundreds of packages left behind by fleeing spectators, and all had to be inspected, which was the source of a lot of confusion yesterday—particularly for those people following along on a police scanner. But now officials are adamant: The only explosive devices along the marathon route were the two that detonated.
And the JFK Library?
The library, several miles away from the marathon route, was the scene of an intense-looking fire soon after the bombs went off, and people naturally jumped to conclusions. But it was soon determined that it was accidental and unrelated and had started in the building's HVAC system.
How many people were hurt?
After spending most of the afternoon at two, the death toll rose to three last night. One of the dead has been identified as 8-year-old Martin Richard from Dorchester, Mass., who was near the finish line with his family. They were moving away from the first blast when the second one hit. Richard's mother (head) and sister (leg) reportedly suffered "grievous" injuries in the blast, while his brother was unhurt.