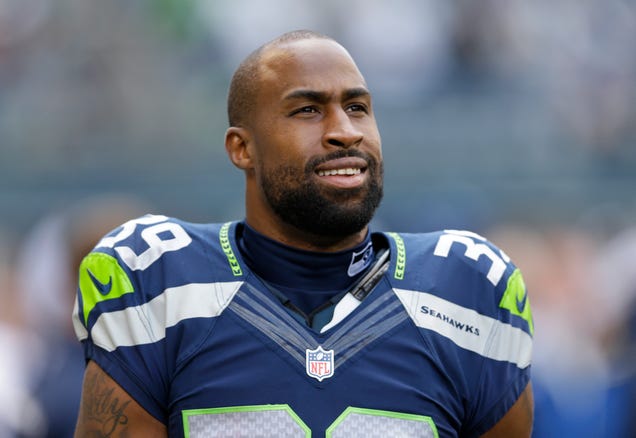 Defensive back Brandon Browner had signed with the Patriots tonight. Or, he hasn't. It depends on who you listen to. But the best part's that Peter Schaffer, Browner's agent, is dealing with the conflicting reports from his adult hockey league game in Denver.
Let's figure out how this happened. First, Ian Rapoport reported Browner had signed a two-year deal.
Source: Ex-#Seahawks CB Brandon Browner has reached a two-year agreement with the #Patriots. Must serve 4-game suspension to start 2014

— Ian Rapoport (@RapSheet) March 14, 2014
Former teammate Richard Sherman gave his congratulations to Browner. So nice of him!
Congrats to @bbrowner27 my brother so excited for you!!!!

— Richard Sherman (@RSherman_25) March 14, 2014
About 10 minutes later, Adam Schefter countered that report with a quote from Schaffer.
Brandon Browner's agent, Peter Schaffer, said his client is in negotiations w/ "four teams and we do not have a deal. We arent even close."

— Adam Schefter (@AdamSchefter) March 14, 2014
Rapoport stood his ground.
Brandon Browner has spread the word to those close to him that he has agreed with the #Patriots. Thus, my report that he has agreed.

— Ian Rapoport (@RapSheet) March 14, 2014
Schefter cuts some slack.
A well-placed Patriots source: "Browner wants to be in NE, I think we are close, but it's a tough deal to do because of suspension, etc."

— Adam Schefter (@AdamSchefter) March 14, 2014
And while that happened, Florio got Schaffer on the phone to figure out what's happening. From PFT:
"It's 100 percent untrue [...] I've got four teams to negotiate with. I've got irresponsible journalists who don't check their facts putting this stuff out there, and my phone is blowing up when I'm trying to play hockey."

Schaffer plays in an adult hockey league in Denver.

"I've got very little patience for irresponsible journalists who put this stuff out and ruin my night," Schaffer said. "My phone is going nuts. I just wanna play hockey."
For any other developments, check back after Schaffer's hockey game.