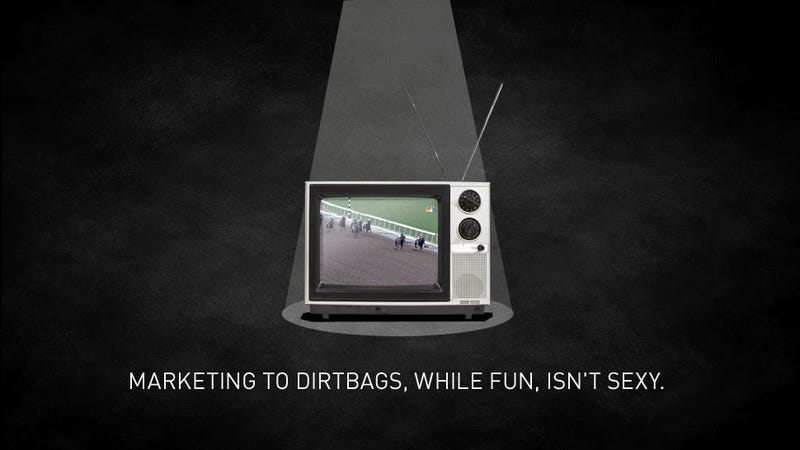 If you're like the average American, your experience of major horse races centers on one: the Kentucky Derby. Perhaps you know a bit more about the sport and follow the Preakness and the Belmont as well, putting a bit of money down in the same spirit in which you'd pick a bracket and talking up Triple Crown winners past and why we'll never see another one. You may even be vaguely aware that the most important race in the country isn't any one of these, but Saturday's Breeders' Cup.
What you savor in these events probably isn't horse racing as sport, art, or tradition, but a certain atmosphere. You may want an excuse to wear a seersucker suit and bow tie, or gamble in full view of your spouse, or use a muddler and drink brown liquor for hours; whatever your pleasure, the point of the race is as vector for atypical behavior.
If you follow the ponies at all, one thing you probably aren't is someone aged 18 to 35, the reason being that horse racing faces a strange demographic paradox. In a sport tied up with fashion, alcohol, tobacco, and gambling—pursuits that scream out for youth—the young are hard to come by, and the die-hard fans are, literally, dying.
Racing people are pondering this problem and contriving various proposed solutions, and this is how I found myself in Miami behind a tiny formica dining table, hemmed in by an infectiously positive blonde and a fashion model in a horse mask, on thoroughbred racing's version of the Madden Cruiser.
---
"We had to submit a resume, a cover letter and a video explaining why we were perfect for the job," says Victoria Garofalo. "We spent months at our Lexington home base, training. Then what we did was reach out to people we knew in Miami and at other big races—friends who were our age, event planners, asking, 'Where are these people who are 21-35, where do they hang out, and what do they want for a fun experience?'"
Garofalo is one of America's Best Racing's six Brand Ambassadors. (You can hear the capitals when the phrase is spoken out loud.) She's hoping that her online presence, and that of her colleagues, will bring people to South Beach tonight and to the Florida Derby tomorrow. The event kicks off the thoroughbred racing season, which started on March 30 in Miami and will end in November in Santa Anita, Calif.
"We picked apart these markets like detectives and looked for people who had the biggest followers, and were followed by the biggest radio stations and the biggest TV stations," she says. "We looked for the movers and the shakers, the alphas in the community."
Assuming you aren't a Kennedy conspiracist, there's very little more seductive than the idea of the magic bullet, the notion that the minimal effort required to pull a trigger is all you need to do to generate a hurtling force, irrevocable and intelligent, capable of solving all the intricate problems that vex you, and even those you don't yet know about.
Thoroughbred racing has sought one for years, looking to solve problems that are even less susceptible to magic than you'd expect. The generally accepted analysis, laid out well a few years ago by Daily Racing Form writer Steven Crist in his essay "The Smarty Jones Bubble," points to three main issues:
1) At the dawn of the television era, race promoters rejected local TV coverage, believing they'd make more money by keeping races off of the screen and forcing fans to come to the track, buy food and drink, and bet more. In doing so, they lost generations of fans who otherwise would have absorbed the intricacies of the sport by having it as part of the routine background of their lives.
2) Track owners want to make money from food and drinks without making the investments that casinos have. While you can get a free cocktail, at your seat, in a local air-conditioned casino, track owners still think that scuzzy bathrooms, outdoor humidity, and the smell of horseshit are draw enough for you to pay extra for amenities and refreshment. In an era where you can place your bets from the couch, a lack of creature comforts has cost them the modern gambler.
3) Because thoroughbred racing lacks the sort of anti-trust exemptions granted to a sport like baseball, it can't mandate track amenities and prices, pool revenues, and deliver a unified product artificially structured to distribute racing opportunities and showcases across tracks. Even if it were legal, the competitive nature of existing track ownership might undercut such a system.
These are the kind of structural issues that admit no easy solution and would be exceptionally difficult to overcome in the best environment, which thoroughbred racing is not. Over the last decade, track attendance has declined by 30 percent, and handle—the total amount bet at the track per year—has declined by 37 percent. Faced with these numbers, the Jockey Club did what any upstanding American institution would do, and commissioned a report from McKinsey & Company, the famous consultancy.
The report, which came out last year, correctly diagnosed the same basic structural issues Crist identified: declining amenities at older tracks, a plummeting TV presence, and increased gambling competition. It also noted more technical problems: declines in starts per horse, smaller fields, and ineffectively staggered race schedules across the country. Most worrying, though, was an array of statistics that between them suggested that the sport is in a state of existential crisis.
McKinsey concluded not only that just 20 percent of the public has a favorable view of the sport, but that only 35 percent of people who actually follow it are "proud to be a fan." Thoroughbred racing loses 5 percent of its fan base per year because of people walking away from the sport, and makes new fans at only a bit more than half that rate. Every year, an additional 2 percent of the dedicated fanbase dies.
There is, then, something fair about the received idea of the track as a place full of wrinkly kibitzers drinking watery Scotch and gesturing at racing forms with spit-soggy cigars. And this, more than anything else, is the basic issue.
While a successful sport constantly mints new fans, young people look at local tracks, with their unrenovated restrooms and taped-up naugahyde booths, and see in them and their attendant vices the blindness and decrepitude of prior generations. The track, as they see it, is a monument to the poor decisions we make when we don't know the outcomes yet, a mausoleum for every colonel with vomit on his shoes, a scabrous perversion of America.
This isn't the kind of problem easily solved by the technicians of scientific capitalism. So, while McKinsey proposed concrete plans for addressing races, fields and gambling, the Jockey Club also created its own marketing wing, America's Best Racing, to address these more perceptual aspects of the sport and try to arrest and reverse the erosion of the base of thoroughbred racing.
Thus the Brand Ambassadors: a magic bullet. They would generate regular bursts of interactive content through social media in hopes of going viral, which virality would do something or other. Each one would blog; each one would be on Twitter; each would hope that the next connection or Facebook update or tweet would result in the beautiful self-replicating pyramid scheme of something to which the Internet has taken.